Last Updated on May 6, 2023
If you continuously put the Apple devices to charge, all the time, even though they are charged more than 50%, you might want to take a look at the battery health of the Apple Watch. Apple has surprisingly added a feature that lets you check the battery health on Apple Watch in watchOS, this gives you a perfect idea of when to replace the battery and how long can you trust the Apple Watch's battery. Notably, this ability is introduced with the watchOS 9, so your Apple Watch must be compatible with watchOS and should be updated to watchOS.
Beyond that, watchOS enters the market with dozens of interesting features including, the Handwashing feature, sleep tracking, and more. Coming right back to the topic, the battery health also helps you decide the condition of the Apple Watch if you're buying from your friend or refurbished from the store.
How to Check Apple Watch Battery Health On Apple Watch
Update the Apple Watch to the latest software; put the Apple Watch to charge, and open the Watch app on iPhone. Tap My Watch tab > General > Software Update. Download the update if available.
Press the Digital Crown of the watch to launch the home screen of the Apple Watch.
Find and open the Settings app on Apple Watch.
Rotate the Digital Crown or scroll down the screen and tap Battery.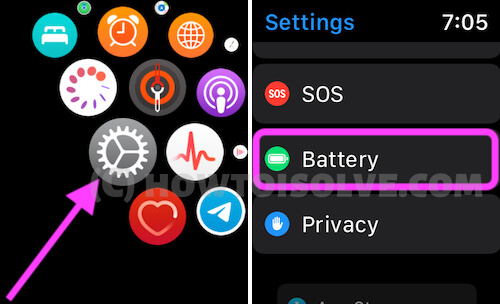 As you can see the %, indicates the battery status of the Apple Watch.
The next option shows 'Last Charged to %', [mins] ago. As the name suggests, the watch will display the battery and time when last charged.
Tap on Battery Health.
The next screen will show you the overall average of the Apple Watch's battery health, just like we see on the iPhone and iPad. Note: If your Apple Watch is new, or mildly used, then the Maximum Capacity will be 100%.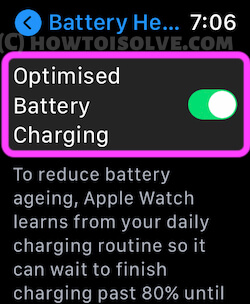 Besides, you don't need to panic, if the battery capacity is not as expected, but watch's battery runs through all the day without the need to charge in the middle of the day.
Read the following instructions too.
Scroll down to the end, and turn on Optimised Battery Charging, it stats, "To reduce battery ageing, Apple Watch learns from your daily charging routine so it can wait to finish the charging past 80% until you need to use it".
By default the Optimised Battery Charging might not be enabled, to preserve the battery life of Apple Watch.
The above steps are helpful in battery optimization on your Apple Watch.