🗓️
February 15, 2023
By ✍️
Jaysukh patel
Can iPhone monitor blood pressure? Apple iOS device has no physical chip to check blood pressure online. But you can check through Best Blood Pressure App for iPhone and iPad. You can do it without a Cuff, so no pain as well not required extra equipment, just if you've iPhone then you can easily check & Track Blood Pressure at home through Apple iPhone 13 series, 12 Series, iPhone XR, 11 Pro Max, Xs Max, X,8,7,6S, SE as well iPad Air, Pro, and Mini. Through Download Now link you directly jump on the iTunes Store to download it.
Keep Omron Wireless iPhone controlled (Perfect) Upper Arm Blood Pressure Monitor (Perfect iPhone controlled device for Blood pressure patients)
To keep good health in your life, you should measure your Blood Pressure and diabetes timely, cause According to Health Department reported fact 1 in 3 American Adults have High blood pressure (HBP) and Sugar.
In addition- 50% of those American Adults do not have blood pressure under control. Since learning how to check blood pressure on iPhone/iPad through the best Blood Pressure apps for Apple iOS devices.
Don't Miss Amazon Special Deal – 5 Top Best Wearables to keep your blood pressure under Control
What is the best blood pressure app for iPhone?
Check These are: Best Health Accessories for iPhone that you should buy
To prevent catastrophic problems like heart attacks and strokes, regularly monitoring your vitals is a great habit, regardless of whether you are a patient who needs to measure your blood pressure daily or care about how your lifestyle affects your heart. This article will navigate you through a list of suitable options and step-by-step guidance. We have researched, keeping ease in mind, how to measure and store blood pressure on iPhone and collected a set of apps that log your vitals for your and your doctor's comfort and sphygmomanometers to use at home for instant measurement and recording.
Using Best Apps
Following is the list with encoded links of blood pressure apps for iPhone using a camera and the best free blood pressure tracking apps compatible with IOS devices for recording daily measurements.
Instant Heart Rate Monitor is an acclaimed app by UCSF and Stanford Medicine that uses photoplethysmography to measure your heart rate. The app generates a real-time tracking blood pressure chart to view every heartbeat, like the oximeters used in hospitals. It is as easy as gently placing the tip of your finger on the iPhone's camera, which then instantly measures your heart rate with the camera flash by detecting the color change in your fingertip.
It is the best finger blood pressure app for daily use to maintain a regular record of your heart's health, easily generated into reports and printed for your doctor's consultation.
The Smart Blood Pressure app offers the utmost convenience to record, track, and analyze your blood pressure with custom tagging and note-taking to maintain thorough health documentation. A blood pressure monitor is required to measure the same. Data can be entered manually or by auto-syncing with Apple Watch and Apple Health Kit.
This app supports a multi-user environment to store the entire family's data for quick access from various devices. As per your lifestyle, the custom tagging feature helps monitor specific trends. It records systolic, diastolic blood pressure, and pulse rate and automatically calculates Body Mass Index (BMI) and mean arterial pressure (MAP). You can easily share daily reports with your doctor via email and text.
Blood Pressure Monitor gives the ease to maintain a comprehensive and user-oriented record of your vital signs. The app is easy to navigate after entering your data and can be viewed by syncing on multiple IOS devices. Its medical correlation feature tracks blood pressure measurement of the two arms, the type of medication (oral or injected) taken, and more.
Graphical representation simplifies the data and is customizable with your preferred categories to monitor your health trends. The graph also shows warning signs about blood pressure as per the warning threshold set by the user. You can also export the charts to your doctor as plain text, PDF files, or CSV. It is one of the best blood pressure tracking apps.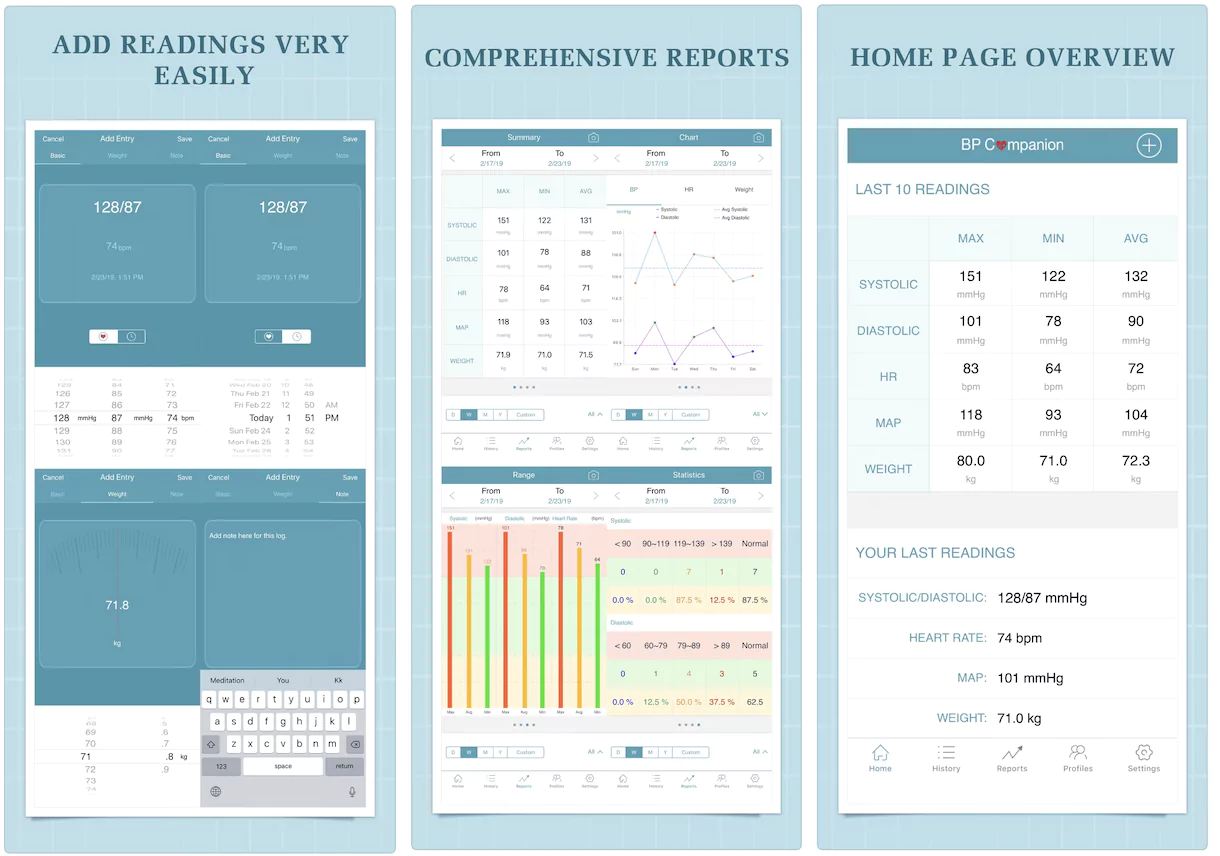 Blood Pressure Companion Pro provides the proficiency of storing your clustered data in an elaborate visual format of charts and histograms at your fingertips. You can study your statistics and average blood pressure by a particular amount of days, weeks, or months and the app issues a warning when the BP is too high or low. There is an option to schedule reminders of BP measurements and doctor visits.
Readings recorded after any activity are customizable with specific notes. The app supports storing data of multiple users and secures it with WIFI backup and restore. It also lets you export a custom date range of data to your doctor.
The IBP Blood Pressure app offers users a convenient and comfortable experience. It uses color-coding to present a clean format of your high, low, and average BP values for easy analysis. Moreover, for multiple users, it has user-configurable color ranges. In addition to calculating systolic and diastolic pressure, it calculates Mean Arterial Pressure (MAP) and pulse pressure.
After a one-time purchase, data is synced and accessible from all IOS devices. You can enter your data using dials or let its read and write technology retrieve it from the BP monitoring device (Withings BP monitor) app connected to your phone. This BP tracker exports data as snapshots or in multiple email formats (PDF, HTML, CSV, plain text) and has a Touch ID and passcode to protect your information.
Qardio Heart Health is a clinically approved app that records and stores your vitals in its effortlessly navigable interface. Chronic medical conditions patients who need to monitor their vitals daily will appreciate the simplicity of this app. It can be paired with the QardioArm device to track blood pressure, heart rate, pulse pressure, body composition, etc.
This app takes a multidimensional approach to track vitals, observe your heart's health through the automated smart charts, and set goals and timely reminders. It works well with Apple Watch and Apple Health to store information in Qardio Heart Health for quick access and sharing with your doctor. Its compatibility makes it the best blood pressure app for the apple watch.
Smart BP Monitoring Device Compatible with iPhone
Below are the two most accurate blood pressure monitors for iPhone with smart WIFI/Bluetooth connectivity with companion apps to measure, track and analyze your systolic, diastolic blood pressure and heart rate with automatically generated feedback and recommendations.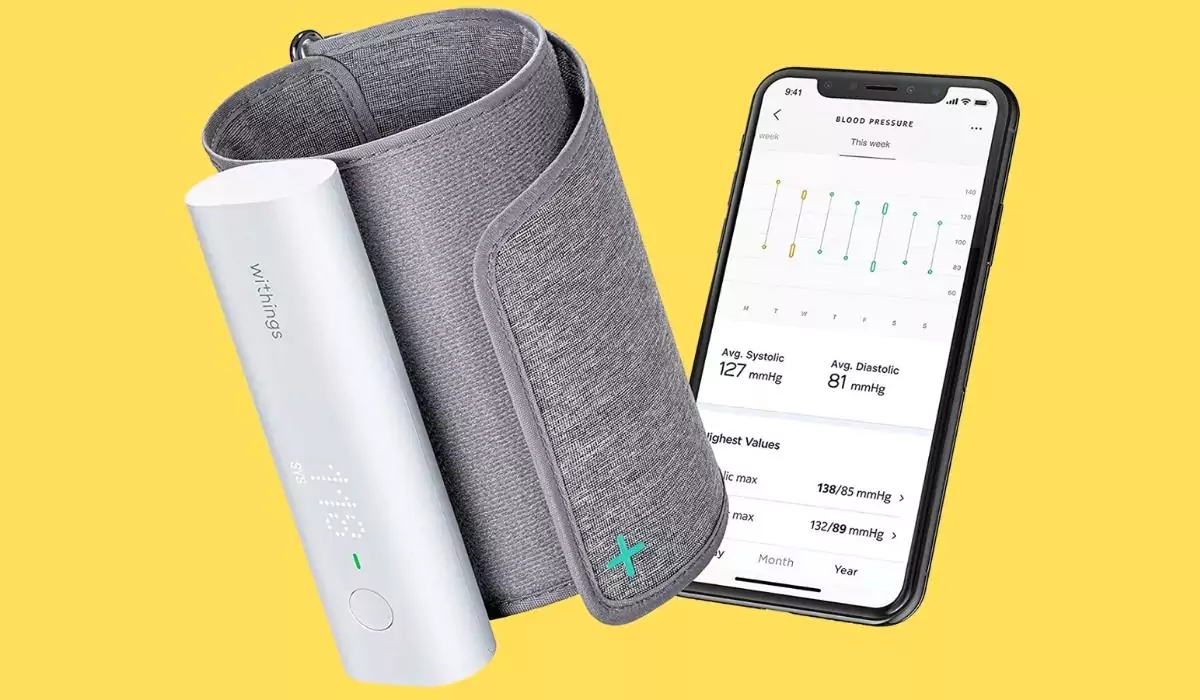 The Withings BPM Connect is an FDA-approved blood pressure monitor. It is quick and easy to set up in one push of a button to sync your cuff through WIFI/Bluetooth with the Withings Health App and receive medically accurate readings. Along with the measurement, it offers color-coded feedback on whether your blood pressure is normal or hypertensive. All arm sizes and shapes will feel comfortable wearing the upper-arm cuff.
It is compatible with Apple Health Kit, Apple Watch, and many other fitness apps. This device is portable and has a battery life of six months on a single charge. The Withings Health Mate app stores every date with resourceful insights and produces exportable reports.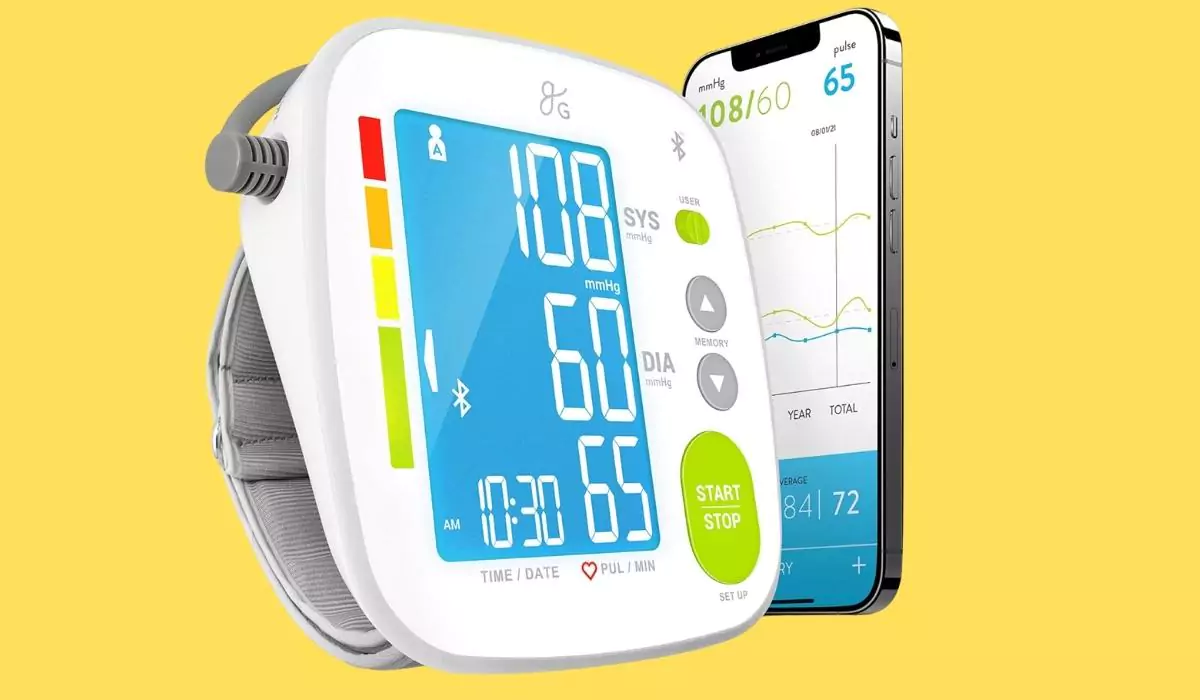 This Greater Goods device is the best Bluetooth blood pressure monitor cuff with a quick, user-friendly setup at home. The device has a backlit screen that displays bright, large numbers, a color-coded health meter, and detects irregular heartbeat with its sensor. It has an intuitive cuff with easy instructions for correct placement.
The device allows two user readings and stores sixty readings per user. Moreover, its companion app connects to the device over Bluetooth, records unlimited readings, integrates with Apple Health, shows graph trends over time, and exports data reports. It also has both battery and wall charging options. The company has speedy customer service and support to resolve your every query.
As a result of using the apps and monitors recommended in this article, you can alter your lifestyle, change your habits, and improve your overall health. These listed suggestions will make it easy to keep a hassle-free record on your device for your and your family's concerns and to receive immediate consultation from your doctor. It is imperative to take preventive measures to maintain a healthy lifestyle. Healthy habits are your heart's desire.
The currently released Apple watch allows us to measure the human heart bit rate but no option to measure Blood pressure or diabetes. Often, Doctors say to the Blood Pressure patient that keep should blood pressure under control because High Blood pressure sometimes damages the part of the body as well Several times patient dies.
So, check your BP levels Such as (Systolic, Diastolic, and Resting Heart rate pulse) and share it instantly with your family doctors. You can check blood pressure on your iPhone using beneath listed best Blood Pressure apps.
Instant Blood pressure
Note – instant Blood Pressure is not a medical device, but it's only for recreational use only. Read more about it from here.
What is the best blood pressure app for iPhone? Instant blood pressure app For iOS
Blood Pressure monitor – Download Now
iBP Blood pressure – Download Now
Blood Pressure Companion Free – Download Now
Health Tracker & Manager – Download Now
Apart from Blood Pressure iPhone Apps, you can know from here the best Medical apps for iPhone and all iOS devices. Stay tuned with us to get new tips and tricks every day on our blog. Thanks for reading us!