Last Updated on May 13, 2023
Don't hear call ringer volume after iOS 16 upgrade or Sound slow after iOS Update, for Incoming calling ringer volume on your New iPhone 13 Pro, iPhone 13 Pro Max or iPhone 13/Mini is one of the most hesitating problems in an iOS device. Many users are frustrated with low calling volume then aspect. That time you can fix it through this tutorial guide. Most iOS Users are querying, after iOS update and installing the device result in poor calling voice quality, and dead sound.
Devices mostly affected by Poor call volumes are iPhone. In case, you are getting this problem on any other iOS devices, then share with us the full story in detail in the below comment box.
Try to fix: Don't hear call volume on iPhone
1. Increase Call Volume During Call
Go to the Setting
Sounds
Enabled change with a button.
Now when you are receiving an incoming call then press the volume up button from the side edge so that will affect incoming voice quality.
2. Call Volume Low While Headphone Connected
Apple's new volume control while headphones are connected is useful for manage audio levels between left & right headphones like AirPods/Pro/Max. Other settings prevent hearing loss for music and call. Let's check it. and Correct it for low call volume in headphones.
2.1 Audio Balance
Audio Balance also works with iPhone's speaker, left and right – Left means top speaker, and Right means bottom speaker when you put your iPhone in speaker mode. But the same concept also works for Connected Headphone. Set equal sound on Left and Right audio balance.
Go to the Settings app on iPhone
Scroll to Accessibility Option.
Next, Scroll to the Audio/Visual option
See the Balance section, Left and Right. Keep this in the center position.
Other settings limit the Output volume for headphones called Reduce Loud sounds.
2.2 Reduce Loud Sounds
With this feature, your iPhone can analyze headphone audio and reduce any sound that is over a set decibel level. Follow the below steps,
Go to the Settings app on iPhone
Sounds & Haptics Options.
Tap on Headphone Safety
Disable "Reduce Loud Sounds" toggle.
3. Phone Noise Cancellation
Enable this auto phone noise cancellation to reduce ambient noise on phone calls when you are holding the receiver to your ear. Follow the below steps and select see per your experimental test.
Go to the Settings app on iPhone
Accessibility.
Tap on Audio/Visual option
Please Turn Phone Noise Cancellation toggle ON/Green.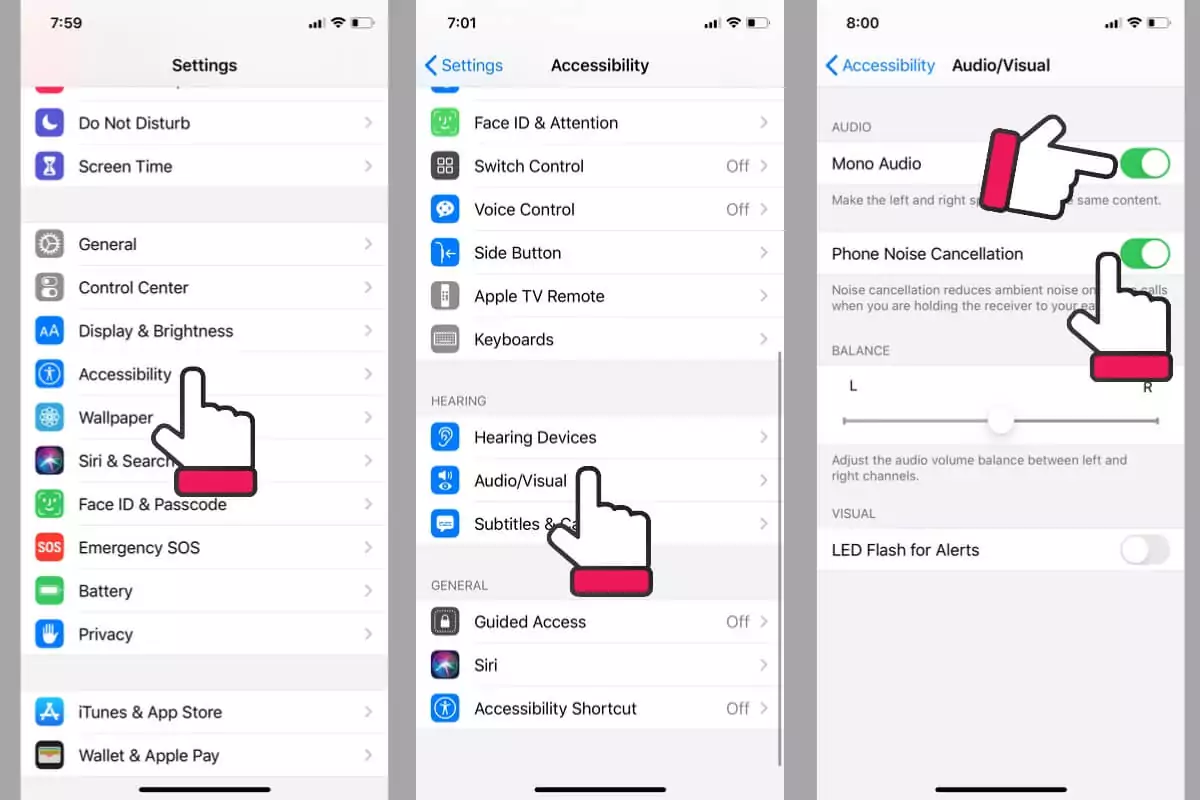 Everything is fine, and still, you are not getting a satisfying result of Slow call volume. Then also check the below Solutions for Boost call volume on the top speaker.
4. Clean Up Speaker Grill
Over time all the electronic devices blocked the input port or Speaker mesh grill with daily dust & Cream & Cosmetics during a talk, Gym, and All other physical activities. That's normal. But we can clean it up yourself.
Take a soft baby burst and clean up the top front speaker gently. and Blow mouth air forcefully. Don't blow with other hard air. Becuase this part is really sensitive. or You can get help from a professional repairer.
This will really help in some percentage for call voice quality. But sometimes internal temporary software bug with below solutions.
5. Hard Reboot
A hard reboot of your device is an essential solution to fix a temporary software issue. Let's do it and fix it. Follow the below steps, In this process, your device's data won't affect. So do it now.
Press and Quickly release the volume up (+) button
Press and Quickly release the Volume down (-) button.
in last, please keep Pressing and holding on Power [Sleep/Wake] button until you see the Apple logo after the black screen.
That's it. Now test the issue. and Also follow the next solution to fix the software issue.
6. Update iOS
Check and Install any pending iOS update that comes with some improvements and Bug fixes.
Go to Settings
Tap General
Click Software Update
if any update is available please tap on Download and install button.
Keep your iPhone on charge and connected to internet. To get the job done as soon as possible.
7. Erase All Content and Settings
as per my past experience on Wipe iPhone completely on Low call volume really helped me. So you can do it, in your spare time. Becuase you have to take your Important Data, Files, Media, app backup to your Mac or PC using Finder/iTunes. Then wipe using the below steps, later on, we can restore the latest backup to iPhone and use it without data loss.
Go to the settings > General > Transfer or Reset iPhone > Erase All Content and Settings > Continue > Enter your Lock screen passcode, Enter your Apple ID password to completed erase device.
Check low call volume issue is fixed, now. if yes then you can Restore the latest Previous backup to iPhone.
8. Update iPhone in Recovery Mode
Re-install the Latest compatible iOS to iPhone without data loss Using update in Recovery mode process. This process also takes time depends on internet connectivity and Data Storage on Device.
Follow the below steps,
Connect your iPhone to Mac/PC using Finder or iTunes. Unlock your iPhone, and Force restart your iPhone, last press and hold on to the power button until you see the Recovery mode popup on your Mac/PC screen.
Quickly Press and Release the volume up button, then Quickly press and release the volume down button. then, only press and hold the side power button until your Mac sees a recovery mode popup with the Update option.
Click on Update Button, Now, your Mac download firmware to Mac and will install on iPhone, So keep your iPhone connected with Mac/PC. until you see the startup scree. During this process your iPhone reboot several times.
That's it.
Still, you won't able to get Call volume high or normal then there is a chance for an internal hardware issue.
9. Hardware Issue
is your Ear Speaker is the damage? No one can test using any apps or software. For that, I highly recommend going with the Best iPhone repair service near to you or Contact apple support. If your iPhone is under warranty then you must go with apple support. Otherwise, apple will not handle your case if your iPhone is teardown by a third-party repair service.
10. Apple Support
This is the right time to talk at the apple service center nearby you or do a phone call and Book an appointment at apple genius bar.
if the issue is broad and affected by lots of people, then you have to keep eye on the iPhone Replacement Programme announcement.
Get more: Fix Low Call Ringer Volume on iPhone after iOS upgrade
Don't miss: Change iPhone keyboard language: use multiple languages in the text.
Try above all possible solutions and share which is the best for your case when you Don't hear ringer call volume on iPhone, iPad.