🗓️
September 20, 2023
By ✍️
Jaysukh patel
By default when you B, it is set to Public, just like any other social media app. Tiktok's Public and Private Accounts have their own benefits, most people keep their accounts private to avoid any misuse of the identity and photos, while Actors, Models, Brands, etc. have to make a public profile so everyone can easily reach them.
To be clear, when you switch private to public, anyone can see your videos, profile, likes, comments, and follow you without the need for any approval from the account holder. Whereas it is exactly the opposite when it comes to private, everything is hidden and in your control, unless you approve the request and let them follow you.
It merely takes a minute to make your TikTok Account Private to Public, let's get into the tutorial. Once the account is switched to the public, your profile, videos, likes, and other contents are accessible by anyone without any restrictions.
One more thing to note is, all the pending follow requests of your TikTok account will be approved after making TikTok account Public.
Get More- How to Make TikTok Video of 60 Seconds
How to Make your TikTok Account Public From Private
No matter, what device you have, the steps are the same for the iPhone, iPad, and Android phones. To continue with the process and switch your TikTok Account to Public.
Open TikTok App on your phone.
Next to Inbox, tap on Me to visit your profile.
Then, tap on the three-dots on the upper-right screen to reach the settings.
Under the ACCOUNT section, go to Privacy and safety.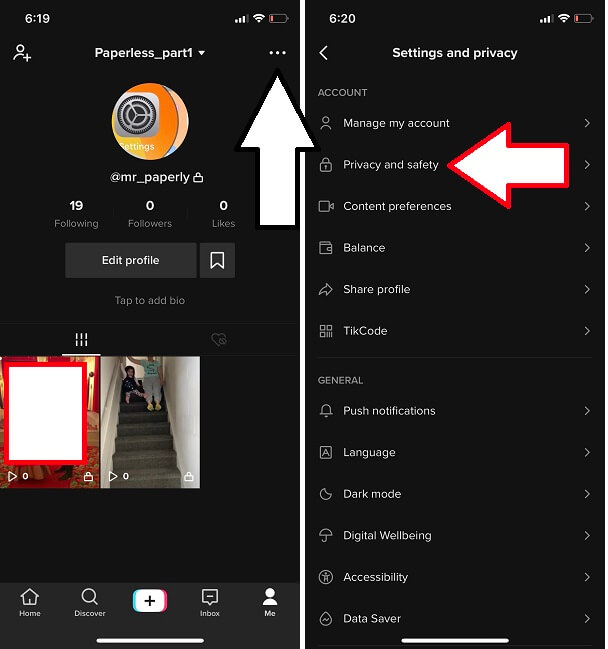 Now, under DISCOVERABILITY, toggle OFF the Private account.
Confirm Change to public account? Tap Confirm.
That said, "Anyone will be able to see your contents and likes. You will no longer need to approve followers. Note: Any pending follow requests will also be automatically approved".
This is it. Now your TikTok account is public and open for everyone who wants to see your videos, likes, comments without following you.