🗓️
April 28, 2023
By ✍️
Jaysukh patel
iCloud keychain is an Apple's advanced feature that keeps your data (the Safari Websites Password and Credit card information) up to date on that Apple device that you approve. Besides, it does not share any details even with Apple. So we are here because we don't want to see our readers any credential information leak or access by anyone else. After that Any time, we can enable Safari Autofill keeps up to date. Let's a look at how to Set up iCloud Keychain on iPhone, iPad and iPod Touch.
Generally, after Update iOS device to the latest firmware, the setup assistant steps will ask you to set up iCloud Keychain. Even though, there are many users skipped that screen and then after they want to set up iCloud Keychain. Please dive in following footsteps.
[Must Read: Use Autofill Password Safari on iPhone, iPad, Mac]
Steps to Set Up iCloud Keychain On iPhone, iPad, iPod Touch, and MacBook Mac
Step #1. Launch Settings App from your device home screen, Tap on "Profile Name".
Step #2. Scroll down the screen and Tap on iCloud.
Step #3. Tap on Keychain that appears between Wallet and Backup Options.
Step #4. Next Up, you will have to Turn Slider iCloud Keychain On/Green.
That's it!
Furthermore, if you want to set up iCloud keychain using a security code then go under the iCloud Keychain screen, you could see Advance option. Tap on it, then turn to Approve with security code toggle ON to Allow your iCloud security code to set up iCloud Keychain on new devices. And, then please follow onscreen instructions.
Now if you ever want to access saved passwords and credit card numbers with iCloud Keychain on Apple Device then go with below-given steps.
Now Start Using Autofill Username, Password and Credit Card Details on Safari, From Keychain
Open the Settings app on the iPhone.
Next, Tap on Password & Accounts option.
Now, Tap on Autofill Passwords > Enable Autofill Passwords toggle. if this option is enabled then Disable and Re-enable this option.

Also, Select the iCloud keychain as a Filling from.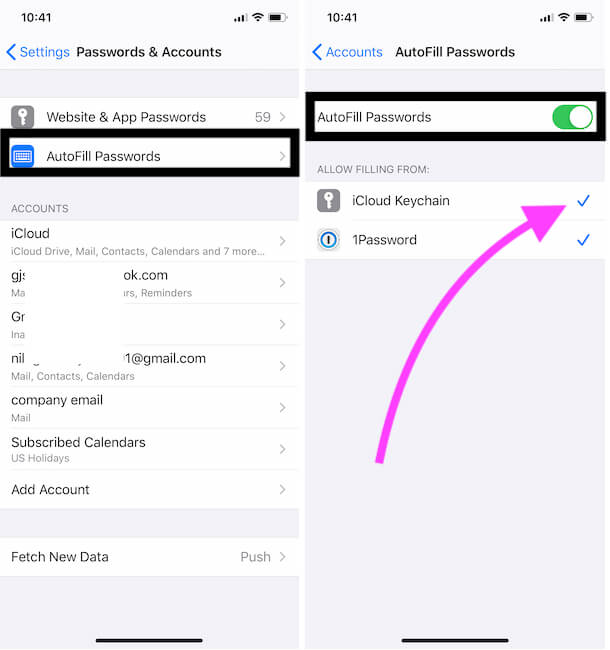 That's it. For more troubleshooting issues on iCloud Keychain Autofill not working.
Enable iCloud Keychain and Autofill Password & Credit Cards for MacBook Mac
Enable or Setup iCloud keychain Option on MacBook iCloud Settings
On MacOS Ventura:- Setup iCloud keychain
1→ Go to the Apple Logo from the top menu > System Settings.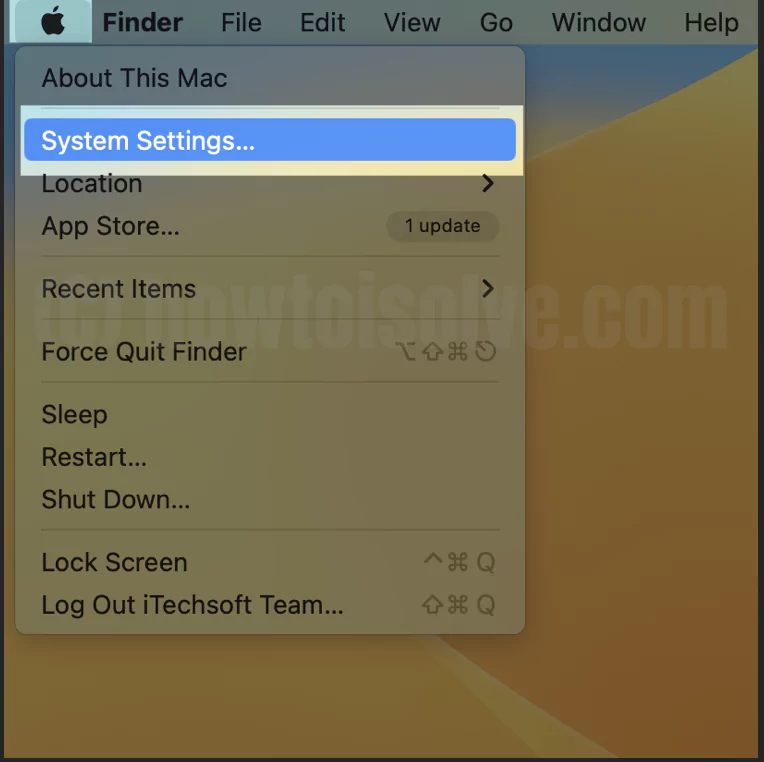 2→ Next, Click on your Apple ID name > iCloud.
3→ Select iCloud Option. Turn on Password & Keychain.
4→ Click on Continue to Allow your Apple ID settings need to be updated so this device can use end-to-end encryption.
5→ Enter and Verify your Apple ID password. In the next step, Enter your Mac Login password if asked.
6→ Again, Verify using your iPhone passcode. And That's it. From now, your iCloud Keychain synced with your Mac.
Now, Turn on Auto Fill Password from Keychain on Mac…Follow the below steps.
Step 1:- Go to the Apple Logo from top menu > System Settings.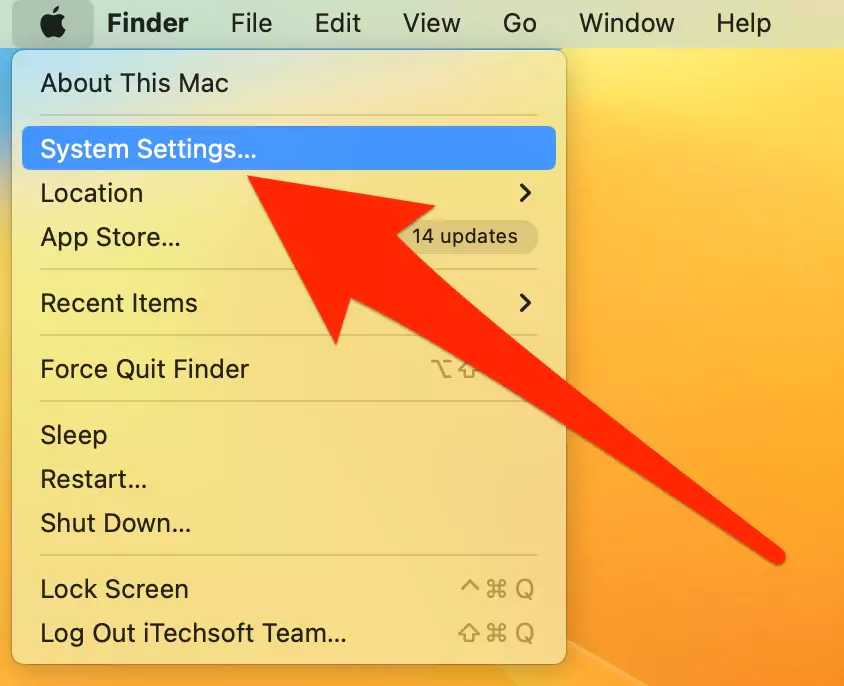 Step 2:- Next, Passwords option from left side > Enter your Mac login password. Now, Go to the Password Options.
Step 3:- Then, Enable "Auto Fill Passwords" and "iCloud Keychain" under the Allow filling from.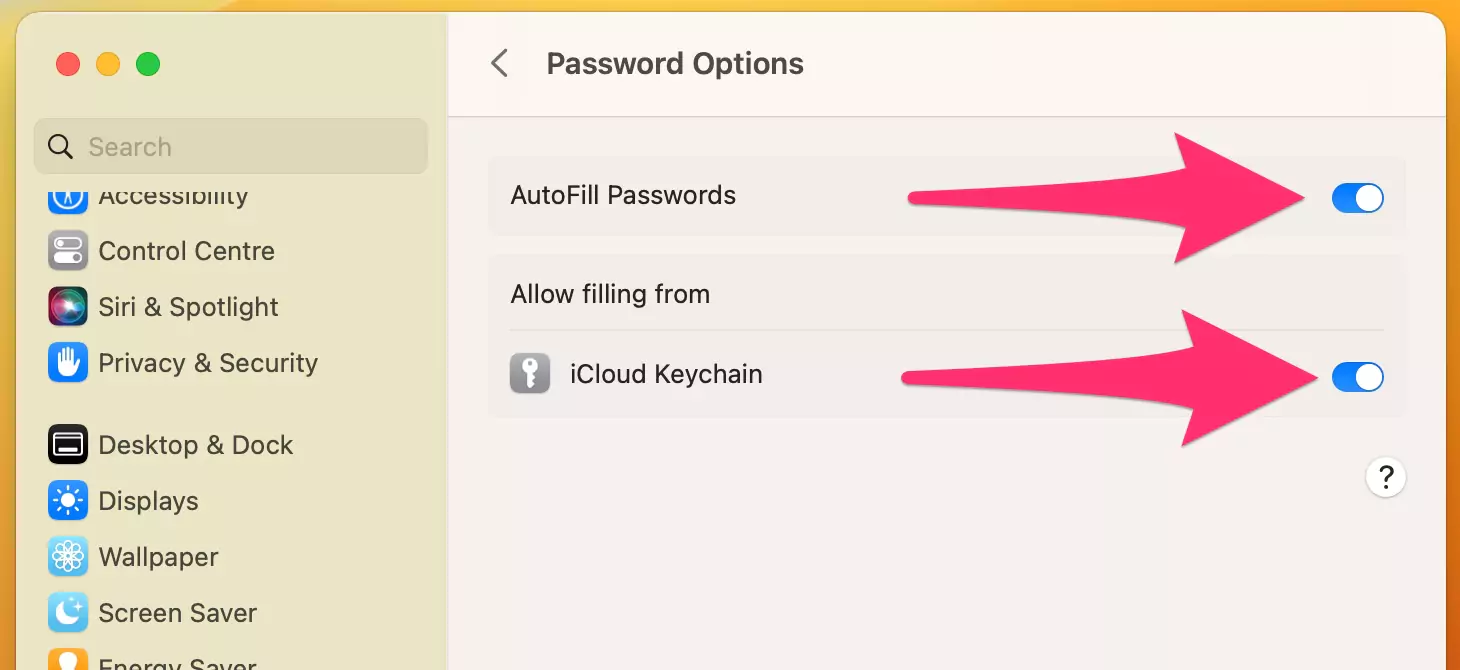 Step 5:- That's it.
On MacOS Monterey:- Setup iCloud keychain
Go to the Apple logo from the top Mac Menu.
Next, click on System Preferences option.
Click on Apple ID > iCloud from the side panel.
Next is to select the checkbox for Keychain.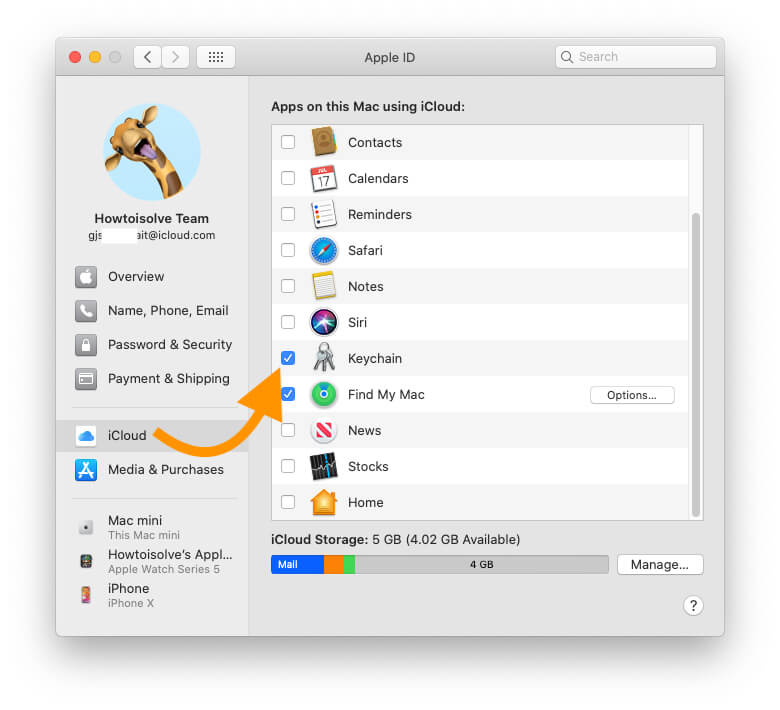 That's it.
Enable to use of Auofill Feature on MacOS Safari Browser: Retrieve Data on Safari from Keychain
Open Safari on Mac.
From top Menu, Safari > Preferences. [On MacOS Ventura: Safari > Settings]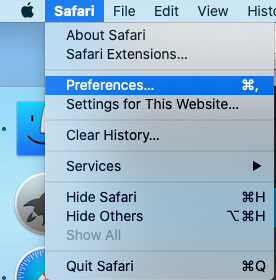 Next, Click on Autofill Tab and Enable Checkbox for use Saved Login Details and a Credit card from iCloud Keychain.

That's it.
Let's share your Set up iCloud Keychain on the latest iOS & iPadOS experience. Stay tuned for the more daily updates. You can also find us on Facebook, and Follow on Twitter.