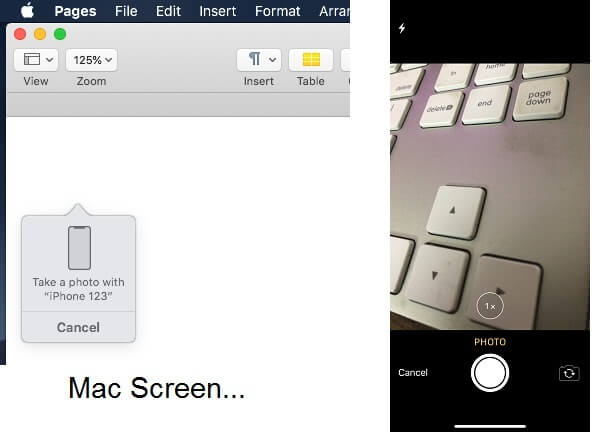 Last Updated on Sep 3, 2019
Now it's time to use leading features of macOS Mojave/macOS Catalina and iOS together. Since macOS Mojave and iOS 12 brings up Continuity camera feature, which allows you to take pictures in iPhone and transfer immediately on your Mac. It's like when you are taking a picture in iPhone corresponding you can see that picture in Mac.
we are happy to help you, submit this Form, if your solution is not covered in this article.
For instance, if you are working on some project and you require a picture of something to add in that document, then you can immediately click a picture using your iPhone and transfer to your mac using continuity camera.
AirDrop doesn't require to sync to transfer photo from your iPhone to document. "The "Scan Documents" service could not be used". Reboot both Mac and iOS device.
For the First Time use of this feature will surprise you! How Continuity camera works on Mac and iPhone/iPad/ iPod. Follow the Simple Easy steps given here. Both
Pre-Requisite conditions to use Continuity Camera That is Not Working
Both Device (Mac and iOS) Running Same Apple ID
iDevice connected on same WiFi networks & Bluetooth turned on Both the Devices.
iOS device installed iOS 12 or later and Mac device installed MacOS Mojave or Later
This Feature we can use with Apple Apps (Notes, Mail, Pages) only, But not Supporting to Finder, Keynote, and Numbers.
Give a look and learn how to use continuity camera on macOS  and iOS.
How to Add Photos With Continuity Camera on your Mac's Document from iPhone Camera
Step 1: Click on the document or file to open, in apps like TextEdit, Pages or Keynote.
Step 2: Select the location in the document where you want to add the picture by control-click, two-finger-click or right-click.
Step 3: Click on "Insert from your iPhone or iPad" and tap "Take Photo".
Step 4: Now, "take a photo" on iPhone.
Step 5: After taking a photo, click "Use Photo".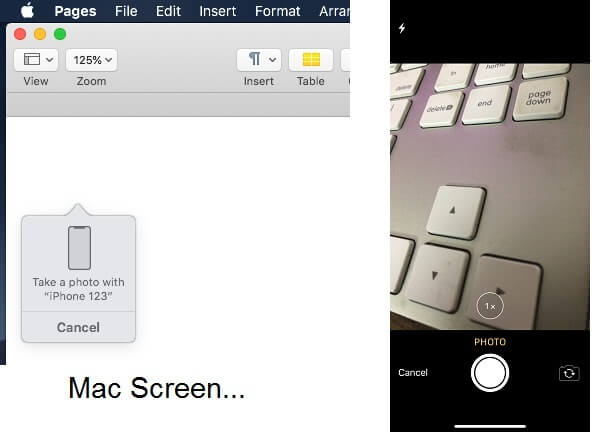 Step 6: Now, the photo would appear exactly where you have clicked previously.
Step 7: To add information, "double-click on the picture" on Mac's document.
Step 8: You can insert URL, description, and title in that photo.
Step 9: Tap "Remove Photo" or "Delete Button" in the pop-up if you want to remove it.
Without AirDrop or Wire connection you can insert or import live photo from your iPhone Camera to your Mac device's document open on the screen.
Premium Support is Free Now
We are happy to help you! Follow the next Step if Your Solution is not in this article, Submit this form without Sign Up, We will revert back to you via Personal Mail. In Form, Please Use the Description field to Mention our reference Webpage URL which you visited and Describe your problem in detail if possible. We covered your iPhone 12, iPhone 12 Pro, iPhone 12 Mini, iPhone 12 Pro Max, iPhone 11 Pro, iPhone 11 Pro Max, iPhone 11, iPhone 8(Plus), iPhone 7(Plus), iPhone 6S(Plus), iPhone 6(Plus), iPhone SE, SE 2(2020), iPhone 5S, iPhone 5, iPad All Generation, iPad Pro All Models, MacOS Catalina or Earlier MacOS for iMac, Mac Mini, MacBook Pro, WatchOS 6 & Earlier on Apple Watch 6/5/4/3/2/1, Apple TV. You can also mention iOS/iPadOS/MacOS. To be Continued...
Like it! Share it! More tricks and troubleshooting guide. Any problem to use Continuity Camera on MacOS Mojave and iOS 12, Comment me!