VoiceOver is a complete solution in iOS 13 and Earlier and having very popular for all the users. Here you can get the full guide on how to use VoiceOver in iOS App, Safari, Email, and Text. By default, VoiceOver is disabled/ Turn off in iPhone and iPad. To use all the features under the voice over, you have to activate it manually inside the settings. VoiceOver gives loud voice quality without any app. Using VoiceOver; you can read Text from Nook, iBook and Kindle apps. Moreover, you can hear detailed stories and Text display on your iPhone and iPad screen.
iOS 13 VoiceOver has some major updates like it allows you to customize activities, haptic feedback for the sound queue, and much more. To find more features just look at this.
Don't miss: How to adjust home button click speed on iPhone, iPad.
Pre-requisite: To use VoiceOver first enable under the settings.
About VoiceOver in iOS 13, iOS 12 or earlier use from iPhone and iPad
Navigation
With VoiceOver in iOS, you need to use gesture to run extra operation and effect using your figure.
Slide your figure around the iPhone and iPad screen to activate VoiceOver.
After that tap the home button to hear a description from the speaker
Flick from left to right to move another app
Get details to use and description about the app with black rectangle message after the tap on the particular app.
How to Disable/Enable VoiceOver on iPhone, iPad: iOS 13
You might be wondering, where is VoiceOver in iOS 13. It is right inside the Accessibility, unluckily Accessibility has moved out of the General section. Let's see how to enable VoiceOver on iPhone iOS 13.
Open the Settings app > Accessibility > VoiceOver > Turn on VoiceOver.
that is it. and Disable toggle for turn off VoiceOver on iPhone.
if Accessibility Shortcuts enabled for VoiceOver iPhone user can use triple click on side/power button of iPhone. To enable VoiceOver for Accessibility shortcuts/ Settings app on Iphone > Accessibility > scroll to accessibility shortcuts and select VoiceOver.
Note: For apple watch, use Triple tap on digital crown button to turn on and turn off VoiceOver on Apple Watch.
Text Input
Are you doing the text? In message or Mail, VoiceOver cares about correction and auto spell by speaking out.
If you don't want to get the suggestion from VoiceOver keeps typing continue by ignoring the voice.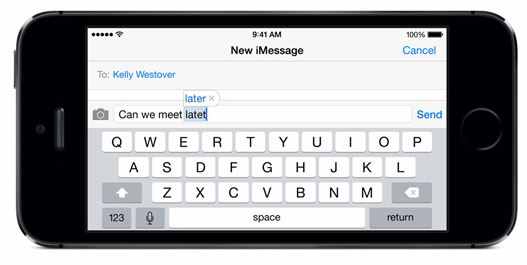 Braille Keyboard
Using the rotor, When you are on a webpage – Rotate your two figure in screen centrally. You can read the title, links and Image Description.
Supported app Apps: How to use VoiceOver on that
VoiceOver making you automatically integrated to the official apps like
Safari
App Store
iTunes
Reminder
Calendar
Mail app
Multi-language support
VoiceOver is supporting 30+ languages. So you can use as you like. Go to the "Settings" > "general" > "VoiceOver" > "Enable VoiceOver Toggle"
Note: You must have to enable/ turn it before using VoiceOver in iPhone XS Max, iPhone XS, iPhone XR, iPhone X, iPhone 8, iPhone 8 Plus, iPhone 6, iPhone 6 plus, iPhone 5/5S, iPhone 4/ 4S.
Useful: Recover deleted photos from your iPhone, iPad on iOS [How to].
Steps to enable/ Turn VoiceOver On iPhone and iPad: iOS 12
Step 1: Go to the Settings App
Step 2: Tap on General option inside the setting.
Step 3: Next, Tap on Accessibility, and under the vision, section Tap on VoiceOver.
Step 4: Enable/ turn on it by taped on it.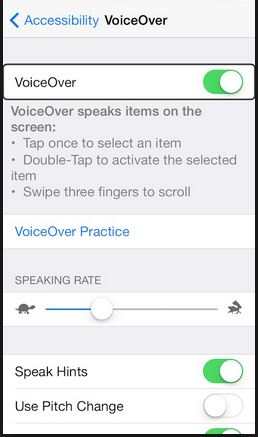 in iPhone, you can see the option for change Voice Accents under the "speech" option. also, get useful settings like "screen reading speed".
What is about feeling after use VoiceOver in iOS 13 and Earlier running iPhone and iPad? Having confusion on how to use given apple guide, and then comment in below.