Last Updated on Sep 16, 2021
Bluetooth technology has widened in the last few years. You can connect any device which has Bluetooth and goes wireless. Like connect Bluetooth headphones and enjoy songs and calls hands-free. Even we are using Bluetooth keyboard and mouse for the tangled free use of accessories. Only you have to enable Bluetooth in iPhone and in that device, and within seconds they will pair automatically if they are paired before.
we are happy to help you, submit this Form, if your solution is not covered in this article.
Sometimes pairing of Bluetooth devices with iPhone can cause complications if they are corrupted, or there is a problem with the iPhone. Let's head over to fix iPhone 13 Pro Max won't pair or connect the Bluetooth accessory.
Primarily you should enable and disable the Bluetooth and if that doesn't work then follow our troubleshooting guide.
iPhone Bluetooth not finding Device: Bluetooth Device may be connected to another device already or Not turned on.
iPhone Bluetooth Spinning Wheel: Keep Both device asps near in distance or Turn off/On accessories and try again
4 Solutions to fix your iPhone 13 Pro Max Won't Pair or Connect to Bluetooth
---
Fix 1: Reboot iPhone and Bluetooth device too
Unluckily if you have encountered this problem while connecting iPhone to a Bluetooth device then first restart the iPhone 13 Pro Max and Bluetooth device, and so it will fix minor glitches.
Press and release Volume Up button.
Press and release Volume Down button.
Press and hold the Power button until the Apple logo appears on the screen and Black screen after that.
To restart the Bluetooth device simply turn it off or unplug the power adapter for a few seconds and then turn on the Bluetooth accessory. As a result firmware errors of Bluetooth devices will be fixed.
Note: Make your Bluetooth accessory in discoverable mode and wait for the iPhone to scan that device. When you found the device on the list then tap on it to pair. In case if you have asked to enter the pairing code then check out the manual or contact customer care to know what is pairing code.
---
Fix 2: Switch Bluetooth and Airplane mode to off/on
Toggle off and on the Bluetooth is one of the most straightforward ways to refresh the list of connections. Besides turning on and off the Airplane mode is also results in the same and if restarting iPhone 13 Pro Max doesn't work out for you then try this.
How to turn off and on Bluetooth in iPhone 13 Pro max
From the "Settings", tap "Bluetooth".
Toggle the Bluetooth to off, if it is on.
Get back to home screen and after few seconds again enable Bluetooth by the same steps.
How to turn on and off Airplane mode in iPhone
Go to "Settings".
Tap "Airplane Mode". Turn it on.
Close the Settings app and then again turn Airplane mode off from the Settings.
By this, all the wireless radios will get a fresh start, and it might fix your iPhone won't pair Bluetooth accessory.
---
Fix 3: Remove/Forget the Bluetooth accessory
If you are using that Bluetooth device for a very long, then it might get corrupted, and that's why iPhone 13 won't be able to connect Bluetooth devices. Therefore un-pair the Bluetooth accessory and reconnect it with.
Step #1: Launch "Settings" and tap "Bluetooth".
Step #2: Tap on the Bluetooth accessory (i) button.
Step #3: When you see multiple options select "Forget This Device" and confirm it.
Now restart the iPhone and then enable the Bluetooth and try to pair the accessory with iPhone.
---
Fix 4: Reset Network Settings
Sometimes we made a wrong selection in the settings, and that results in such dramatic problems like this. When you reset network settings, all the settings that you have made related to the network will be changed to default.
Steps for iOS 15 and later Version users
Step #1: Open up "Settings".
Step #2: Open "General" and then tap "Transfer or Reset iPhone".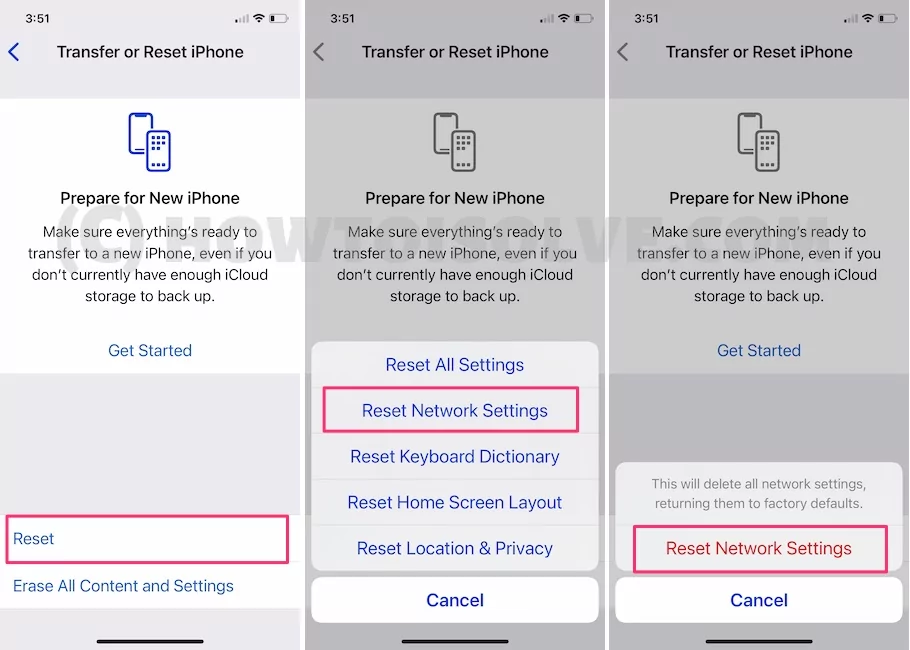 Step #3: Lastly, tap "Reset" > "Reset Network Settings" > Enter your iPhone Lock passcode and Try after Reboot once. This Process won't erase other important settings, Media, Messages, and more.
Steps for iOS 14 and Earlier users
Step #1: Open "Settings" and tap "General".
Step #2: Next, select "Reset".
Step #3: Finally tap on "Reset Network Settings".
Once you hit Reset Network Settings, you have to enter the passcode, and then iPhone will reboot. All the configurations will be set to default.
---
Extra Power Hint!
Bluetooth problem you like biggest issues with your iPhone, You should Restore device to Factory settings. that install new iOS copy and Fix internet software error from the root of the device. Restore iPhone into recovery mode takes time but is a fine solution for you.
Watch the video, Hard reboot your iPhone, Quickly press and Release Volume up button and Volume down button simultaneously, now press and hold the Side button only to get recovery mode until your iPhone showing Cable and iTunes logo on the screen. Click the Restore button on iPhone, Select a Downloaded ipsw file and start the installation. Use iTunes to New Setup on iPhone after the restore completes.
This is all about how to fix iPhone 13 Pro Max that won't pair or connect to Bluetooth accessories. After trying all the four solutions still if you are not unable to pair the Bluetooth device with iPhone then check if the Bluetooth device is compatible with the latest Bluetooth version? Read the manual or contact customer care of Bluetooth accessory. Another master solution is to factory reset the iPhone which will remove all of your data from the iPhone.