🗓️
November 28, 2023
By ✍️
Jaysukh patel
The entire smart gadgets have good sound quality and unique tones that are easy to listen to in large crowds. Apple has perfect and effective ringtones, notification tones, and Haptic vibrate or Custom Vibrate. Let's check the possible settings and troubleshooting tips on the iPhone Ringer Volume is very low and muted for iPhone 15 Series, 14 series, 13 (Pro Max)/Mini, iPhone 12 (Pro Max), and other iPhone models.
The side volume button doesn't work to increase iPhone ringtone volume; you need to change the settings for enabling and use the Side volume button to increase/decrease ringtone volume. Quick enable "Change with Button" under the Settings app > Sound and Haptics > find the option "Change with Buttons" Enable toggle.
In the past we share the guide on iPhone Low in Call Volume, also are suffered from this problem check out my guide, and hope you helped.
In most cases iPhone Ringer volume low
iPhone ringer volume low when picked up
iPhone ringer volume low even when turned up
Fixes and Guide on iPhone Ringer Volume very Low
1: Toggle on/off – Ring/Silent Side switch
For iPhone 15 Pro & iPhone 15 Pro Max: Use the Action button to Switch Between Silent and Ring more if your Action button is not customized, Press and Hold on the Action button to Switch between and Turn off Silent mode or Disable Silent mode from the control Center.
Launch the Settings app next tap on Sounds & Haptics then Disable Silent Mode on your iPhone.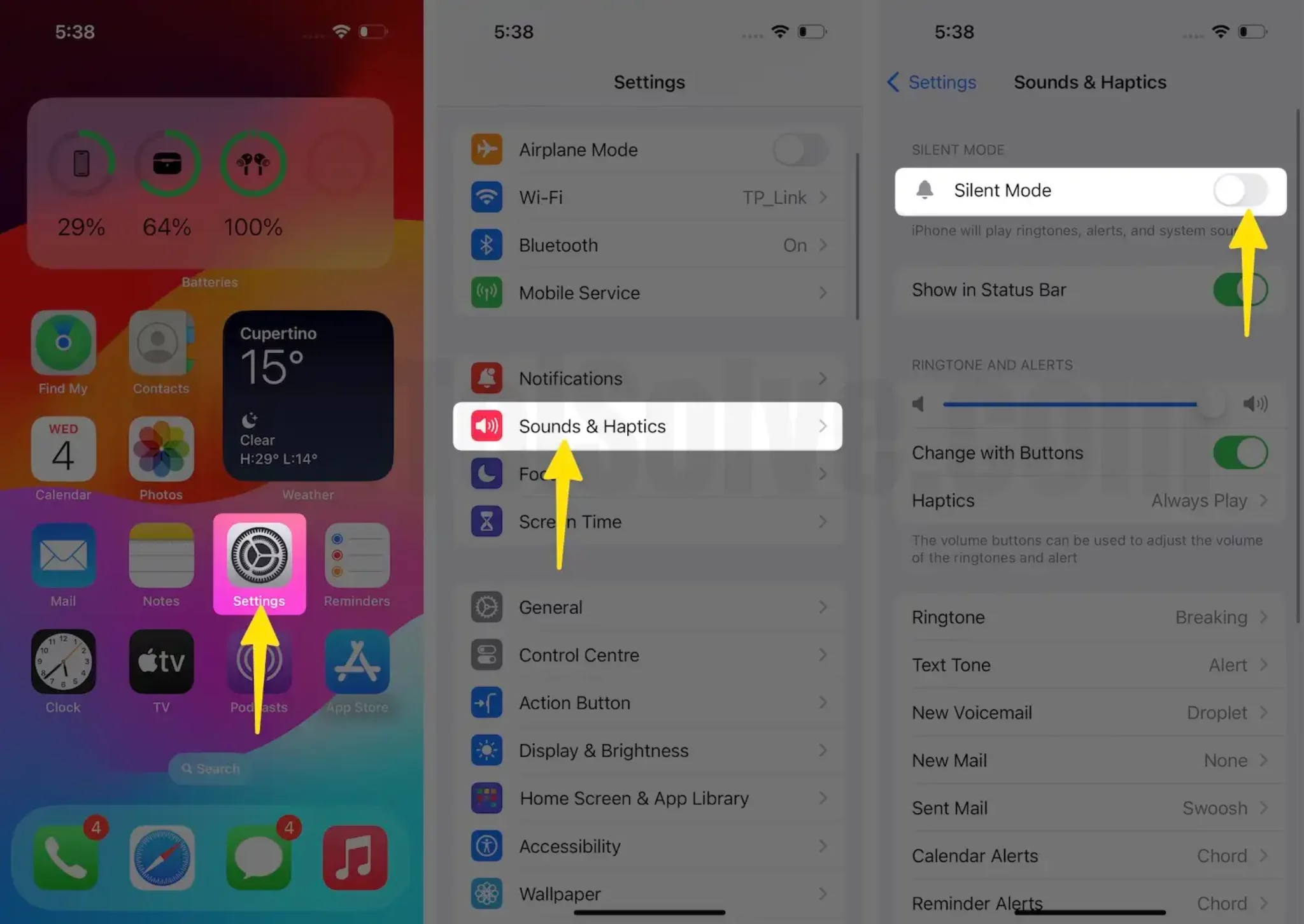 or Another easy way to Turn off Silent mode from the control center, Open control center > Tap on the Bell icon to turn off silent mode.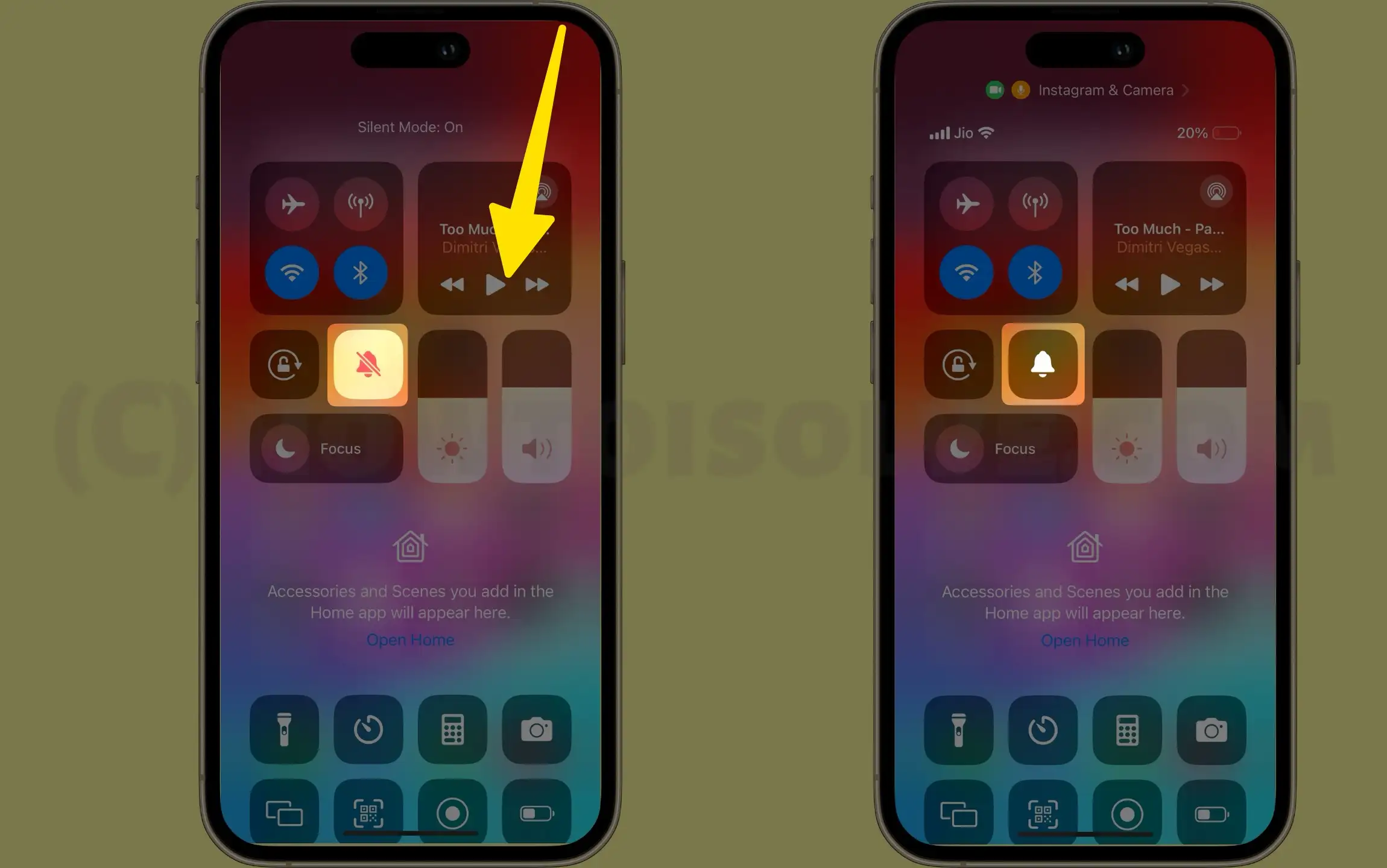 My iPhone not ringing! (iPhone 14 & Earlier) Sometimes side button Ring/Silent Switch is stuck, and a loose connection point in the switch arising problems with enabling it. So once, try to disable and enable this switch manually.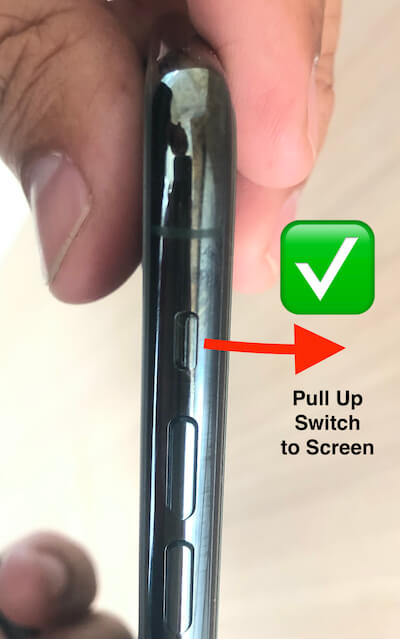 Check the result or test by a call from another phone or mobile.
2. Volume is low: Use Volume up button for reset or change the ringtone volume
First, enable the toggle for "Change with Buttons" from the steps given above. Unlock your iPhone, Go to the home Screen > Use the side button to make the instant effect or change the level of ringtone volume.
Launch the Settings app next tap on Sounds & Haptics.
Under the Ringer and Alerts, Enable the toggle "Change With Buttons". also set the Volume level slider to maximum on iPhone.
Also Set the correct Ringtone for your Device, change it too loud sounds,
1. Launch the Settings app tap on Sounds & Haptics.
2. Scroll to Ringtone then Select your Favourite ring. Also, we can add a new Custome Ringtone to iPhone Easily.
3. Hard Reboot or Reset
Hard reboot or reset auto fix all the internal problems at once. Try the cross-finger solution. There should be internal software issues conflicting with hardware.
Hard reboot: First Press and Release Volume up button, Now Quickly press and release Volume down button.
Now Press and Hold the Side button until you see the Apple logo on the screen. Your iPhone Screen will be black and use the Sleep/Wake button to turn on iPhone.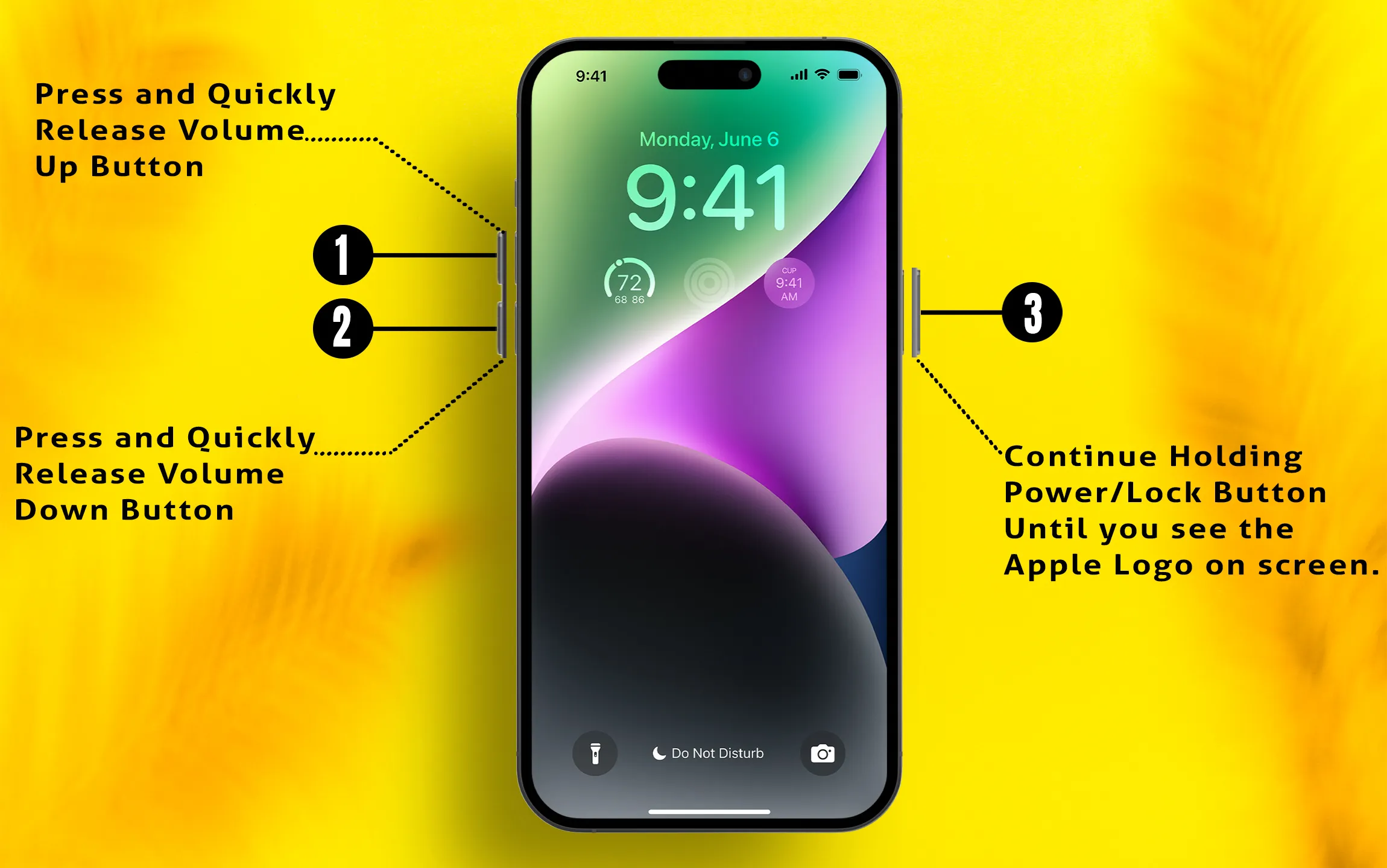 Now, Check the issue is fixed.
Check for Update iOS
New software update get help, Check the Settings app > General > Software Update > Download and install a software update.
Reset and Restore to clean install
The problem is really serious; try this healthy and long process. First Backup your iPhone on iCloud or iTunes.
iOS 15 & Oder
Go to the Settings app on iPhone > General > Transfer or Reset iPhone > Erase All Content and Settings > Tap on Continue and Enter Passcode for this iPhone, Enter your Apple ID and Passcode to Verify and Turn off Find My and Activation lock.
That's it. Later on, we can Restore from the Old Backup, once we fix the issue.
iOS 14 & Earlier
Erase All Content and Settings, Go to the Settings app > General > Reset > Erase All Content and Settings
Download and install Latest iOS, Restore the old backup on iPhone. Follow restore iPhone.
Turn off Attention Aware Features
This setting will automatically adjust the behavior of your iPhone screen or Alert/Notification/Incoming Ringtone sound. Manage this setting under the Face ID & Passcode option on your iPhone's settings.
Open the Settings app on iPhone. tap on scroll to Face ID & Passcode.
2. Click on Enter your passcode Scroll to the Option "Attention Aware Features" toggle and Disable the toggle.
That's it.
iPhone will check for attention before dimming the display, expanding a notification when locked, or lowering the volume of some alerts.
Clean Speaker holes with the Soft toothbrush
Hard particles and chemicals block the speaker hole, Use a dry Soft baby toothbrush (because it has a tiny brush). Blow the air and clean up all the bottom edge holes carefully.
Wrap-Up – Get Help from Apple
No solution helps to fix the iPhone Ringer Volume very low, Check purchase Date and Contact the apple support center. Get a free replacement and fix from the apple help desk if under warranty. Also, get online Apple support via chat or Email.
Meet US
Follow us for more tips-tricks, and troubleshooting on your iPhone model. Subscribe our YouTube Channel, like and share the story on FaceBook, and Twitter.