Last Updated on Sep 28, 2021
The iPhone comes up with a new trendy ringtone which already attracted all iPhone users. But sometimes it happens that the ring volume of the iPhone remains on low volume or doesn't ring up. For this issue, you can have many options and solve this problem of this low volume of the ring on your iPhone 13 series, iPhone 12(Pro max)/ iPhone 11(Pro Max)/X/8 & Earlier models.
we are happy to help you, submit this Form, if your solution is not covered in this article.
Turn off Attention Aware features:-
Attention Aware features auto manage some functionality via Face ID, When your Face Detect by your iPhone, Ringing Volume slower down itself, Dimming your Display if you are not looking at your device. If you don't like this feature we can disable it or turn it off. Understand the function and disable using steps:
Go to the Settings > Face ID & Passcode > Turn Off Attention-Aware Features toggle, Make your iPhone Ringtone all time louder.
➡️ Download and Copy iPhone reflection ringtone to Old iPhone
Fix: iPhone Ring Volume is too low or Ringing Slow for the incoming call
1. Check your ringtone or the silent mode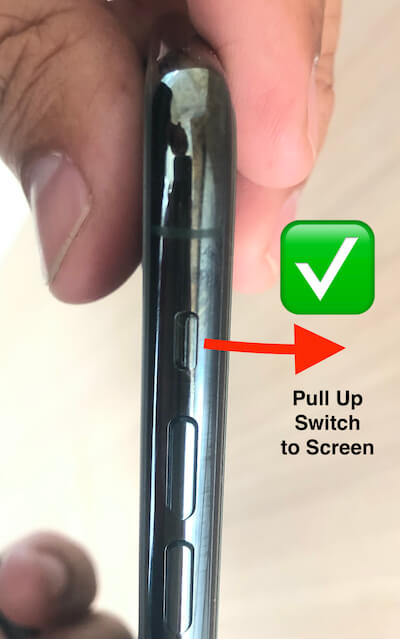 Sometimes the ringer switch on the left side is flipped to mute or silent that makes the ring, not ring. For this check the switch on the left edge side of the iPhone. An orange mark line can confirm this on the switch display because the switch is pulled not here from the iPhone screen.
For turn off iPhone Silent/Ring Switch pull towards the screen/ Orange line will be hiding and the volume will be raised. For avoiding this while flipping the Ring or switch an alert & notification display about the ring on and off so you can make it sure by that.
2. Make Tone louder or Change Song for Ringtone
Download Other Ringtone from above link and edit with sound boosted that increase original Tone and Save in your iPhone than setup again.
Go to the Settings app on iPhone > Sounds & Haptics > Ringtone > Change Ringtone.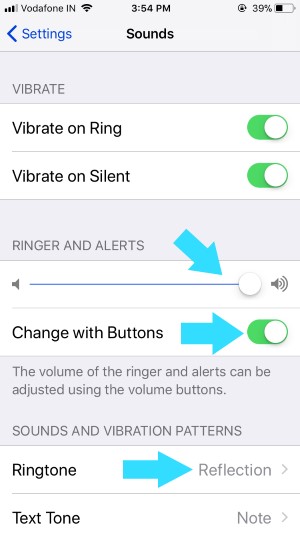 3. Turn up the iPhone ringer volume up another way
For turning on the iPhone Volume up you have to Go to the settings app on iPhone and then tap on the sounds and haptics and drag the slider under the ringer and alerts to the right to turn up the volume bar and increase all system sound.
For avoiding, enable the toggle for Change with Buttons on Settings. So Change volume using the left Side button will automatically affect Settings here.
4. Turning Off the Do Not Disturb
Go to the settings app and tap on do not disturb and tap the switch next to manual so it won't turn on without your permission and won't stress you. Do not disturb off when the switch is gray.
On Latest iOS [iOS 15 or later], Do Not Disturb Covered in Focus, So Here's how to manage focus on iPhone and Turn off Do Not Disturb and Other focus. Settings > Focus > Do Not Disturb or Tap on Other Focus and Turn off.
For turning off the do not disturb in the control center swipe up from the bottom of the screen and tap on the do not disturb icon having moon-shaped. So turn it off and make the ring volume up. Another you can control it by the Siri. For this press and hold the home button and say Turn Off Do Not Disturb. Siri will respond and work according to your order.
5. Inspection your iPhone charging port or the lightning port
For this use, a high-intensity light or other iPhone flashlight and detect any dirt and debris in the charging port. If it is there then a gentle brush clean up all the things and it will clear and solve the problem of your iPhone Volume up.
6. Repair your iPhone with Plus or Others
For this visit Puls.com. Click phone repair and select iPhone and its. Model and color, then select the repair you need and fill in the additional information for the technician. Click the button on the total cost and enter date and time till you want to be repaired your iPhone and it will be done. Look at other iPhone Repair Service near me and book appointment online.
7. Repair your iPhone with Apple
You can contact the Apple store for the further issues, and it can be repaired convince up to you and easily without wasting much time or money. So it can be a better option for repairing of this Volume issue with your iPhone.
With all this you can solve your problem and enjoy the high volume and amazing ringtone of your iPhone. Get Fixed iPhone Ring Volume is too low or not sounding for the incoming call on iPhone.