Slow motion video possible with mostly all the devices running on the latest iOS device. But it's hard and not possible to make your simple video to Slow motions saved in camera roll or Photos app. That may be downloaded online or imported video using iTunes or other software. I found and reviewed some apps in iTunes and that work for me on making a Simple or Normal video into Slow motion using iPhone/ iPad. Yes, but if you are looking for reverse tips on slow-motion video to normal video or Regular Speed Video.
Forgot all the technical things, if you are learning or editing video first time on a small device then Photoshop or Other famous media desktop software. I tried to make slow motion video downloaded from WhatsApp video (Play video on App, Save on device).
we are happy to help you, submit this Form, if your solution is not covered in this article.
Apps for Make normal video into slow Motion on iPhone/ iPad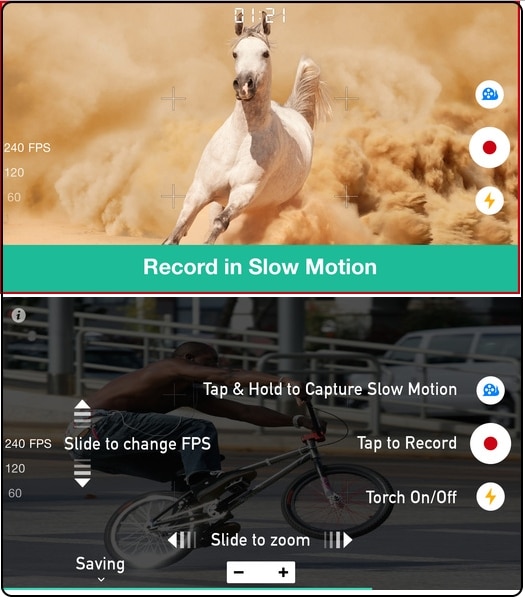 Tens of iOS apps available related to our solution on App store but all are not functional that is easy for you. Just go with below apps, even if you found better then my hand pick then welcome and share with me in the comment box.
iMovie not helpful for edit video on Slow motion video effect.
#1. Slow Motion Camera Extreme
Create a new slow-motion video on iPhone/ iPad or Apple Watch. Or import video from camera roll and convert it into slow motion. In more settings, you can add start or End slow-mo time interval, Change Speed, Zoom video picture. Save instantly without change or modified original video. Or Share directly on social media (Facebook, Twitter, Instagram, Vimeo, YouTube or More).
Get Slow Motion Camera Extreme – $2.99
#2. SlowCam – Slow-Mo Video camera
Pre-recorded normal/ Regular mode video saved in your iOS device, Convert all of them into Slow-motion video in your Frame rate (60/ 120 fps). This app designed for use different frame rate scale for all iPhone models. 30 FPS (), 60 FPS (iPhone 5/ 5C), 120 FPS (iPhone 5S+), 240 FPS (iPhone 6/ 6+). Set Focus or use Exposure point by a Double tap on the screen.
Use LED torch for Turn on flash while record live slow-mo video using this app
Download SlowCam – Slow-Mo Video – $1.99
#3. iMotion Pro
This app is the only way to record at the slowest frame rate (fps) – Slow motion level. Edit Movie or Video using iMotion Pro, Get 720 or 1080p Video quality just like an option for Change iPhone camera resolution. Also Other very useful time-lapse, Wifi remote, microphone, manual camera modes and Reverse playback.
Apple watch compatible apps
Download iMotion Pro App – $3.99
#4. Slopro – 1000 fps slow motion video
Slow to fast motion video (up to 1000 fps), Latest update revel big and new features like Slow motion, Fast motion, Ghosting, Optical flow, Sharing, Exposure. 3 Extra effects in Slow motion video recording.
Slopro available for iPad, Get more learning video tutorial on Youtube channel.
Download Slopro 1000 fps – Free
Don't miss to share experience on our tips in the comment box, also suggest your personal opinion on convert normal video into Slow motion from iPhone/ iPad photos app.
Premium Support is Free Now
We are happy to help you! Follow the next Step if Your Solution is not in this article, Submit this form without Sign Up, We will revert back to you via Personal Mail. In Form, Please Use the Description field to Mention our reference Webpage URL which you visited and Describe your problem in detail if possible. We covered your iPhone 11 Pro, iPhone 11 Pro Max, iPhone 11, iPhone 8(Plus), iPhone 7(Plus), iPhone 6S(Plus), iPhone 6(Plus), iPhone SE, iPhone 5S, iPhone 5, iPad All Generation, iPad Pro All Models, MacOS Catalina or Earlier MacOS for iMac, Mac Mini, MacBook Pro, WatchOS 6 & Earlier on Apple Watch 5/4/3/2/1, Apple TV. You can also mention iOS/iPadOS/MacOS.
Jaysukh Patel is the founder of howtoisolve. Also self Professional Developer, Techno lover mainly for iPhone, iPad, iPod Touch and iOS, Jaysukh is one of responsible person in his family.
Contact On: [email protected] [OR] [email protected]