🗓️
November 22, 2023
By ✍️
Jaysukh patel
What to do if a Find My app won't Open that is crashing on iPhone, iPad, or Mac? Well, there is a plethora of suggestions and workarounds available on the web to fix the Find My App Crashing on iPhone, iPad, and Mac, MacBook. Trying each of them without proper guidance could result in data loss, and still the Find My app crashing problem won't resolve. Nowadays, the usage of Find my App has increased a lot due to AirTag launched by Apple, which is used to track the lost items. AirTag primarily needs the Find my App.
In this article, I've listed the best possible workarounds for iPhone, iPad, and MacBook to overcome the app crashing issue on iPhone irrespective of the app. Before moving to the below troubleshooting, kindly visit the Apple System Status Page and check if Find My App is facing an outage or working fine from their end.
Fix Find My App Crashing or Stopping on iPhone, iPad, Mac
---
1: Force Close Find My App
Like any other third-party application, Apple's own Find My App could crash and won't respond. There are plenty of reasons why the Find My App keeps stopping and crashing on iPhone, iPad, or Mac. If you're facing this trouble all of sudden, then, first of all, force close the App.
On iOS/iPadOS devices:
iPhone with home button: Double-press the Home button, and when the App Switcher appears, swipe up all the applications running in the background.
iPhone without home button: Gently swipe up the white line in the middle-bottom part of the iPhone, and there you should see the App Switcher. Swipe up all the apps to force close them.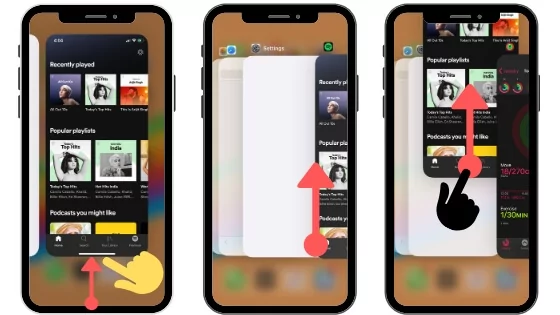 On macOS devices:
Press Command+Option+Escape, and then select the Find My app and lastly, click on the Force Quit button.
Once you're done with Force Closing the app, jump to the next tip to ensure the Find My App runs smoothly.
2: Apple Server Status & Network issue
Find my Device service Allows users to Track any Apple device connected under the same Apple ID and iTems with AirTag. Sometimes, the Apple Server outage creates a problem of Find my app keeps crashing on startup.
Go to this page [For USA]: https://www.apple.com/support/systemstatus/
Also, Change your Geo-location from the below apple website page.
Network issue:-
Make sure and Check Your iPhone is connected to the internet, That might be WiFi or Cellular Data on iPhone/iPad and WiFi or Ethernet Connection on Mac.
3: Restart Your Apple iPhone, iPad, or Mac
After closing all the applications on iPhone, iPad, or Mac, you must perform a restart. This will eliminate minor glitches and bugs your system faces without deleting any crucial information.
For iPhone 8 or Later/iPad without Home button:
Press and quickly release the Volume Up button.
Press and quickly release the Volume Down button.
Press and hold the Side button until the Apple logo appears.
For iPhone 7, 7Plus:
Press and hold the Volume down button and Power button until Apple logo displays.
For iPhone 6S, 6S Plus, or earlier/iPad with Home Button:
Press and hold the Home button and Sleep/Wake button until Apple logo comes up.
For Mac, MacBook:
Click on the Apple Logo that appears on the upper-left corner.
Select Restart.
4: Reset All Settings (Only For iPhone, iPad: Recommended)
App crashing is the most common issue dealt with by hundreds of iPhone and iPad users. Find My Crashing is not a big deal. It could happen due to inappropriate settings, malware, or any unknown random issue. However, wiping out all these random issues is too easy to do. Simply reset all settings on your iPhone and iPad. Though your home screen layout, Apple Pay cards, location settings, keyboard dictionary, and privacy settings will be removed, none of your personal data will be removed.
Steps to Reset All Settings in iOS 15 and later Version
Go to the "Settings" app > Tap "General" > Find and open tap "Transfer or Reset iPhone" > Tap "Reset" > Lastly tap on "Reset All Settings"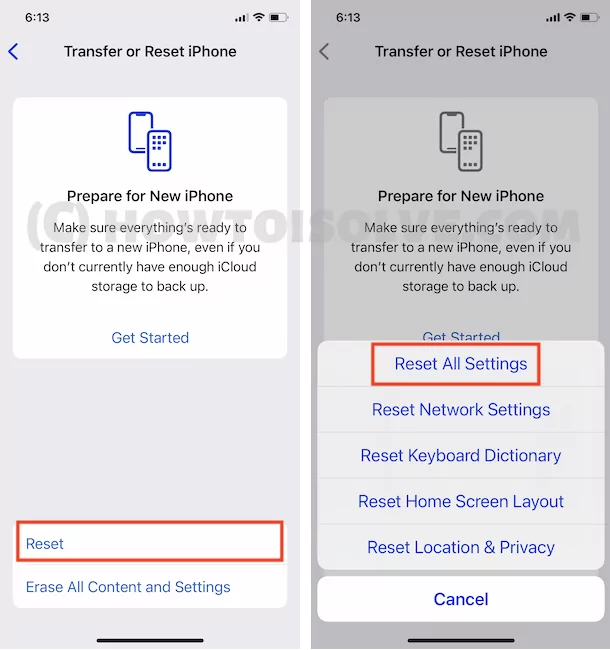 > For security reasons, you will be asked to enter the iPhone Passcode. >Tap Confirm Reset All Settings. > After that iPhone will reboot.
Steps to Reset All Settings in iOS 14 and Earlier Versions
Open the Settings app on iPhone or iPad.
Tap General.
Tap Reset.
Select Reset All Settings.
Enter the iPhone Passcode and read the warning message and confirm again by tapping on the Reset prompt.
5: Update iPhone, iPad, Mac, and Find My App
Using outdated applications and firmware on Apple devices can also be a reason behind why Find My App crashing on iPhone, iPad, Mac. Besides, keeping the apps and the iOS/iPadOS/MacOS up to date is much necessary to maintain the stability between systems. Better late than never, you still have a chance to update the devices and app.
Make sure to connect iPhone, iPad, and Mac to Wi-Fi before following the below steps.
To Update Find My App on iOS/iPadOS:
Launch the App Store.
On the top-right corner, tap on the profile icon.
Swipe down to the Find My App and tap the Update button or you can tap on the Update All button to update the apps all at once.
If the apps are up to date, then you will see Open button next to the app instead of Update button.
To Update Find My App on MacOS:
Go to the Mac App Store.
On the sidebar, click Updates button.
Locate Find My App and click on the Update button if the update is pending.
To Update iOS/iPadOS Firmware:
Open the Settings app.
Tap on General.
Scroll down and select Software Updates.
Select Download and install update, if appears.
To Update macOS Firmware:
Go to the Finder.
Click on Apple icon in the top menu bar.
Select System Preferences.
Select Software Update.
Click Upgrade Now, if the update is pending.
6: Check Storage Space
Unlike Android phones, Apple devices usually don't have apps crashing or not opening when running low on storage. However, after trying all the above-listed tricks, the app is not working, then take a look at the remaining storage.
Applications that require memory while running could cause multiple errors; therefore, it's good to check the storage space.
On iPhone/iPad:
Open the Settings app.
Tap General.
Select iPhone Storage/iPad Storage.
If the storage is low, then start deleting the apps, videos, and photos that you don't need any more or shift the data on the PC.
On Mac:
Launch Finder on Mac.
Click on Apple logo.
Select About This Mac.
Click on Storage tab.
There you should see Storage Bar showing the consumed and free storage.
Click Manage to organize the storage.
You will have few more options like Store in iCloud, Optimise Storage, Empty Bin Automatically, and Reduce Clutter.
Depending on your convenience, choose the option.
7: Factory Reset iPhone, iPad, Mac
This should be your last option to fix Find My App Crashing while opening or using. Furthermore, doing this action will remove all the data, including personal pictures, videos, documents, applications, and many other data stores on iPhone, iPad, and Mac. Therefore, it's recommended to back up the data before erasing all settings and contents.
On iPhone, iPad:
Note: Take Backup of your iPhone then Erase the Device Using the Below step,
Go to the Settings app.
Tap on the General.
Select Reset.
Tap on Erase All Content and Settings.
Enter the required passcode and confirm reset.
On Mac:
Note: Take a Mac Backup in Time Machine.
Power off the Mac, click on the Apple icon on the top menu bar.
Select Shut Down. After Wait for 20 Seconds.
Intel Mac:- Turn on your Mac, and Quickly Press and hold the Command+R. For M1 Mac:- Press and Hold Power button only until you see Startup volume and Settings option. Select Settings option.
In the Recovery mode, select Disk Utility.
Click Continue in the Disk Utility menu, and look for the Primary Hard Drive, select it, and click Unmount.
Thereafter, click on the Reinstall OS X button and then proceed with on-screen instructions to reset MacOS to factory settings.
Conclusion:-
App Crashing issue comes to your device from software bug or Internal software issue. We can fix it by following the above solutions. Also, this online service depends on Apple server network connectivity.
Let's share which solution works for you. If you still have a problem, you can also contact Apple Support.