Last Updated on Nov 10, 2020
Apple is launching every year a new version of iOS. Recently iOS 11 was released on the market before that iOS 10 and nine were liberated. With all such updates, we have faced a lot of bugs and also enjoyed the new features of updates. Today we will see try to solve the trouble "iOS Cellular Data Usage Restrictions Not Working" in iOS. Compatible Models: iPhone 12 Pro Max, Mini, iPhone 11 Pro Max, iPhone X/ iPhone 8/8 Plus, iPhone 7/7 Plus, iPhone 6S/6S Plus, iPhone 6/6 Plus, iPhone 5S/5, iPad Mini, iPad Air.
It seems like this issue is appearing on so many iOS devices even they are using iOS 14. Further, it is also seen that when you turn on or off the toggle of the app under Use Cellular Data, the change is not made by the system. Or when you come back out of the menu it gets revert.
Fixed: iOS Cellular Data Usage Restrictions not working on iPhone, iPad
Considering both difficulties, we will figure out the solution.
Check 1: Verify Cellular Data is Turned on or Off
First off, verify either cellular data is turned on or off. For that just approach settings and click on Cellular and then click on Cellular Data.
Follow some more tricks,
Now go to "Settings" and then tap on "Airplane Mode." Try to turn on and off the Airplane mode.
Check 2: Check iPhone Cellular Data Restrictions
Again follow the procedure, Checkout Cellular Data restrictions for iPhone, iPad.
Step 1: Go to "Settings" and open "General."
Step 2: Tap on "Restrictions" and open "Cellular Data."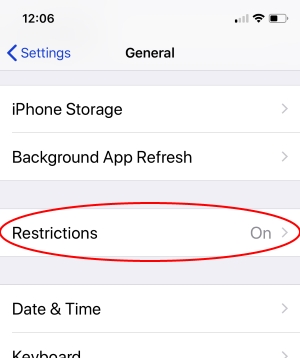 Now make sure that "Don't Allow Changes" is turned off. And Select "Allow Changes"
Again back to settings and turn off the cellular data and after few minutes toggle on the cellular data.
Step 1: Go to "Settings" and then "Cellular."
Check 3: Reset Network settings
Resetting network may resolve this if there's an issue in the network.
Step 1: Launch "Settings" and tap on "General."
Step 2: Next, open "Reset" and click on "Reset Network Settings."
Another simple troubleshooting tips are Reboot the device, and you can uninstall any problematic app.
However, Restoring iPhone is the best way to solve all the problems because restoring makes device clean and empty by deleting every setting, data, and applications.
Check 4: Restart or Reboot iPhone
Get how to Restart or Force Restart/ Hard Reboot iPhone: Restart or Reboot iPhone
Check 5: Use Backup on iPhone
But if you have any important data on your iPhone then take Backup otherwise you will lose all your data. To take Backup follow the below outline,
Step 1: Go to "Settings" and Tap on "iCloud."
Step 2: Open "Backup" and click on "Backup Now."
By this, the process of Backup will start, and you verify that the Backup is successfully taken or not by visiting settings and iCloud and storage and then manage storage.
Check 6: Restore Using iTunes
Now it's time to restore the device,
Step 1: Launch "iTunes" on PC.
Step 2: Connect iPhone to the PC and select your device.
Step 3: Tap on "Restore" to start the process.
After this steps, the device will restart, and you have to follow the on-screen instructions to complete the setup successfully.
NOTE: Don't set up your iPhone Backup, because if there will be any problem with previous data, then the problem will not solve. So it is better we will restore Backup later.
Check out whether the problem is fixed.
Check 7: Erase all content and Settings & Restore
Now we need to restore your iCloud Backup for this you need to go to settings, then tap on "General" and "Reset" and then finally click on "Erase all content and settings."
After this iPhone will restart and lastly tap on Restore from Backup.
Still, it is not resolved then we have the last solution through which we can try to solve it. We will downgrade the iOS to the previous version.
Step 1: Take Backup of iPhone.
Step 2: Download the previous version of iOS corresponding to your iPhone. (Downgrade iOS 11 to iOS 10)
Download ipsw file for iPhone | iPad | iPod Touch
Step 3: Disable Passcode and Touch ID from "Settings" and then click on "Touch ID and Passcode."
Step 4: And also disable "Find My iPhone" from "Settings" and "iCloud" and then "Find My iPhone."
Step 5: Turn on the PC and connect iPhone with the lightning cable to the PC.
Step 6: Launch iTunes and choose your iPhone.
Step 7: On Mac keyboard hold down Alt/Option key and click on the "Restore iPhone" toggle.
Step 8: If you have Windows then click on the left shift key and then tap on "Restore iPhone."
Step 9: A pop-up will arise, click on IPSW file which you have downloaded.
Step 10: As soon as the process gets completed iPhone will restart.
Above all are the possible fixes and troubleshooting guide for Cellular Data restriction not working on iPhone.
we are happy to help you, submit this Form, if your solution is not covered in this article.