New iMessage features (Bubble Effect, Screen Effects and Handwritten text message) craze in young generation really smashing. Officially there is no option for iMessage, so parent can enable/ Disable Restriction on iMessage for use from iPhone/ iPad. iMessage activation and Deactivation now under parental control, Option on shown in restrictions option from settings app. But deep learning about your account privacy this option pretty helpful showed at here.
This tip is also help as a real time solution, in case your carrier charge on iMessage (International Usage, iMessage limits) or any other specific reason but you forgot. You quite imessage completely for your account follow the steps.
Compatible Models: iPhone 6/ 6 Plus, iPhone 6S/ 6S Plus, iPhone 7 Plus/ 7, iPhone SE and iPad
Steps for Enable Restriction on iMessage from iPhone/ iPad: iOS 10, iOS 9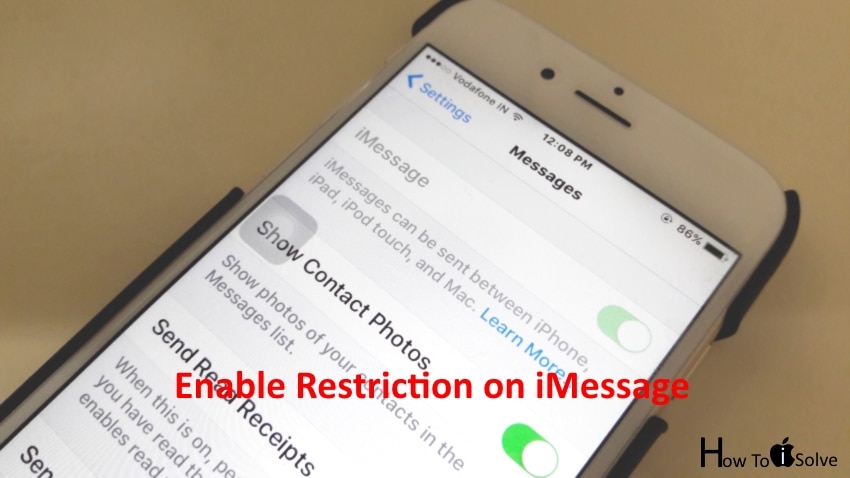 1: Go to the Settings app on iPhone.
2: Next, Tap on General.
3: Under General, Tap on Restrictions. For the security validation enter passcode for make changes.
4: Scroll Down, Under Allow Changes section. Tap on Accounts.
5: Next, Tap on Don't allow changes.
By enable this, you can prevent from modifying account from Mail, Contacts and Calendars.
After choose above option, iMessage toggle not accessible for make changes from settings app. You must Allow Changes under Account. See below screen,
Go to the Settings App > messages > iMessage.
You might also like: iMessage not working in iOS 10
Prevent from your child, Young age teen enabling iMessage for messaging when you give iDevice. For batter privacy we can also disable or restrict new app installed from App store. So there is no option for use alternative chat or Messaging app.
This option is only prevent from make changes related to iMessage from Device only. Turn on Restriction on iMessage doesn't stop incoming iMessage or Sent iMessage from message app.