Apple's rechargeable lithium-ion battery is a prominent part of the Apple iOS devices. Both iPhone and iPad smart iOS 10 & earlier devices show up remaining battery percentage near to the battery icon on the top menu bar but it's quite different ways to check on the Home button iPhone & No Home button iPhone. By helping them, the user can stay awake for the next charging.
As well as it also alerts for low battery warning and low power mode. There are some instances in them your iPad/ iPhone battery percentage becomes disappeared from the top menu bar. For example, aftertouch on display replacement user must reset its iPhone, or iPad to add fingerprint on the home button.
we are happy to help you, submit this Form, if your solution is not covered in this article.
Sometimes accidentally, changed settings did disable battery percentage. Moreover, we know how much significant battery percentage on the top bar on our iPhone and iPad. Hence, here I will guide you on how to show battery percentage on iPhone 7 (Plus) and previous iPhone running with iOS.
Ultimate Steps to Show Battery Percentage on iPhone
These steps for the home button iPhone/iPad, Next is how to check on no Home button iPhone/iPad. Keep your iPhone updated to the latest version of iOS. Now, Follow the below steps,
Step 1. Launch Settings App on iPhone/ iPad.
Step 2. You will have to scroll down the screen and Tap on Battery appears between Touch ID & Passcode and Privacy.
Step 3. Turn Switch Battery Percentage ON.
That's it.
Now lets a look at the top menu bar of your iPhone or iPad. I hope you would be getting back disappeared battery percentage.
In case, battery percentage I already enabled; however, it does not appear next to the battery icon then restart your iPhone/ iPad.
To restart your iPhone,
Press and hold the Sleep/Wake button until you see the slide to power off then drag the on-screen button. After that, again press and hold on the Power button until appearing Apple logo.
No Home button iPhone users: iPhone X or later: iPhone 11(Pro Max), iPhone Xr, iPhone Xs Max, iPhone Xs
No Home button iPhone/iPad users can Know the battery percentage under the control center, To open control center on the lock screen or home screen, Pull down by Swipe your finger down from the top left corner of your iPhone/iPad screen.
Now Try and check Battery percentage on iPhone using This way,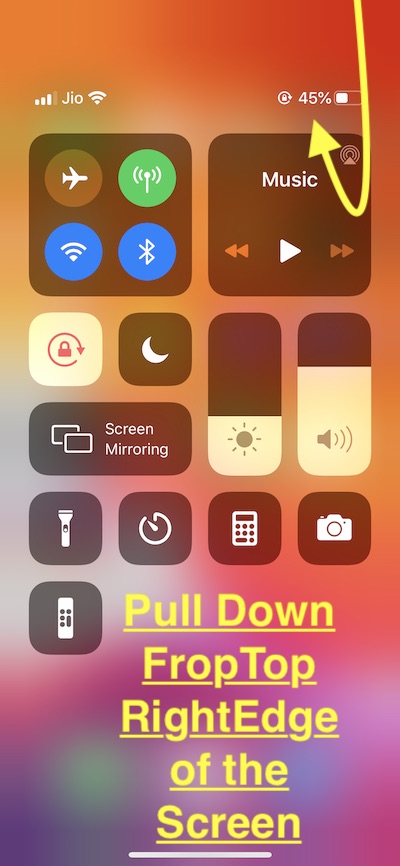 Check Battery Percentage on iPad In the control center from the lock screen or home screen.
Furthermore, ever you want to disable battery percentage on iPhone/ iPad then go Settings App, Tap battery and Turn Toggle Battery Percentage Off.
Premium Support is Free Now
We are happy to help you! Follow the next Step if Your Solution is not in this article, Submit this form without Sign Up, We will revert back to you via Personal Mail. In Form, Please Use the Description field to Mention our reference Webpage URL which you visited and Describe your problem in detail if possible. We covered your iPhone 11 Pro, iPhone 11 Pro Max, iPhone 11, iPhone 8(Plus), iPhone 7(Plus), iPhone 6S(Plus), iPhone 6(Plus), iPhone SE, SE 2(2020), iPhone 5S, iPhone 5, iPad All Generation, iPad Pro All Models, MacOS Catalina or Earlier MacOS for iMac, Mac Mini, MacBook Pro, WatchOS 6 & Earlier on Apple Watch 5/4/3/2/1, Apple TV. You can also mention iOS/iPadOS/MacOS. To be Continued...
Please share your feedback in the comment box. Like this post? Share it on Facebook, Twitter.