Last Updated on Sep 16, 2023
In this blog post, I'll suggest you solution to Fix the iPhone Camera that Stopped working [Back/Front] after iOS 17 update. Apple iPhone Camera problem irritates you when you show a black screen on-camera start on your iPhone, iPad, and iPod touch. Running iOS behind your camera problem.
There are many issues that point to the black screen when you capture photos/videos. And here is the different alternate solution that mainly works for all types of requests coming on Camera black screen issues on iPhone, So most of the folks trying different replacement iPhone camera accessories and apps trick for best snap and click make the memory more beautifully.
Diagnose the problem of your iPhone showing a black screen on a camera app on launch.
Steps for Fix Camera Black Screen issue in iPhone, iPad
Here are some common prerequisite conditions and steps that you must follow sequentially to get rid of the Black Camera on iPhone iOS 17 and other versions.
Solution 1: Remove Case
Please check and confirm your iPhone case not covering the camera lens. Of some technical problems might be you will get a blocked camera slot. if your image is blurry then clean up the Front and Back camera using the Carbon fiber cloth.
Solution 2: Switch between Camera
Did you try to switch the camera to the front or rear? It might be possible that one of the iPhone cameras isn't functioning, but the other one is still active. Try switching between the camera and see if that works out for you.
Solution 3: Update the iPhone
Having outdated iPhone software can lead to several unknown bugs and errors like this one. Connect the iPhone to the Wi-Fi, make sure it is charged at least 50%, and update the phone.
Go to the Settings
Tap General.
Then, Software Update. wait till the screen load, if any update available please install to do that follow on-screen instructions. or watch our videos to given below in this post.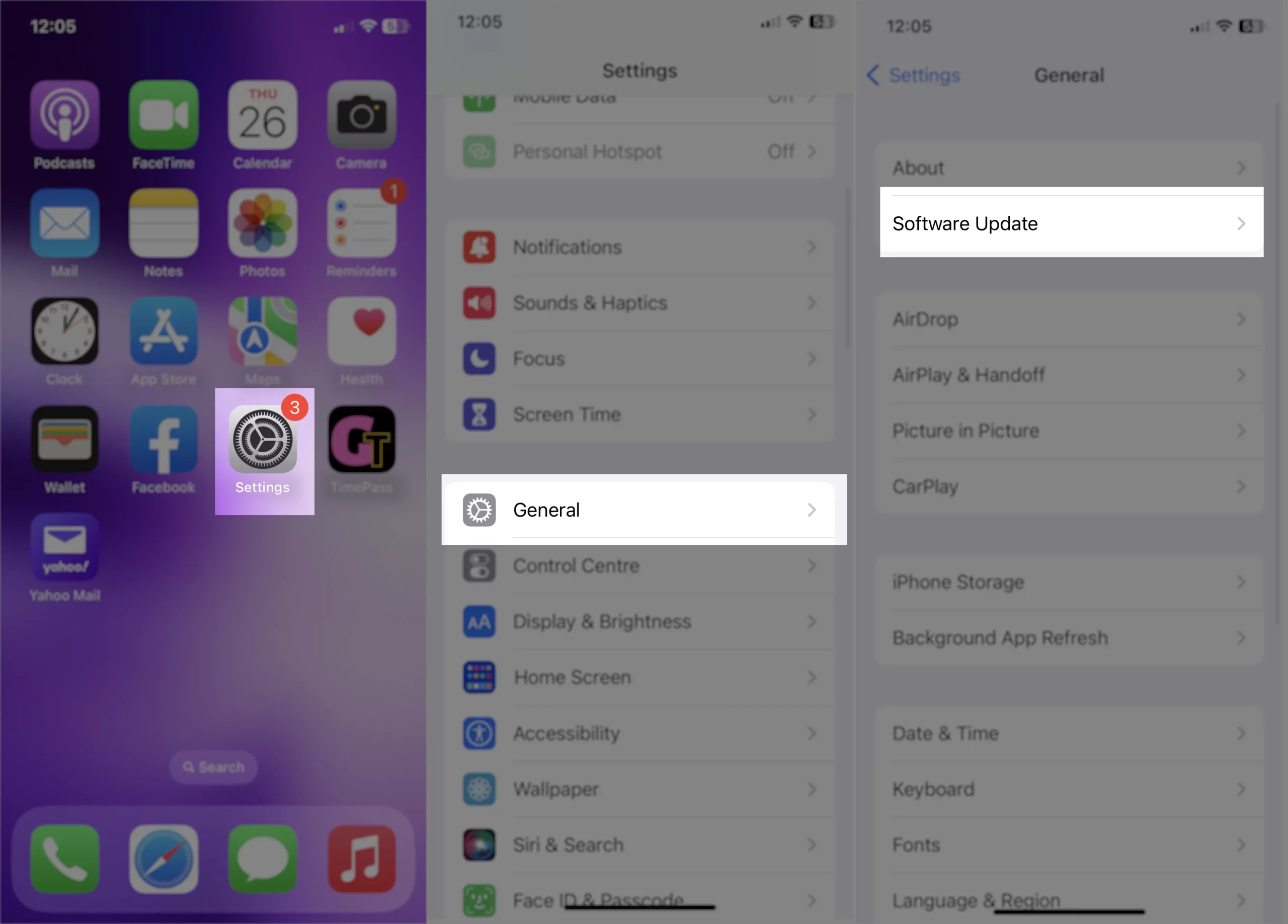 Solution 4: Disable VoiceOver
Many folks have resolved the iPhone Camera Black Screen issue by turning off the VoiceOver feature from the Settings app. You should also give it try.
For iOS 13 or later operating system,:
Navigate to the Settings
Tap Accessibility.
Tap VoiceOver and disable it.
Solution 5: Force Close All Background Applications
Close your camera app – Force close (iPhone has a Physical Home button, Double-tap on the home button, and slide up to close camera app). or For iPhone has no home button, Swipe up finger on the screen and lift up finder in the middle of the screen. Swipe up to quit the app from the app switcher screen on your iPhone.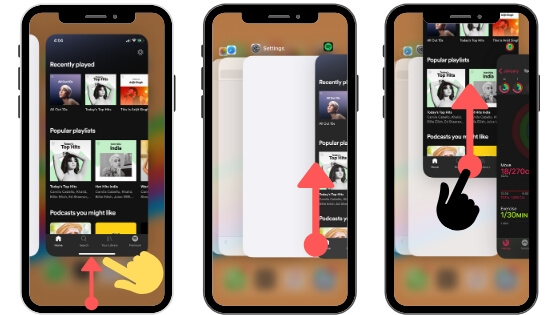 Solution 6: Check Available Storage
Check Free Available space on the iPhone. Your iPhone has no enough space to use the camera app, and capture photos. Quickly check,
Open the Settings app on the iPhone.
Next, Tap General.
Now, Tap on About.
Then, Find the Option Available and Free Space in Megabyte or Gigabyte. Read the tips on Free Up Storage on iPhone.
or
Open Settings app > General > iPhone Storage > Get the information about Free Space after Used. [See Below image]
Solution 7: Force Restart iPhone
Restart your iPhone or Force Restart device, which might be some third-party apps conflicting your camera app or root folder.
Use Below Buttons for Hard Reboot or Restart the iPhone model wise, until you see the Apple logo on the screen.
iPhone 6 or Below: Press Sleep/Wake button + Home button
iPhone 7/7 Plus: Press and Hold on Sleep/Wake button + Volume down button.
iPhone XS, iPhone XS Max, XR, iPhone X, iPhone 8/8 Plus:
Quickly Press and Release Volume up button.
Quickly Press and Release the Volume Down button.
Wait for 15 seconds after shutdown iPhone, use the Side button or Sleep/Wake button for start the iPhone like normal.
Solution 8: Try the Apple Replacement Program
Keep an eye on the Apple replacement program, many times Apple held replacement devices or hardware through online registration. So you can check if your device is eligible for an update with fixed issues.
You can contact Apple's official chat/ Call support or the official regional Apple store from here.
Solution 9: Restore Old Backup on iPhone
if you are facing a problem after update/ upgrade iOS then you can reset the iOS device or restore the iOS device from an OLD backup.
Solution 10: Make Use of HDR Mode
Are you feel more darkness compared to your aspect personally? Then, you can try HDR mode for more contrast and brightness. To fix the Camera black screen issue in iPhone, iPad, iPod Touch running on the latest iOS.
Solution 11: Reset All Settings
Wrong permission and restrictions on access camera by third-party apps like WhatsApp, FaceBook, Snapchat, Instagram doesn't access if it's disabled. So I recommend resetting all settings that help to make some options to the default value.
Steps to Reset All Settings in iOS 15 and later version: –
Go to the "Settings" app > Tap "General" > Find and open tap "Transfer or Reset iPhone" > Tap "Reset" > Lastly tap on "Reset All Settings" > For security reasons, you will be asked to enter the iPhone Passcode.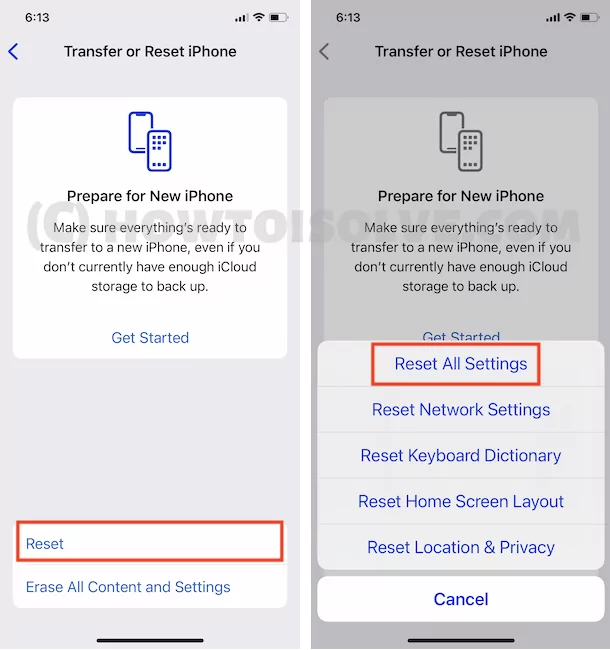 >Tap Confirm Reset All Settings. > After that iPhone will reboot.
Steps to Reset All Settings in iOS 14 and earlier version: –
Go to the Settings app > General > Reset > Reset All Settings. [This option will not Erase Data from iPhone, Like Messages, Contacts, Photos app and more] Or,
Sometimes you need to check it manually if you don't want to reset all settings. Open the Settings app > Screen Time > Content & Privacy Restrictions > Allowed Apps > Enable the toggle Camera. That's it.
Settings app > Scroll to App name For Example Snapchat > Enable Toggle to access the camera while in use.
That's it.
Solution 12: Contact Apple Support!
Genius support at your Nearby apple store will help to identify the problem and help to fix it in a few minutes. Listen to the instructions before leaving the apple store. Sometimes Apple Support needs to Wipe the Phone, so keep backup your iPhone before going to Apple Support for repair. If the problem is big, then you should be left your iPhone at the customer center.
Sometimes, the problem is most common and unable to repair or fix, Then you will receive a new iPhone replacement without any cost. So, you can check the iPhone Warranty status online from the serial numbers online or offline [On the Box, Purchase Recipients, Back of iPhone, Settings app].
Still, are you facing a problem with the Camera black screen issue in iPhone, iPad, and iPod Touch share your iOS device details on the comment box we will point you to the best solutions from our end?