🗓️
November 22, 2023
By ✍️
Jaysukh patel
Typically, iOS users can sign in to the default iCloud mail account on their iPhone or iPad. But if you want to Add or Access Gmail on the iPhone mail app. You've to add manually as Add new mail account by going to Mail Settings on iPhone iPad.
We will walk you through how to add a new mail account in the iPhone mail app once you add your Gmail account on your iPhone. Then you can access your Gmail inbox, Draft, Sent, Junk, Trash, and everything about Google easily without downloading the Google mail app.
Complete Guide to add/ Access Gmail on iPhone Mail app without downloading Google Gmail app
Also, Gmail and other alternate emails likely set up an Exchange account, Yahoo mail, AOL, or Outlook.com, and you can add other Mail accounts by entering text such as name, email, password, and description.
But currently, your purpose is to Access Gmail on the iPhone mail app. Please refer to our Step by step guide.
Also Read: – How to Delete Gmail Account on iPhone
Way to Add Gmail Account to iPhone in iOS 16/iPadOS 16 or Later
Step 1: Launch the Settings app on the iPhone.
Step 2: Swipe down and tap Mail.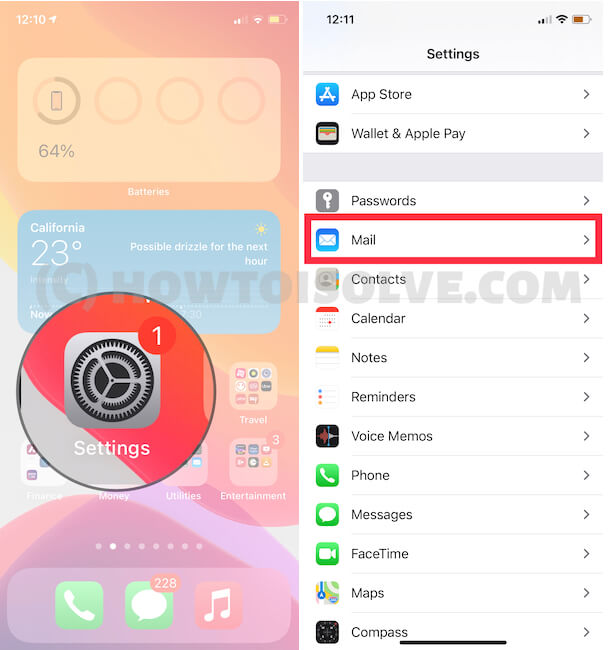 Step 3: Tap Accounts. Hit Add Account.
Step 4: Select Google.

Step 6: Type the Gmail ID and Password.
Step 7: Now set up your Gmail account on your iPhone.
iOS 13 or Earlier iPhone and iPadOS Users,
There is a big change in the latest iOS,
Go to the Settings app on iPhone
Scroll the screen Tap on Passwords & Accounts
Tap Add Account
Choose Google (Enter Gmail email and Password) (will be asked "Settings" wants to use 'google.com' to sign in This allows the app and website to share information about you.) So tap Continue.
Next, Enter Email or Phone number, click on Next
Enter your Password of Google Gmail account that you use on PC or Mac computer etc. Next click on Next

Note: You can also use the AutoFill password feature (with Face ID or Toch ID access), in case you have stored Gmail account password in the past.

Follow the on-screen instructions till the setup is complete.
I hope, you now a Gmail account on your phone's native mail app.
From now, You will access all of your Gmail inbox, Sent, and all tabs in iOS Mail App with active Dark mode and Light Mode.
---
Steps to Access Gmail Account in iOS Mail App
Launch the Mail app from your phone or iPad home screen.
Now, choose Gmail to get your inbox email.
in case, if you would like to get a recent email and that you can't see into the inbox then, please pull the Gmail inbox phone screen from the middle of the screen, that's why your Gmail inbox will refresh and give you the latest email.
Have any issues accessing the Gmail account on your iPhone or iPad native mail App? Don't worry, share it with us on the comment. I'm assured that our team will help you asap.
---
iOS 10 or Earlier users can Access Gmail on the iPhone mail app with the following Steps
Step 1. Launch the Settings app on your iPhone, iPad – look likes the Gear icon
Step 2. Find Mail, Contacts, Calendars
Step 4. Now touch on Google
Step 6. Scroll down the screen and Tap on Accept and keep enabled Mail, Contents, Calendars and Notes tap on Save
So now you can be read your upcoming Gmail mail on your iPhone mail app. And you could be access everything about the Gmail app.
You're done.
Now, if you want to hide Gmail mail from iPhone mail app mailboxes then follow steps:
Settings app > Mail, Contacts, Calendars > Tap on Gmail > Turn Mail toggle Off.
That's it.
Also Read:- How to send large files in Gmail mail from iPhone iPad [25 MB]
Share your feelings with us, and feel free to write us, even if you have a query or any misunderstanding. Respect this article for accessing Gmail on the iPhone mail app.