How to customize or enable accessibility shortcut on iPhone. Set Triple click the home button for accessibility running iOS 11, iOS 10, iOS 9.
Turn on Accessibility shortcut on your iPhone or iPad and access almost Accessibility features from iPhone or iPad home button. Now, in Smartphone technology competition world every Smartphone maker companies are eager to give little latest features for attracting their users, it's for that to make the place into the sports market.
Accessibility functions on your iPhone, iPad or iPod touch that you can easily access using triple click home button on iPhone, but for that, you've to do enable/ Turn On accessibility shortcut on your iPhone or iPad. Get tips on how to adjust triple click home button shortcut of accessibility or, turn on accessibility shortcut on iPhone from the below.
You may look for: Way to turn on/off shortcut dot on home screen iPhone
How to Enable Accessibility Shortcut on iPhone, iPad – iOS 11/ iOS 10/ iOS 9
Step #1. Launch Settings App, from your iPhone home screen.
Step #2. Tap on General
Step #3. Tap on Accessibility  
Step #4. Now, Turn Accessibility Shortcut On, in all way you can see it bottom of the screen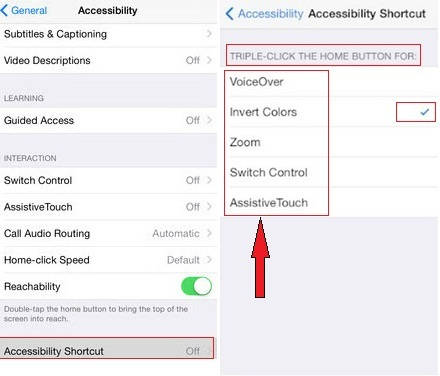 That's it. In the above iPhone screen, you can select that Accessibility which you want to access on triple click home button of your iPhone or iPad as a shortcut way. If we talk about other Accessibility technologies functions than many features are involved in it, like
Vision Section – in which involve VoiceOver, Grayscale, invert colors and more.
Hearing Section – Mono audio, LED Flash for Alerts and Hearing Aids
Interaction Section – Switch control, Reachability is new for iPhone 6 and 6+ only.
An alternate way to turn on Accessibility shortcut features using iTunes. Let's check here how to manage or turn on Accessibility shortcut using iTunes.
Disable or Turn off Accessibility shortcut on iPhone
Go on, Settings app >> General >> Accessibility >> Turn Accessibility Shortcut Off     
Write us in the comment box, how much help you these tips on turn on Accessibility shortcut on iPhone, iPad or iPod touch. As well stay connected daily with us!!
Jaysukh Patel is the founder of howtoisolve. Also self Professional Developer, Techno lover mainly for iPhone, iPad, iPod Touch and iOS, Jaysukh is one of responsible person in his family.
Contact On: [email protected] [OR] [email protected]