🗓️
November 22, 2023
By ✍️
Jaysukh patel
Get here answer of What are the Three Dots on my iPad Screen on iPadOS 15? After updating the iPadOS 15 on my iPad Pro 2020 11" inch, I found many changes and features; I often like to touch the safari Group tab and Multitasking.
Day by day, I use iPadOS 15, learned all-new features, and set up with new iPad software update 2021. with all that, when the first time I opened up the safari app I found three mystery dots on the middle-top menubar.
Three Mystery Dots in iPadOS 15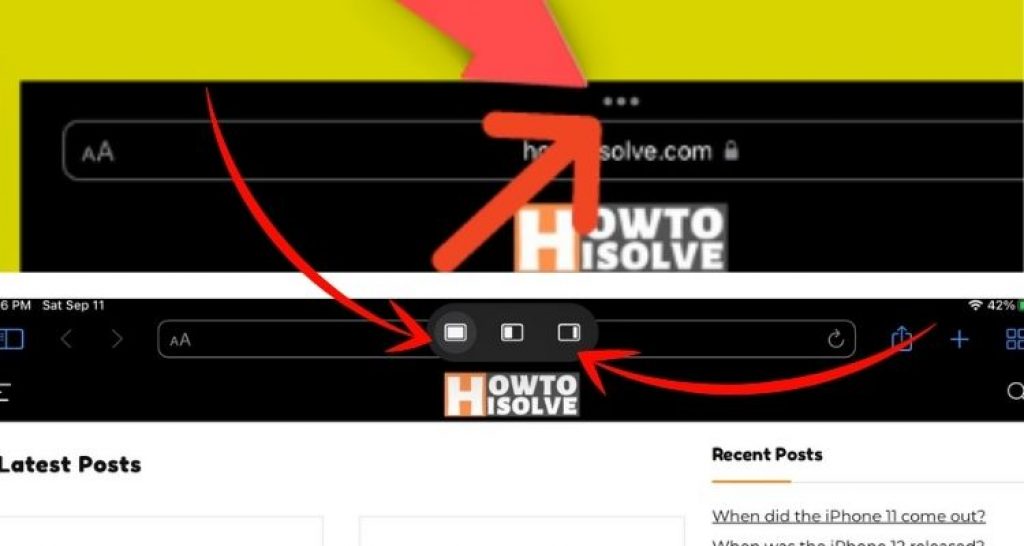 So I was excited to learn those curious dots. For that, I found the concept of three dots of iPadOS 15 on the Apple Site; The developers called it a multitasking menu bar for iPadOS 15.
With a single tap on three dots, we can use Multitasking Windows on ipad with landscape and or portrait orientation.
New Multitasking menu:-
Tap to reveal a new Multitasking menu that lets you create a full screen, Slide Over, Split View, and in some instances, a center window, so you can work on multiple apps at once. Source Apple
Where is the New Multitasking Menu iPadOS 15?
Apple's brings easier to access and easier to use more powerful multitasking menu in its major upgrade iPadOS 15 software update of Fall 2021. In addition, multitasking features are beneficial to use multiple apps in a single window with a Split view and Center Windows (watch the video to use center window on your iPadOS 15 at the end of this post) and newly introduced Shelf. in short, it boosts your productivity to a whole new level.
Apple makes changes in iPadOS, each year adds new changes and features to take iPadOS to a new level, and it gives a feeling as a mac operating System looks.
Steps to Access Multitasking Menu iPadOS 15
Step:#1 First of All, Unlock your iPad screen.
Step:#2 next, Open an App from the Home screen
Step #3. For Example, I'm opening up the Safari browser on my iPad Pro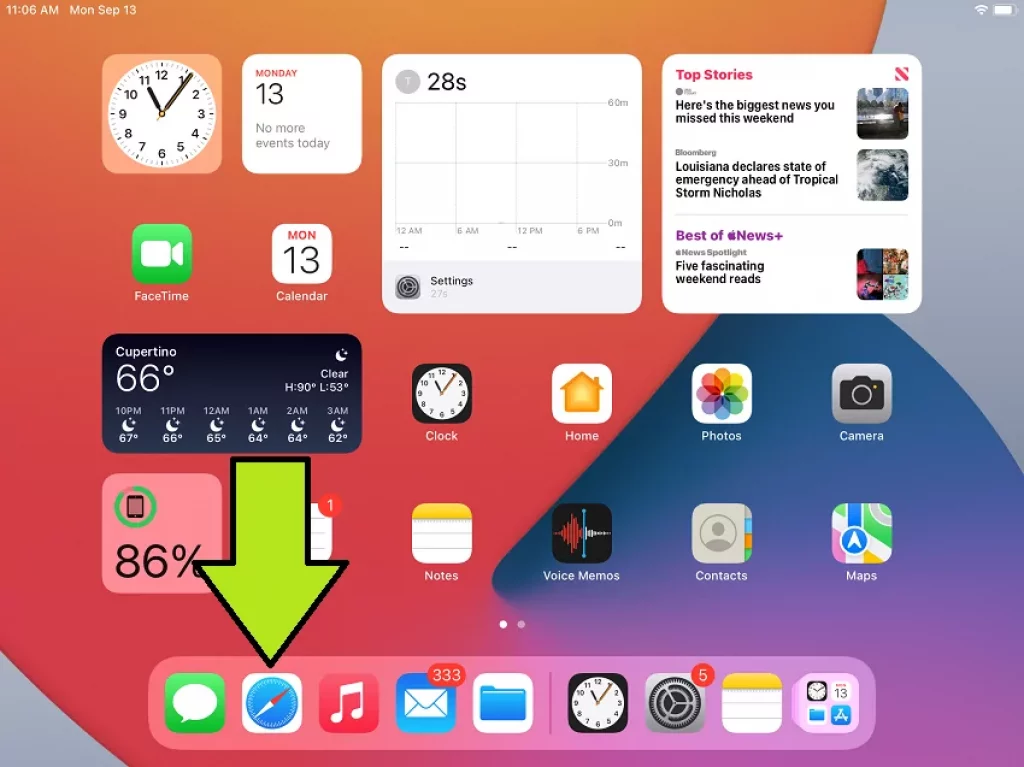 Step #4. Fine, Now look at the top-center of the menu bar, there are three dots that appear.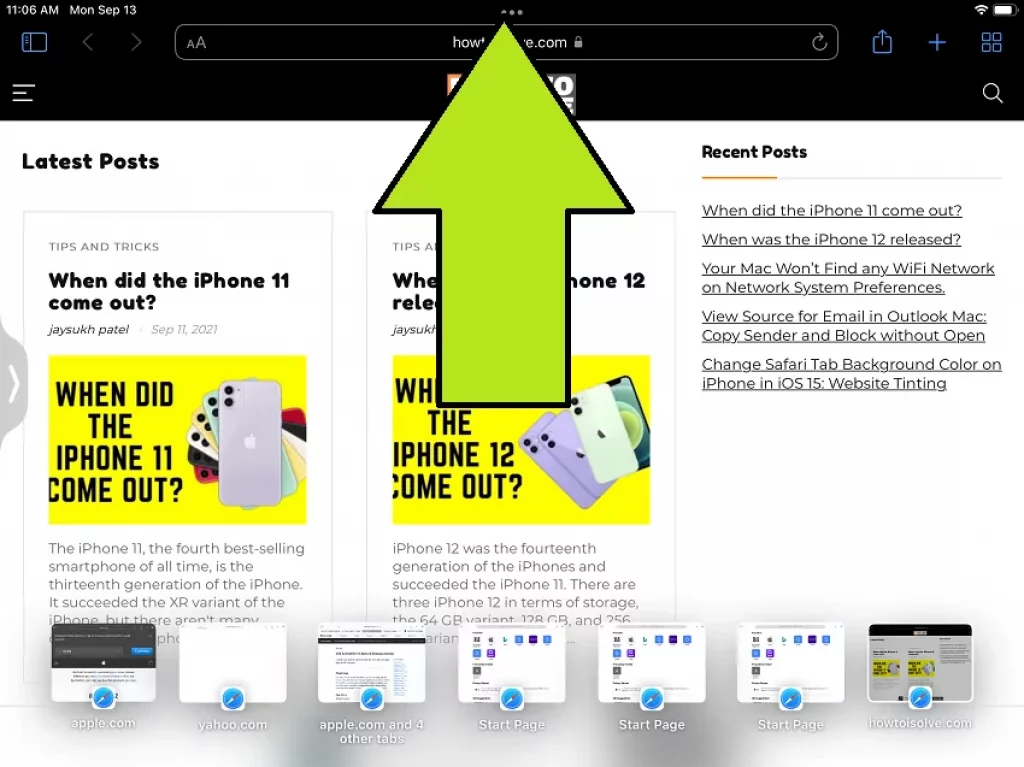 Step#5. Click on it, three or four buttons will pop up, by-default first button selected.
Step #6. I click on the second button, so the safari app window will move to the left side and a pop-up tells your Split view to enable so choose another app.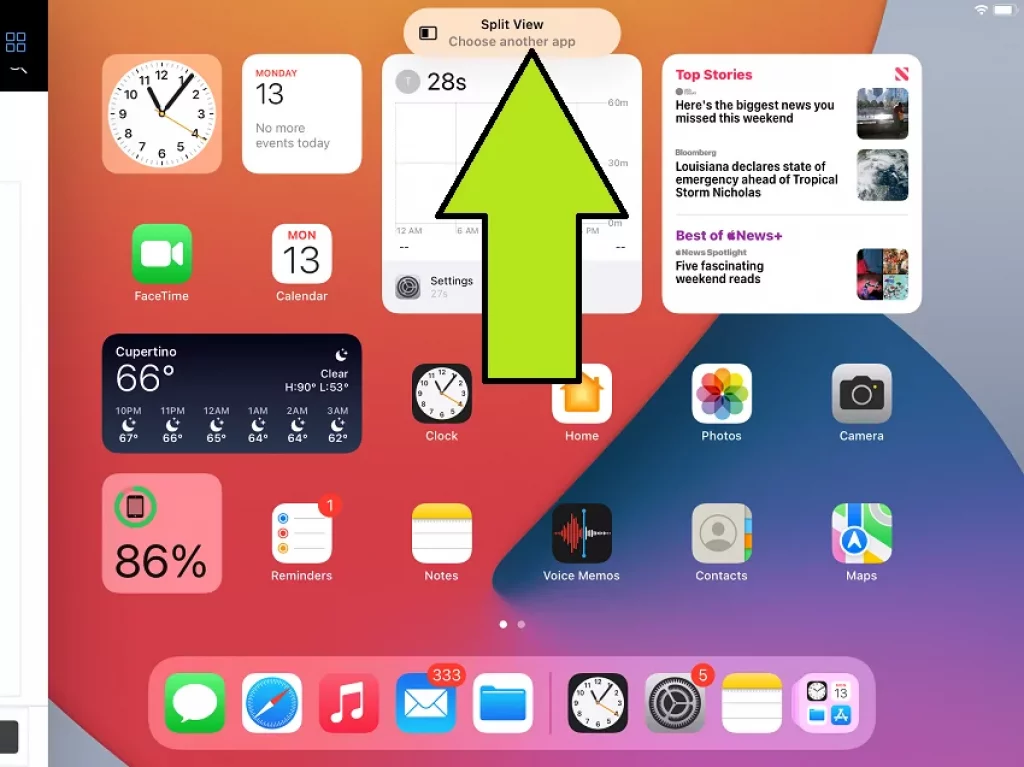 Step #7. hence, choose the second app that you want to use with safari surfing and more. I'm choosing the notes app.
So you can see both apps on a single-window screen.
Step #8. This feature is called Split View multitasking.
in-between of Both Apps window, you can see a bar with highlight option that help to manage an app space area in multitasking mode.
for example, I need bigger notes app viewers than safari, so I tap on a bar and drag it to the left side to make the notes app view bigger in size.
In the same way, you can act with any apps that supported multitasking windows.
I hope, this guide is found helpful, if you have any queries on three dots of iPadOS 15 or multitasking not working on your iPad after the iPadOS update. please write down a comment below.
How to Use Center Window Multitasking iPadOS 15
Can I turn Multitasking features on or off iPadOS 15?
Previous iPadOS 14 and earlier versions had multitasking settings inside the Home Screen & Dock section of the settings app. After update iPadOS 15, the feature transforms into three dots in the top-center of the menubar, and it only appears when we work with an open window of any app.
Conclusion:
Hence, no need to access the toggle to turn off or turn on multitasking on Any iPad Supported by iPadOS 15 (iPad, iPad Pro, and iPad Air). in case of, future iPadOS updates, Apple will be made changes in this iPadOS 15 multitasking feature. I will give you the latest update information later.
I hope you found this post so helpful and informative. If you would like to more about this or add your words about these three dots on iPadOS 15, Please write a comment down below.
After added three dots on the top menu bar in-Application, I noticed that multitasking settings had been removed from the settings app. Hence, if you guys are trying to find iPad OS 15 multitasking setting, you may be facing that multitasking setting missing on your iPad. But it's no longer available by default.