What are pronouns on Instagram? Use these Instagram profile pronouns in a unique way to make your Instagram profile phenomenal, to get more followers by easily understanding what about you and What are you doing? Right now, you are worried and thinking about adding some special in this inclusion Instagram profile bio-field, then read this tutorial and get incredible ideas on Instagram Pronouns.
Where to add?: Open the Instagram app on iPhone or android > Tap on Profile icon > Tap on Edit Profile > Tap Pronounce > Add Up to Four Pronounce in this field like a Tags – Also, Note the option "Show to Followers only" toggle. Disable for Unshow your Instagram pronounce to not following you.
Unique & Funny Instagram Bio pronounce Ideas
Use Pre-Defined Pronounce for your Instagram Profile, which's given alphabetically in the below screen. Use it for Best Combination and help in to create a Personal Profile insta pronounce.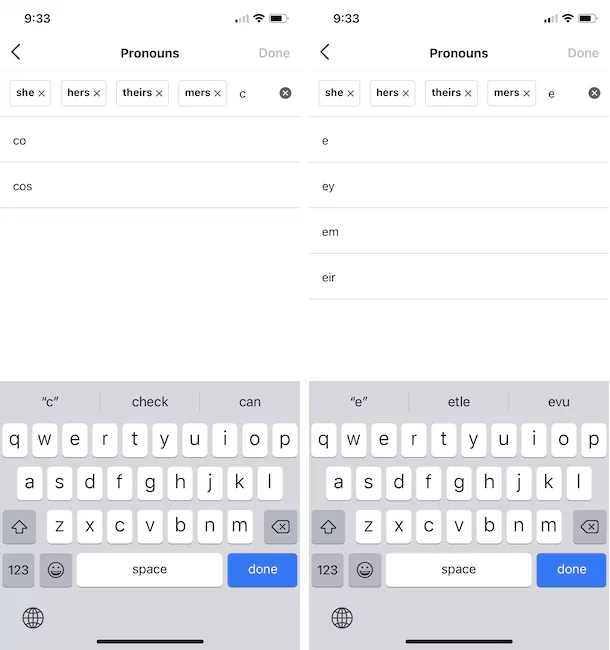 Ze/Per/Hir/They
he/she
him/her
his/hers
himself/herself
Xe
Ve – non-gender specific pronoun
Sie/Ze – non-gender specific pronoun
Hir – non-gender specific pronoun instead of "her" and "him."
Instagram profile bio pronounce examples use in combinations..
co / cos
e / ey / em / eir
fae / faer
he / him / his
she / her / hers
mer / mers
ne / nir / nirs
nee / ner / ners
per / pers
they / them / theirs
thon / thons
ve / ver / vis
vi / vir
xe / xem / xyr
ze / zie / zir / hir
HE/SHE
HIM/HER
HIS/HER
HIS/HERS
zis
hirs
eirs
vers
ters
eirs
HIMSELF/HERSELF
zieself
hirself
eirself
verself
terself
emself
Read more: Cool Instagram Bio Ideas.
Note: if you won't see the option to add Pronouns in your Instagram profile, wait for it. The update is exploring in your country very soon. Till then, Think & collect Unique Pronouns ideas for your Instagram account. Also, share with us in the below comment box.