Display your iPad, Mac or desktop screen on the wall to view large size picture for easy to explain and understand. Here I will give you a list of the best portable projectors for iPad which are best to use for education, Choice of teachers for class, useful in business for presentations and for entertainment you can enjoy it at your house backyard cinema.
we are happy to help you, submit this Form, if your solution is not covered in this article.
Hand-picked best Portable Projector for iPad 2018
iPad and iPhone compatible portable video projector, Do you know the main advantage of pocket video projector? Portable projector is to be easy to transfer and not needed heavy equipment to hold anywhere. So it's a good suit with your requirement – lets a look at features and functionality of this DLP (Digital light processing) projector.
You do not need to spend dollars on a movie ticket. Just buy once this sophisticated technology projector and enjoy a movie at your house backyard cinema theater. I hope, the projector would give you fantastic night movie experience with lots of entertainment.
Know about this iPhone and iPad compatible Video Projector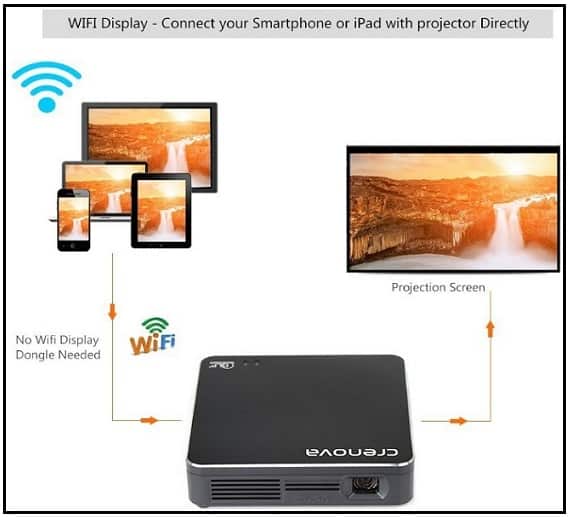 The video projector has built-in Wi-Fi feature, so you don't need any extra adapter to connect iOS device or projector. Just connect Crenova XPE700 Pico and iOS device with the Wi-Fi network connection and get started. It gives standard video input.
Projector shipping with built-in battery has capacity 4,000 mAh, so it playing a movie for 1.5h to 2h. No Wi-Fi display dongle needed. In short, it's a best outdoor cinema projector compatible with all iPad (iPad Pro, iPad Air, iPad Mini), iPhone.
4:3/16:9 Aspect ratio
DLP light source
854*480 native resolution
1500 lumens brightness
1080P allows full definition video
In the box, you will get- 1 projector, all metal wall mount, remote control, HDMI cable, User manual
12month warranty
Buy Now: Get free shipping
Best Portable iPad Projector 2018 UK: Order it here
Good Review iPad pocket projector: for home, office, school
This small size pico iPad pocket projector gives laser sharp images with the stunning color quality output. You can take it with you to create your separate HD movie at anywhere likely home, school, for office use or at any outdoor areas such as the park, garden, and the beach.
It's a short-lived has long battery life – 200-270 minutes,
Multipurpose best portable iPad projector.
Trusted product and 100% satisfaction users reviews.
Get it here: Amazon's best price
Mobile Projector – iPad, iPad Air, iPad Pro
This Projector can display an image up to 120-inch, Portable so easy to transfer and put into your bag or pocket, Rechargeable battery, with this projector you will get HDMI cable and Tripod.
So what you think more tap on Add to bag to order today and enjoy to watching a movie with friends in your room, house backyard area or place where right wall to display image. Compatible with iPad, all iOS devices, and other Smartphones.
Add to bag: Free Shipping
Do you have any other best in best Portable Projector iPad Pro, iPad Air, iPad Mini? Please let us know in the comment box; we will wait for it.
Don't Miss out:
Jaysukh Patel is the founder of howtoisolve. Also self Professional Developer, Techno lover mainly for iPhone, iPad, iPod Touch and iOS, Jaysukh is one of responsible person in his family.
Contact On: [email protected] [OR] [email protected]