Last Updated on Sep 26, 2021
in this post, I'll teach you how to permanently delete voicemails on iPhone that won't delete. Voicemail is a carrier side service, so it is not available for all and in all countries. In the United States, major carriers have given voicemail services to iPhone users. Some of the users shouting about an issue like can't delete a voicemail message on iPhone, Won't Play iPhone Voicemail or when tapping the Voicemail button, iPhone calls voicemail instead of showing the visual voicemail list.
If you are encountering an issue as can't delete a voicemail on iPhone running on iOS 15 & Earlier, Don't worry. There is a number of other tricks that can resolve your issue very efficiently.
Please Note: if you change or insert a new SIM card, you might lose the visual voicemails saved on your iPhone.
How do I Get rid of voicemail on iPhone: Possible Guide to fix
You should follow the explained workarounds carefully. Hope this guide will work well for you.

Solution #1: Voicemail Come Back After Deleting it so why I can't delete voicemail on iPhone
Some iPhone users reported the issues with Voicemail isn't deleting because it's re-download from iCloud is it's enabled. That means deleted voice mails keep reappearing, So I would like to recommend turn off all internet connectivity like WiFi or Mobile Data.
That we can do automatically by turning on Airplane mode, if AirPlane mode doesn't help us, Manually turn off WiFi, Cellular Data, and Bluetooth from the settings. As we got feedback from our readers they say the Airplane mode trick worked when they encounter an issue like Why can't I delete a voicemail on my iPhone?
Follow the Steps
Put your phone in Airplane Mode [Open Settings > Airplane Mode > Toggle off to Grey]
Open the Phone App
Tap the Voicemail you want to delete
Now Delete the Voicemail
Open Control Center and turn off Airplane Mode
See if the Voicemail actually deleted, Use Below Ways to Delete Selected Voicemail, or Completely Delete Voicemail on iPhone.
Case 1: Delete Selected or Delete Multiple Voicemail from iPhone phone app
Saved Voicemail on your iPhone takes a space to play it offline. That we can manage or Free up by deleting the Voicemail.
Open Phone app on the iPhone.
Tap on Voicemail option from the bottom tab.
Next, See a list of all Voicemail, Swipe to the right to find the delete option.
To Delete multiple Voicemail, Tap on the Edit at the top right corner of the screen. Select All Voicemails you want to delete. Finally, Tap on delete from the bottom right corner of the screen.
Case 2: Clear All Deleted Voicemail Premenanetly from iPhone Phone App
For the backup purpose, the iPhone allows you to restore after accidentally deleted. So, Completely delete Voicemail from iPhone, You must delete it under the Deleted Messages folder.
Open Phone app on the iPhone.
Next, Tap on Voicemail. The last Folder is Deleted Messages. Tap on it.
Here are all the Deleted messages that we can delete one by one by swipe left on the message. or Select Clear All option from the top right corner of the screen to delete all deleted Voicemails at once. Now your All Voicemail permanently deleted from the iPhone phone app.
Case 3: Delete Voicemail Without Visual Voice Mail on iPhone
We can delete visual Voicemail from the iPhone using the Phone keypad. The first steps are to delete one Visual Voicemail and the next steps are to delete All Visual Voicemail.
Open Phone app on the iPhone.
Click on the Dial pad from the bottom tab.
Now, Dial 123 and call this number. Once you Heard the last voicemail, Delete it by press 3 from a keypad. Or To delete multiple Visual Voicemail from iPhone, Type 3 number of Visual voicemail you want to delete. if You wish to delete 15 Voicemails then type 3, 15 Times.
Solution #2. Restart your iPhone
Something is stuck that unable to delete Voicemail Messages from iPhone. So I recommend trying Hard Reboot your iPhone. Identify which method you should follow to hard reboot your iPhone. No Home button iPhone and Home button iPhone users, after reboot your iPhone, Try to delete Voicemails using the above steps,
No Home Button iPhone [iPhone X or later]
Quickly press and release the Volume Up button.
Now, Quickly press and release the volume down button.
Home Button iPhone [iPhone 6 or later]
Press and Hold side power button and home button iPhone, until your iPhone shows the Apple logo after the black screen.
Just press and hold the sleep/wake button until the red slider appears. Drag the slider to the left side to turn off completely your iPhone. Then turn on your iPhone again by Pressing and Holding the sleep/wake button on the iPhone. If you get the same issue, then keep continues below troubleshooting.
For that user who has an issue related to iPhone power button such as Power button stuck/ Power button won't press or broken in that case try my this guide How to Restart iPhone without Power button iOS
Here's How to force reboot iPhone X and iPhone 8 Plus
Solution #3. Carrier Settings Update
You can know here how to update carrier settings on iPhone.
---
Solution #4. Make Sure Your iPhone Have The Latest iOS
You can check out your iPhone software update at
Open the Settings App looks like a Gear icon.
Tap General
Tap on Software Update appears underneath About Tab.
Make sure your phone is connected to a strong Wi-Fi network. Otherwise, you may get an error unable to check for updates.
If the software is up to date, then go with the next solution.
Solution #5. Check Voice Mail Setup
Please make sure that the Voicemail setup is done. You can verify it by dialing your phone number from your iPhone.
Solution#6. Cellular Signal Strength Right
Sometimes you may be unable to delete a voicemail message on iOS, might due to a weak cellular data connection. So make an outgoing call and check out the Mobile network connection is good.
If above all questions are okay, however, you are facing the same error. Then at least, you should try given below workarounds.
Steps to Reset Network Settings in iOS 15 and Later Version
Step #1: Open up "Settings".
Step #2: Open "General" and then tap "Transfer or Reset iPhone".
Step #3: Lastly, tap "Reset" > "Reset Network Settings" >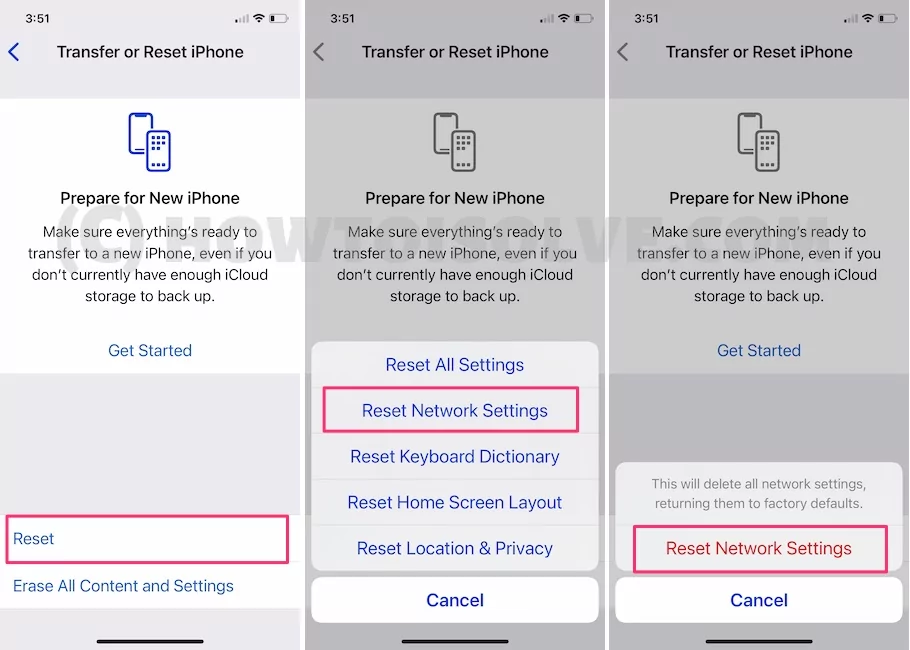 Enter your iPhone Lock passcode and Try after Reboot once. This Process won't erase other important settings, Media, Messages, and more.
→Steps to Reset Network Settings for iOS 14 and Earlier Version -Follow the below steps to perform reset networks setting on your Apple phone.
Go to Settings App
Tap General
Scroll the screen and Hit on Reset
Tap on Reset Network Settings.
Read more: Reset Network Settings on your iPhone
→Reset Voicemail password
Check this page to reset the voicemail password.
Now let me tell us, which clue is your success key to fixing can't delete a voicemail message on iPhone. Stay in touch with us to get more how-to on iPhone and iPad.