LTE Option for Cellular Data is Missing on iPhone, iPad? Are cellular settings are missing on your iPhone settings? Let's follow my tutorial. LTE network mode is a super blazing network mode for the cellular data network. In this mode you can enjoy live streaming, Video or TV shows online, Download Video through apps or browsers. Most of the popular mobile carrier/network providers serve the fastest and most reliable network in most of the regions in the USA, UK, and Canada. Although the LTE option for cellular data after 4G speed is not offered for your device.
Many users are rejected by LTE option removed suddenly from their own iPhone, suddenly. Here are the possible reasons that might be unavailable on your iPhone.
Note: Before going to the Apple or Carrier support center, you must check out below troubleshooting steps. Steps for the iPhone cellular settings blank or not showing in cellular data voice.
LTE Option for Cellular Data Missing or Doesn't Appear on iPhone, iPad
Solution #1. Put your Device in Airplane Mode
Open Settings App
Turn Airplane Mode ON/Green. wait for a while and turn it off.
Let's check for the cellular setting tab. if doesn't appear let's go to the next step.
Solution #2. Pull out the SIM and Insert the SIM again
Just remove the sim card with the sim ejector tool and clean the sim tray and sim card slot after that insert sim back in the proper way.
hopefully, you would get back missing Cellular settings in the Settings app.
Solution #3. Change the LTE Settings
Once more you should look into the Settings app of the iPhone, iPad and see if there are iPhone cellular data settings missing or not. If the Cellular Option missing on iPhone then move to the next solution.
Note: To update cellular data option, from 2G, 3G, or 4G to LTE
Go to the Settings App.
Tap Cellular.
Click on Cellular Data Options
Tap Enable LTE or Settings.
Next, tap Mobile Data and Enable LTE.
We can apply Speed Limitations and Network types manually under Cellular Data settings. Here's the screen For Enable LTE Option for Cellular Data.
Solution #4. Check your Device Compatible with LTE Network
Hardware is an also important role in using high-speed LTE network on iOS devices, Means not use for all device. LTE-compatible devices are iPhone 5 or later.
LTE Option is not working for you! No Problem, Voice over LTE (VoLTE) also carrier dependent, Check out here your carrier has an option for your country. At here For instantly fix the issues, contact your carrier.
Solution #5. Reset Network Settings
Reset also fix LTE not showing (iPhone mobile data settings missing) or cellular data option missing iPad. After reset network setting, reconfigure all updates with the latest network data by restart the iOS device. Once you reset network settings, the saved Wi-Fi passwords, networks will be removed from the iPhone. Later you have to enter manually while connecting to Wi-Fi.
Steps to Reset Network Settings for iOS 15 and later version
Step #1: Head to the "Settings" App.
Step #2: Open "General" and then tap "Transfer or Reset iPhone".
Step #3: Lastly, tap "Reset" > "Reset Network Settings" > Enter your iPhone Lock passcode and Try after Reboot once. This Process won't erase other important settings, Media, Messages, and more.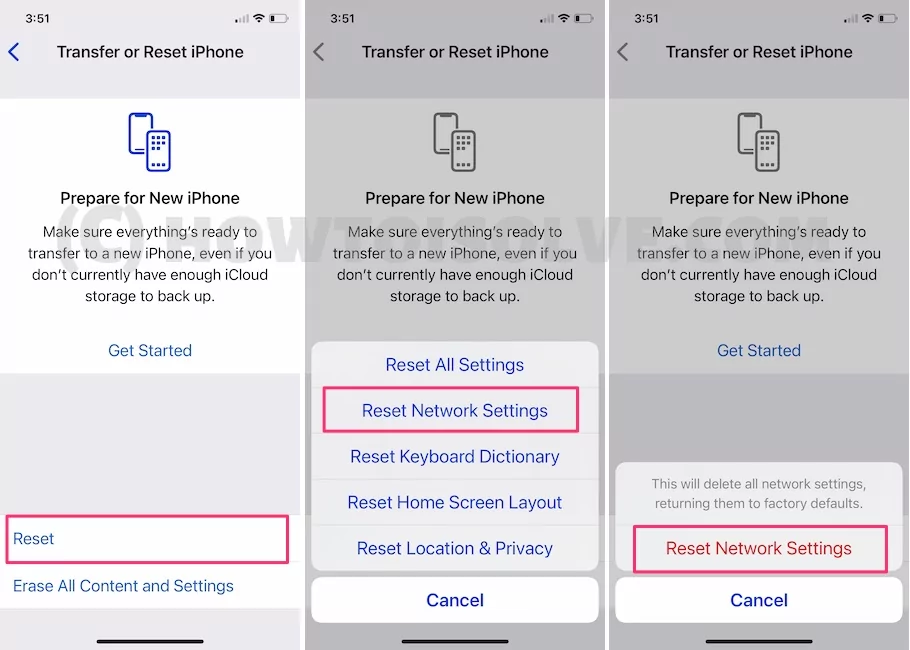 Steps to Reset Network Settings for iOS 14 and Earlier version
Go to the Settings app.
Tap General.
Scroll the screen all the way tap Reset.
Lastly, select the Reset Network Settings.
Enter the iPhone passcode and confirm Reset it.
Now check out Cellular settings appear or not.
Solution #6. Update Your Device Firmware
Update the iPhone to the latest firmware and see if still iPhone cellular settings blank. Connect the iPhone to the Wi-Fi, and charge at least 50%, before updating it.
Open the Settings app.
Tap General.
Hit Software Update.
Download and Install software updates if available.
That's it, Test data speed on the app and enjoy it. More suggestions that helped you to find the LTE option for cellular data option missing worked for you, then share with us in the comment.