in this blog post, Get Fix iOS 16 CarPlay issues on iPhone after iOS 16 Update. Why is my apple CarPlay not working after iOS update? Go with the guide to Some Quick Fixes for iOS CarPlay not working after iOS update issues happens like CarPlay Bugs, CarPlay Not Working. CarPlay is the safest way to operate the iPhone while driving. You can play music, access apps, call someone, Send messages, and more. And with the hope for the best, if you find that CarPlay is not working on iPhone, that moment will be much annoying for you. However, we have got a few bugs with iOS 16, and one of the known issues is CarPlay not working after the iOS 16 update on iPhone and iOS 16 Supported iPhones.
Reddit user skin for the solution on "On my way to work today, I connected my iPhone to my VW Tiguan as I normally do, and to my disappointment, the connection failed. I retried many times, but it would not connect. It worked yesterday." And Other car owners of Mercedes, Honda, Subaru, Mazda, Nissan Sentra, honda civic, Volt, Hyundai Sonata, Jeep, Volkswagen, chevy, ford, honda pilot, honda hrv, honda accord, ram 1500, VW CarPlay problem.
We have made a list of some solutions which will fix quickly Apple CarPlay glitching – CarPlay Music not working on the iPhone. Here's how you can do it.
Fixes to Troubleshoot
Solutions to Fix iPhone CarPlay Not Connecting
in your Car
→ CarPlay says connection failed or CarPlay Not Connecting issues. 60% of this solution work, try to restart the power button of the radio console. Or use the Hard Reset Console installed in your Car. if not helped, follow my next guide in this article to fix CarPlay issues.
→ CarPlay Won't Work or Not Showing:- Connect your iPhone Via lightning cable or USB cable to your Car's CarPlay. Go to "Settings" > "General" > "CarPlay". [Your Car Installed and Support Wireless CarPlay, Press and hold the voice control button on your Steering wheel to start the Carplay setup from here].
→ iOS 14 or later, Apple Added the New CarPlay Settings app and a Calendar app to Carplay. Carplay Calendar is in a simple user interface now more helpful to find upcoming events and Appointments. So you can quickly get the direction turn by turn.
→ in iOS CarPlay has new three settings for Do Not Disturb while Driving, Appearance, and Siri Suggestions in Dashboard. Appearance is great that turns the screen into Dark mode or Light mode. Also, you can choose it for automatic so your Carplay screen turns automatically to dark mode at night and light in the daytime.
→ iOS 13 has a new Music app, play music using Siri command.
→ Left of the dashboard, you have a quickly launched icon that was recently used. Just like Music, Navigations, and Phone app, or other communication apps.
See the list of available cars, tap on your car name. Learn here how to Set up Wireless carplay on your iPhone. (wireless carplay method useful whenever your Apple CarPlay not working when plugged in)
New* Hey Siri in CarPlay
"Hey, Siri" is not supported iOS 15 or Earlier, which means iPhone 6/6 Plus and Earlier model will not work with iOS Features. One of the most useful features is Hey Siri for CarPlay. Without the physical button start command to Map or Other Navigation apps that support Hey Sir. so Car Manufacturer can use Built-in Hey Siri Support.
Fix 1: Update the iPhone for CarPlay Not Working
If you haven't updated the iPhone to the latest firmware, then update it right now. Eventually, the updated version may contain bug fixes and security patches. First Check it to fix iOS CarPlay Not working issues and the Annoying bug with iOS CarPlay bugs or the latest iOS.
Launch "Settings".
Tap "General"
Scroll down to find "Software Update".
To check for updates click on "Software Update".
Latest Update iOS 16.5 is available to install, it is a bug fix update. Let's install to fix your iPhone problems.
Fix 2: Restart your Car
You don't see or Stop showing the Carplay icon or cannot find the CarPlay logo from your Car's display you should also restart your car.
Fix 3: Enable ScreenTime for CarPlay
If you have put Car Play on the list of restrictions then CarPlay will never work. Let's check the restrictions. Also, get fix Apple Carplay Enter Button Not Working by enabling Carplay with iPhone.
Go to Settings
Tap ScreenTime
Click "Content & Privacy Restrictions".
Scroll and find "Allowed Apps"
Enter the ScreenTime password if asked for your iPhone.
On the App List screen, Turn Toggle CarPlay On/Green.
Now go back to access carply in setting. I hope this worked like a charm. in case of issue persist or has other carplay issues, please, please keep continue for the next solution.
Fix 4: Make sure Siri is turned on
You can't ask the iPhone to make phone calls or play music if Siri isn't enabled on your device. To verify, follow the steps.
Step 1: Go to "Settings" and open "Siri & Search".
Step 2: Turn Toggle "Listen for Hey Siri" ON. Follow on-screen instructions to set up Hey Siri.
Click on the Continue button.
Say Hey Siri
Say Hey Siri Send a Message.
Say Hey Siri, how's the weather today?'
Say, "Hey Siri, set a timer for three minutes.
And finally, say "Hey Siri play some music.
Click on Done. Hey Siri is Ready for you.
Now use hey siri for Carplay purposes. For more read here.
Fix 5: Carplay Navigation Not Working with Siri on iPhone
if you are trying to navigate location on Apple Carplay Map using Siri command, While your iPhone is connected with Carplay. Follow the below steps and enable the Location Service for Siri & Dictation.
Go to the Settings app on iPhone > Scroll to Privacy.
Open Location Services > Scroll to Siri & Dictation > and enable "While using the app" and Enable "Precise Location" toggle. to Start navigation on Apple carplay.
That's it.
Solution 6: CarPlay "Only one accessory can be used at a time"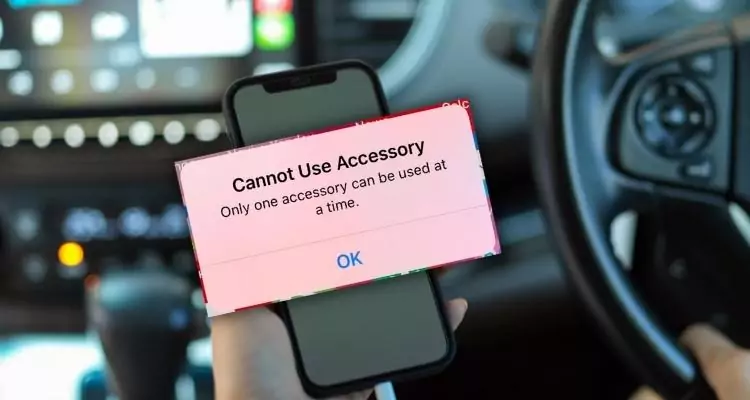 iPhone users have been reported the issue "Cannot Use Accessory, Only one accessory can be used at a time", while connecting iPhone via Apple's lightning cable to CarPlay. To fix the issue with the below helpful troubleshooting…
Restart iPhone:- Your iPhone is stuck on somewhere, you couldn't connect the iPhone becuase it's stuck on old connection, Hard reboot works in this case.

For Latest iPhone models, Quickly press and release volume up button, and volume down button, Now, only press and hold on side power button, until you see the apple logo on screen. Learn for all iPhone Hard Reboot.

Enable USB accessories Toggle:- Go to the settings app > Face ID & Passcode [Enter Passcode] > Scroll to Toggle "USB Accessories" and Enable. That's it.
Solution 7: Carplay stopped working Uconnect
Uconnect users found issues with Uconnect while they are connecting iPhone via USB lighting cable. Check out the below troubleshooting for this problem.
You have to delete your iPhone from Carplay Bluetooth settings, Go to Apps home screen on CarPlay > Settings > Bluetooth, and Remove iPhone from Bluetooth.
Next, Unplug your Phone before restarting your Car, and check after restarting your car, and connecting your iPhone with CarPlay.
Update CarPlay from your iPhone:– Make sure your iphone is updated to Get CarPlay fix. Go to the Settings app on iPhone > General > Software Update. That's it.
Fix 8: Reset All Settings on iPhone
Reset All Settings is the most common practice that people are aware of with the all-star devices, We can do reset all the devices that erase all the settings that are customized depending on usage. But sometimes people are not getting in mind, Here's iPhone reset all settings isn't erase the whole device.
But only settings go to default. I personally have done it many times and got fixed some serious software issues. Let's follow the below steps to reset all settings without deleting Media or Notes, Contacts, Messages, and more.
Steps to Reset All Settings on iPhone
Reset All Settings on iPhone – Follow the steps given below.
Go to the "Settings" app
Tap "General"
Scroll to "Transfer or Reset iPhone"
Choose "Reset"
Lastly, tap on "Reset All Settings"
For security reasons, you will be asked to enter the iPhone Passcode.
Tap Confirm Reset All Settings. > After that iPhone will reboot.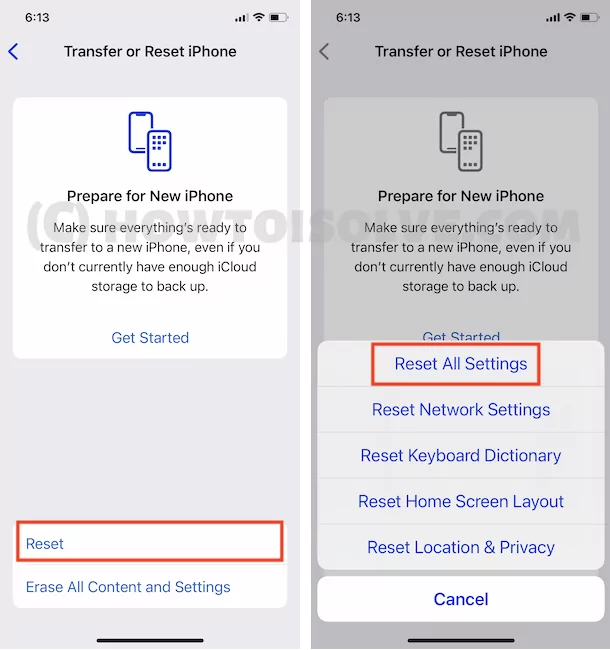 Fix 9: Restart iPhone or Hard Reset iPhone
The first thought that comes to our mind when we find our iPhone not working properly is to restart the iPhone. Because it takes a few seconds to complete this process and most of the glitches get fixed quickly.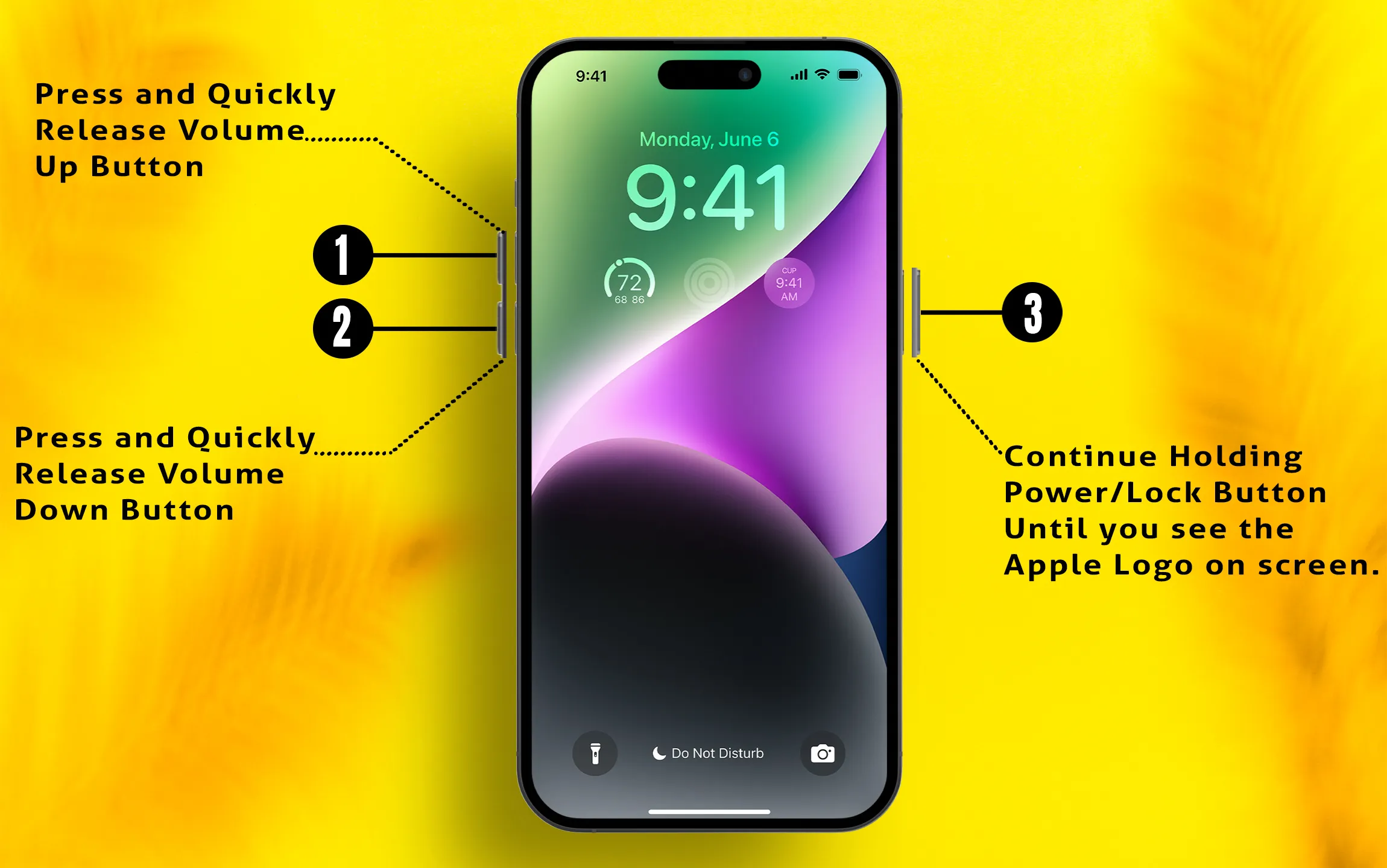 Step 1: Press and quickly release the Volume Up key.
Step 2: Press and quickly release the Volume Down key.
Step 3: Now, Press and hold the Power button and release when you see the Apple logo on the screen.
Fix 10: Check Cable and Try
Apple suggests that we must use the cable that comes with iPhone's package. The original cable will work properly compare to local cables or Third-party Cables. Use lightning cable only come with this.
Fix 11: Restore new iOS or Clean Install
Restore iOS with the latest version of iOS using iTunes also help to fix serious problems and Freezing problems. Follow this guide on how to Restore iPhone. This fix helps in all types of Apple CarPlay problems forcefully.
Wrap up:-
If the above tips failed to fix Apple CarPlay not working on iOS. Contact Apple Support or Book Appointment at the nearby Apple store and support [Find nearby Apple Store or Service center].

Let's like and share with us on our social page to get more updates and tricks that help to fix problems like CarPlay Not working on iPhone, iPad. Also, Discuss your problem with clean instructions in the comment box.