here's CarPlay Not Working in iOS 12 Updated on iPhone X Plus, iPhone X, iPhone 8 (Plus),9 (Plus),7 (Plus), 6S (Plus). Open this article to fix issues on CarPlay not connecting and access Maps app and more.
Go with the guide to Some Quick Fixes for iOS 1 CarPlay not working, iOS 12 CarPlay Bugs, CarPlay Not Working. CarPlay is the safest way to operate iPhone while driving. You can play music, access apps, call someone, Send messages and more. And with the hope for the best, if you find that CarPlay is not working in iPhone, that moment will be much annoying for you. However, we have got few bugs with iOS 12, and one of the known issues is CarPlay not working after iOS 12 update on iPhone.
Reddit user skin for the solution on "On my way to work today, I connected my iPhone to my VW Tiguan as I normally do, and to my disappointment, the connection failed. I retried many times, but it would not connect. It worked yesterday." And Other car owners of Mercedes, Honda, VW CarPlay problem.
We have made a list of some solutions which will fix quickly CarPlay not working on iPhone. Here's how you can do it.
Fixes to Troubleshoot 
Solutions to Fix iPhone CarPlay Not Connecting 
in your Car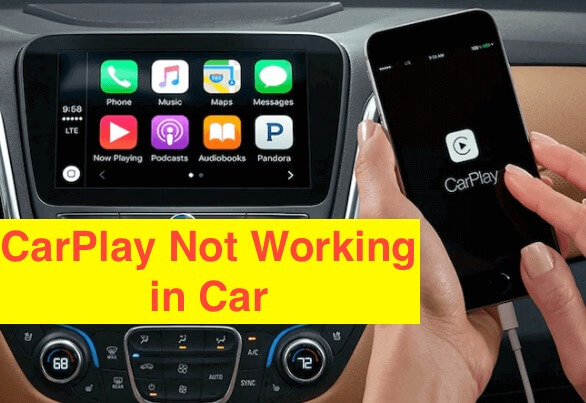 → CarPlay says connection failed or CarPlay Not Connecting issues. 60% this solution work, try to restart power button of the radio console. Or use Hard Reset Console that installed in your Car. if not helped, follow my next guide in this article for fix CarPlay issues.
→ iOS 12 or later iOS device able to use Third-Party Navigation app on CarPlay [WAZE, Google Maps and More], If you missing or not able to open.
→ CarPlay Won't Work or Not Showing:- Connect your iPhone Via lightning cable or USB cable to your Car's CarPlay. Go to "Settings" > "General" > "CarPlay". [Your Car Installed and Support Wireless CarPlay, Press and hold the voice control button on your Steering wheel to start Carplay setup from here].
See the list of available car, tap on your car name.
Fix 1: Update the iPhone for CarPlay Not Working
If you haven't updated the iPhone to the latest firmware, then update it right now. Eventually, the updated version may contain bug fixes and security patches. First Check it to fix iOS 12 CarPlay Not working issues and the Annoying bug with iOS 12 CarPlay bugs or the latest iOS 12.1.
Step 1: Launch "Settings".
Step 2: Tap "General" and scroll down to find "Software Update".
Step 3: To check for updates click on "Software Update". If any available, then download and install.
Fix 1.1: Restart you Car
you don't see or Stopped showing Carplay icon or cannot find CarPlay logo from your Car's display you should also restart your car.
Fix 2: Restart iPhone or Hard Reset iPhone
First thought comes to our mind when we find our iPhone not working properly is to restart iPhone. Because it takes few seconds to complete this process and most of the glitches get fixed quickly.
Step 1: Press and release Volume Up key.
Step 2: Press and release Volume Down key.
Step 3: Now, Press and hold the Power button and release when you see Apple logo on the screen.
Step 1: Press Volume Down and Home button simultaneously until Apple logo arrives on screen.
For iPhone 6s and earlier
Step 1: Press and hold the Home button and Power button at the same time and release when Apple logo appears on the screen.
Fix 3: Check Cable and Try
Apple suggests us to use the cable that comes with iPhone's package. The original cable will work properly compare to local cables or Third-party Cables. Use lightning cable only come with this.
Fix 4: Check Restrictions
If you have put Car Play on the list of restriction then Car Play will never work. Let's check restrictions.
Step 1: In the "Settings", open "Screen Time".
Step 2: Turn on Screen Time if it's already turned on then Locate "Content & Privacy Restrictions".
Step 3: Enter required password.
Step 4: Scroll and find "Allowed Apps" > "Enable CarPlay".
Fix 5: Make sure Siri is turned on
You can't ask iPhone to make phone calls or play music if Siri isn't enabled on your device. To verify follow the steps.
Step 1: Go to "Settings" and open "Siri & Search".
Step 2: Toggle it on. Setup Siri on iOS device.
Fix 6: Restore new iOS or Clean Install
Restore iOS with the latest version of iOS using iTunes also help to fix serious problems and Freezing problems. Follow this guide on how to Restore iPhone. This fix helps in all types of Apple CarPlay problems forcefully.
Wrap up:-
If the above tips failed to fix Apple CarPlay not working on iOS 12/11.4/11.3. Contact Apple Support or Book Appointment at the nearby Apple store and support [Find nearby Apple Store or Service center].

Let's like and share us on our social page to get more update and trick that help to fix problems like CarPlay Not working in iOS 12 with iPhone, iPad. Also, Discuss your problem with clean instructions in the comment box.
Jaysukh Patel is the founder of howtoisolve. Also self Professional Developer, Techno lover mainly for iPhone, iPad, iPod Touch and iOS, Jaysukh is one of responsible person in his family.
Contact On: [email protected] [OR] [email protected]