This tutorial will help you to find Downloaded macOS from the app store or macOS installer. and Then delete downloaded software updates mac complately. So, Mac users can re-download the setup or Free up space. Check out the steps for where is macOS Downloaded? and How delete macOS Setup from Mac?
It's not always the macOS updates are downloaded and installed successfully, especially on the day when Apple first rolled it out. When any major update is rolled out publicly, the same day, many people reports issue like can't update Mac to macOS Monterey, macOS update stuck, macOS installed partially and more. While downloading the macOS update, if anything goes wrong and you can't install the update, removing the downloaded software update file is recommended.
The software update file takes up about 10-15 GBs of storage and System Required 35 GBs for installation, and in the presence of that corrupt macOS software update installer, you cannot download the update the MacBook. Therefore, kindly locate and remove the partially installed macOS Monterey file from Mac.
How to Remove Partially Downloaded Files macOS Ventura, Monterey
Until and unless the corrupted macOS 13 files are not removed, the Mac Software Update program will show the Install button considering that file instead of the Download or Update Now button. To download the new software update file, you need to remove the existing file mandatorily; here's how to delete partially downloaded files from Mac, MacBook.
Where is the macOS Ventura, Monterey installer located?
i mean, where are macOS updates stored,
MacOS Installation File Location is Finder (Applications Folder). Also, if you're searching, Where are macOS Monterey, Ventura downloads stored? Then the answer is the same. Finder is responsible for storing and managing all these update files for macOS. You can either use Finder to delete the Downloaded macOS Monterey Update & installation file or the Terminal command. Prior to macOS Sierra, the macOS Installer files can only download macOS. Now, On MacOS High Sierra or later macOS, mac App Store Directly download new MacOS.
💡 Tips: You can keep this downloaded macOS file on your mac and use it for Make Bootable macOS USB Flash Drive.
Method 1: Using Finder
Finder is a simple straight option to remove the update installation file from Mac. It's stored inside the Applications. Follow the steps to deleting macOS installation download.
1→ Open Finder on your Mac.
2→ Click on the Go in the top menu bar.
3→ Select Applications. or See the Applications in the Finder sidebar.
Now find the macOS installation file [instal MacOS x..] and Move to Trash.
Right-click on File > Move to the bin. Lastly, Empty Trash.
Method 2: Using Terminal
Couldn't find macOS installation file in Finder? The terminal app is another option to remove the installation file. Refer to the command mentioned below and run into Terminal App.
Open Terminal. Press command+space bar and search Terminal App.
Type the following command:
For Ventura:-
sudo rm -rf Install\ macOS\ Ventura.app/
For Monterey & Big Sur:-
sudo rm -rf Install\ macOS\ Monterey.app/
sudo rm -rf Install\ macOS\ Big\ Sur.app/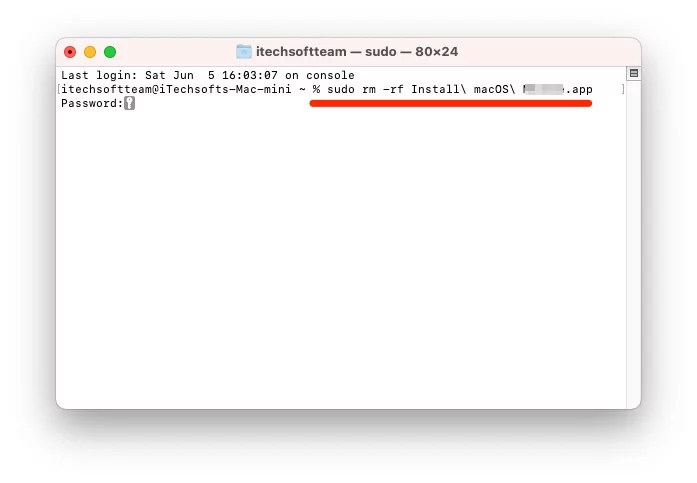 Press Enter key.
If asked, enter the login password of Mac and press Enter to proceed.
Both the Methods are helpful, Write a comment which you prefer and How this article is helpful. also, share your problem if you are facing on Delete macOS Setup file from Mac.
Direct Download macOS Link on Mac [Old & Latest Version]
We can download the Official macOS Setup file to Install MacOS On the same Mac or Another Mac using Bootable Drive. Click on the link below or Open In New Tab, Next, Click on View in App Store > And Click on Get button to Download macOS File on your Mac.
Once the Download Process is completed, Don't start the installation, From the top Menu, Quit the setup, and Find the Saved MacOS Setup file under the application folder on your Mac. Open Finder on Mac > Application > Search Install macOS Version name. that's it.