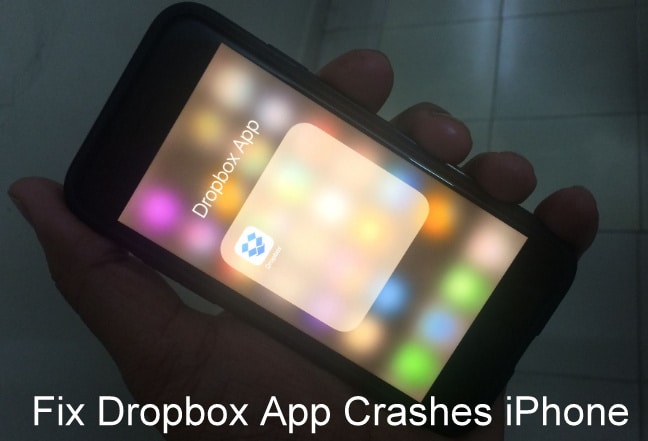 Last Updated on Nov 5, 2019
Most guys are familiar with DropBox; it is a helpful productivity service to store personal and business documents. It has significant features and uses nearly all Apple gadgets including iPhone, iPad Air, iPad Mini, iPad Pro, and iPod Touch. Dropbox developer engineers are always trying to keep its iOS app secure and handy to use for Apple iOS users and Non-Apple users. Sometimes due to little or significant update, it is panic to their users, one of that is Dropbox Keeps Crashing the iPhone or iPad. So that I'm giving you some troubleshooting, hope, would be work in your case.
we are happy to help you, submit this Form, if your solution is not covered in this article.
Before get Started following workarounds, you confirm that the Dropbox app firmware updates. Go with these steps, Launch App Store app- Tap on Update button -and check out for the update – Any update is there for DropBox App. If yes, please do first and try to use it.
Guide to Getting Rid of Dropbox Keeps Crashing iPhone/ iPad: Majorly after Update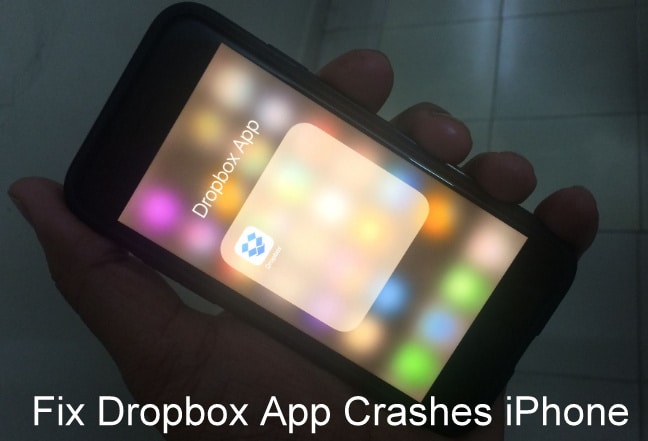 Given Free troubleshooting, you should apply to fix the Dropbox app keeps quitting iPhone, iPad and iPod Touch. Let's see here what the tricks are?
Fix #1. DropBox Closes itself on your iPhone or iPad
You should Reset All Settings on your iDevice to fix Dropbox keeps closing through the following steps.
Settings App looks like a gear icon – General – Reset – Reset All Settings.
Note – it won't delete any data or media expect from All Settings such as Wi-Fi password, Previous paired Bluetooth devices and much more.
Fix #2. Force Close Dropbox App to Fix Dropbox won't open or keeps shutting down
Here, how to force quite an app on iPhone,
Get Here – Alternative Ways to Force quite an App on your iPhone
Step 1. Twice press the home button on your iPhone to bring the App Switcher.
Step 2. Swipe the right side and navigate the Dropbox app.
Step 3. Now Swipe the Dropbox app upward to away.
Step 4. Now again open up Dropbox from the Home screen.
This tip would fix your issue. In some of the times, my iPhone app often crashes, at that point, you should delete it and install it again. For example, here I'm taking the Dropbox app,
Fix #3. Delete the Dropbox App and Re-Install
This is the ideal solution to stop App crashing unexpectedly. So you guys, go with this process and enjoy Dropbox once again.
On the iPhone home screen, Tap and hold on the Dropbox app icon until the icons start to jiggle.
Now tap on the Dropbox app icon (X) mark, and you'll be prompted
Now click on the Home button to Save.
To install back, Launch App Store, Use the search bar to find Dropbox to Download and install again. You'll be asked Apple ID Passcode so keep it ready.
That's it.
If none of the above ways help you, please Restart your iPhone and do your job.
Do you find any other way to fix Dropbox Keeps Crashing on iPad or iPhone? Please share it in the comment box.
Other Reasons for Dropbox won't open and Crash
Check this short of things on your iPhone. Apple doesn't guarantee to you iOS Developer beta or iOS public beta works on All App that running on your iPhone. if you having a problem with the Specific iOS version or Type, then you should go and work for downgrade or Switch to the public iOS version.
Personally, I felt that iOS 13 Developer beta is not mostly compatible with Banks App, UPI apps, and Transaction App. But it works very well on the Shopping app.
Premium Support is Free Now
We are happy to help you! Follow the next Step if Your Solution is not in this article, Submit this form without Sign Up, We will revert back to you via Personal Mail. In Form, Please Use the Description field to Mention our reference Webpage URL which you visited and Describe your problem in detail if possible. We covered your iPhone 12, iPhone 12 Pro, iPhone 12 Mini, iPhone 12 Pro Max, iPhone 11 Pro, iPhone 11 Pro Max, iPhone 11, iPhone 8(Plus), iPhone 7(Plus), iPhone 6S(Plus), iPhone 6(Plus), iPhone SE, SE 2(2020), iPhone 5S, iPhone 5, iPad All Generation, iPad Pro All Models, MacOS Catalina or Earlier MacOS for iMac, Mac Mini, MacBook Pro, WatchOS 6 & Earlier on Apple Watch 6/5/4/3/2/1, Apple TV. You can also mention iOS/iPadOS/MacOS. To be Continued...
Also, Check internet connection, Becuase Online cloud app restoring the data or Download the data in Backgroud. But you are not on the internet, so you can't open the app because of the instant crash. You can switch and try between Celluar Data or WiFi.
Airdrop is compatible with
None of the above methods worked? Get more tactics to Fix iOS App keeps Crashing