Last Updated on Aug 2, 2023
Working on complex Spreadsheets in Microsoft Excel is always been fun. But all this can turn into horror when an Excel spreadsheet not saving on Mac (the fix for Excel Won't Open). Luckily, you don't have to lose all your data and solve this issue with various workarounds.
Corrupted internet connection, irrelevant folder permissions, insufficient storage, etc., are some of the common reasons why Excel may fail to save your document on Mac. Below are some troubleshooting tips you can perform to fix the problem.
Excel Save as Not Working? Get the Reasons & fix!
Here are 11 ways to fix Excel Spreadsheets not saving on Mac. So without any further ado, let's get started!
Solution #1. Update macOS
Before moving forward to high-end solutions to resolve Excel not asking to save, ensure your Mac computer is updated to the latest macOS. It could be why I can't save my Excel file on Mac. To do so, read our article on how to update Mac to latest macOS. Apple Menu > System Settings > General > Software Update > Update MacOS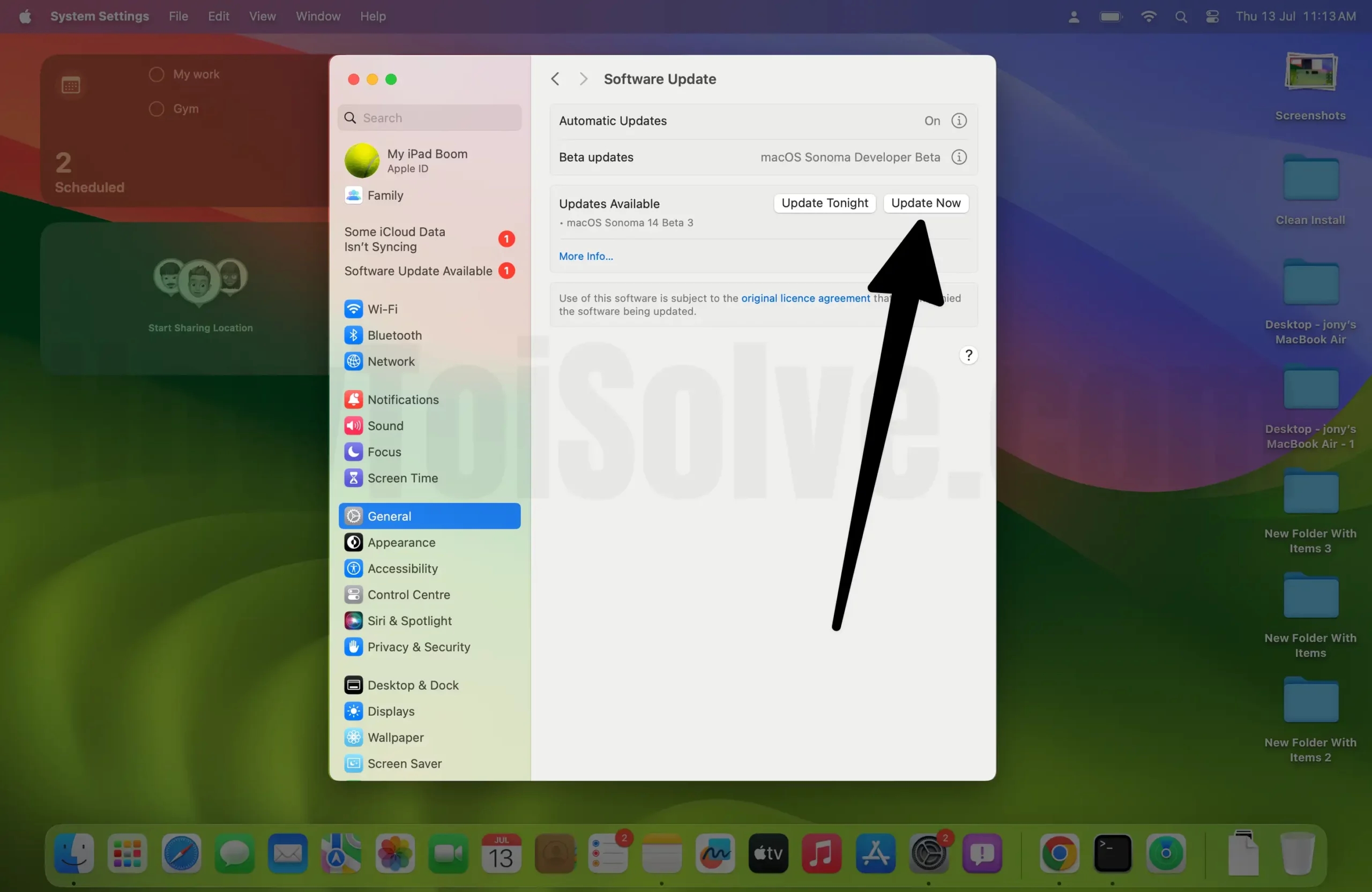 Solution #2. Does Excel save as not working? Try manually saving it!
Most users prefer to sync the Spreadsheet with an online service like OneDrive, Dropbox, or Box. Unfortunately, Excel not saving sheets occurs when such services face an outage. In this scenario, you only need to save the Excel file offline on your Mac computer. Here's how you can do so. 
Step 1: Open the Excel spreadsheet on your Mac computer.
Step 2: Click on File located in the top menu bar.
Step 3: From the menu, select Save A Copy…
Step 4: Choose a folder on your Mac, then click Save Button at the bottom. 
After a while, check if those Cloud services are back. If so, move the same file and start collaborating.
Solution #3. Try saving different format
If you're saving a spreadsheet on your Mac in the .xls format, try saving it in a different format or another program to keep your work on track. There are chances the problem is with Mac but not with Excel.
Solution #4. Check internet connectivity
If your Mac computer is facing internet issue, Microsoft Excel will be stuck on 'Saving' status. Check if your Mac computer is connected to a trusted Wi-Fi network or save the file offline.  
Click on Control Center next to the Date & time in the Mac Menubar.
Connect to your Wi-Fi network or click on Wi-Fi Settings… from the same menu.
Verify the 'Connected' status with the green dot from the following menu. 
However, if your Wi-Fi isn't working on your Mac, read our article how to fix wifi not working on Mac.
Solution #5. Check Storage
There are two different possibilities in this scenario, one trying to save an Excel sheet offline on a Mac, and another one is trying to save it in various services like OneDrive, DropBox, etc. We mentioned the solution for both.
Trying to save Excel offline on Mac
If you are trying to save an Excel spreadsheet offline on your Mac and it's not saving, first of all, check if your Mac is not running out of storage. For that, follow the steps below.
Click on Apple Logo.
From the menu, select About This Mac.
Click More Info…
In the Storage Menu, select Storage Settings… (Easy Ways to Free Up Storage on Mac)
If you find insufficient storage, read our article on how to free up space on Mac. If not, move to the next solution.
Trying to Excel online on Mac
Microsoft Onedrive storage offers 1 TB of storage with a subscription to Microsoft 365 plan. However, for some reason, storage may not be sufficient. So, if you run out of OneDrive Storage for your account, you may encounter Excel not saving sheets on Mac.
For cross-verification, you need to visit OneDrive on Safari and sign in with your Microsoft account details. Right there, you will see OneDrive storage in the bottom left corner. If running out of storage, try saving it as an alternative service or save it offline.
Solution #6. Turn off Third-party Antivirus App
There is a possibility that most antivirus apps can run in the background to safeguard your Mac computer, but if you have an older Mac or running out of storage, these apps may cause your computer to run slowly, and eventually, you can't save Excel files on Mac. 
To Start, press Command + Space to open Spotlight search.
In there, jot down the antivirus name.
The anti-virus name will appear on the screen, and click on it to open.
Within the program interface, search for "Disable" or "Stop."
On the confirmation screen, click Yes or No.
Solution #7. Update Microsoft Exel on Mac
To prevent all kinds of problems and to get the best out of Microsoft Excel, you must keep updated to its latest version. This ensures that your app runs error-free and has all the latest features. To update it, follow the steps below. 
Go to the App Store.
Select Updates from the left side panel.
If available, click on Update Button from the right side.
That's It!
Solution #8. Close Microsoft Excel on other devices
Can a Microsoft Excel sheet open on an alternative Windows or Mac? When you open similar files on Excel for Mac and start making changes, it may go through issues with saving the latest changes. All you need to do is close Microsoft Excel on an alternative device and try saving Spreadsheet again.  
Solution #9. Decrease File Size
The File may get abnormally large when you deal with a Spreadsheet with multiple tables, graphs, and hundreds of rows & columns. In such a scenario, reduce the file size and try saving it on your Mac computer. Here's how you can do it.
Step 1: Open the Excel Sheet on your Mac.
Step 2: Click File from the menu bar.
Step 3: From the menu, Reduce File Size…
Step 4: Compress pictures to decrease file size. 
Step 5: For confirmation, click OK.
Solution #10. Browser Version History
When Microsoft Excel doesn't save the changes on Mac, you wouldn't want efforts go to waste. Fortunately, you can see the version history and restore recent files. 
Access the Excel Spreadsheet on your Mac.
Click on File located at the left-top corner on the Menu Bar.
Select Browse Version History.
Check the time next to your Excel File.
Access recent Excel File.
At last, try to save it to your Mac or OneDrive.
Solution #11. Use Microsoft Excel Web
When none of the tricks mentioned above doesn't work, it's time to ditch the Microsoft Excel app and go with the Web Version. However, it's not feature-rich, but it's the only solution until the Excel app lets you save the Excel Sheet.
Final Thought!
The last thing you'll experience that you'd want is to lose all your data and end up with a blank spreadsheet. So, resolve the error instead of ignoring it. The solutions above will help you to fix Excel Spreadsheet not saving on Mac.