Last Updated on Jul 2, 2022
After the macOS Monterey upgrade, your Microphone outlook calendar is not syncing with the native calendar app on Mac. Get fixed and sync your outlook calendar to the macOS Calendar app. But office 365 macOS synced microphone outlook.
we are happy to help you, submit this Form, if your solution is not covered in this article.
Using the below solution start syncing the event, holidays, Days, and more in just simple steps.
Solutions to fix Exchange Calendar not Syncing on Mac
Solution 1: Stop and Start Calendar Process
You should Force close the calendar process on your Mac computer using a terminal. To do that, open the terminal app and run the below-mentioned command,
To open Terminal, Press Command + Space and Run below two command lines in a terminal and hit the return to run.
launchctl stop com.apple.CalendarAgent
launchctl start com.apple.CalendarAgent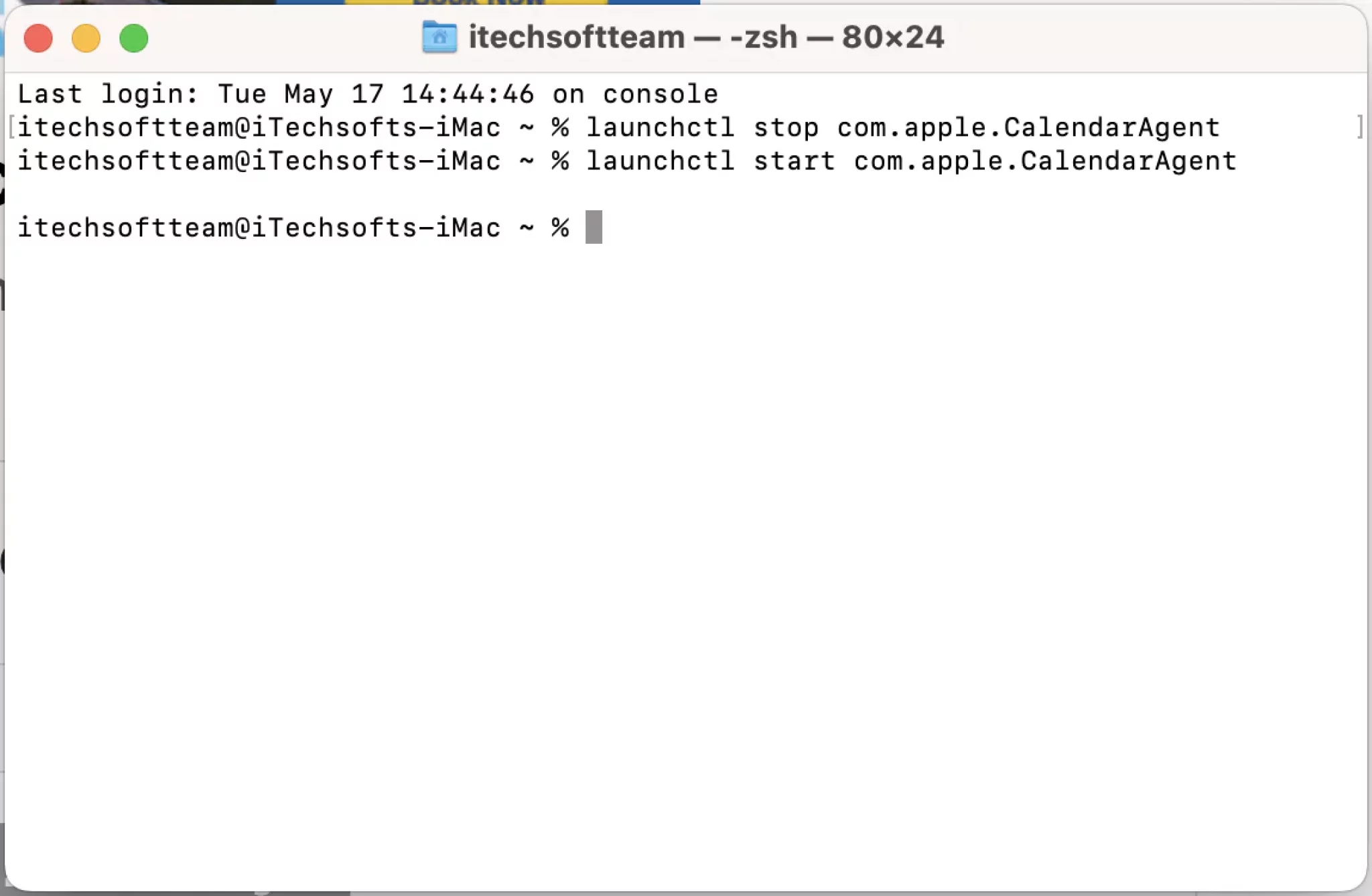 Copy the command line, paste it into the terminal window, and hit the return to run command on mac. suppose the command method won't fix to sync exchange calendar with mac. Possible your Mac machine running with old version of macOS, check if your Mac got any new software updates. if available any update, Please upgrade it first and retry to sync the calendar procedure. Follow solution number 2.
Solution 2: Update your Mac Operating System Firmware
most of the users got fixed the problem (MacOS Calendar not syncing with Exchange) after the macOS software update. Download and install the macOS update on your Mac and fix Apple and Exchange Calendar bug.
For MacOS Ventura users,
Go to Apple Logo > Click System Settings > Find General > Click on Software Update > Wait for a while till your Mac computer check for a software update.
Hint: Free tips to Fix Mac Stuck on Check for Udpate
Steps for macOS 12 Monterey & Earlier Users
Go to the Apple Logo > System Preferences > Software Update > Download and Install.
in case of, your Apple mac notebook or iMac desktop shows that your Mac is up to date, next what to do? here is clear that there isn't an issue with Mac operating system. Right? Let's attempt to check Mail Account settings on your Mac which is given in solution number three. Let's read carefully.
Solution 3: Verify Microsoft Account on Mac
If not, then remove the account from mac and re-enter the microphone exchange login details under the calendar account from the top menu.
To Remove your Existing Microsoft Exchange account,
Open the Mac Calendar app.
From the top Menu, Calendar > Accounts.
Select Microsoft account from the list > Click on the Minus [-] button to remove it from your Mac.
Select Remove from all options.
Re-add your Microsoft Account,
Open Calendar on Mac.
From the top menu, Calendar > Accounts.
Select Microsoft Exchange.
Enter your login details and enable the calendar toggle to start syncing.
Enter your Microsoft account password, and Select Sign in Automatically.
After login successfully, Select the Calendar checkbox to Sync with the Apple Calendar app.
Tap on Done to apply changes.
Update your Installed mail app: Isn't Showing on Outlook App
if you have a problem with the installed office 365 app or Microsoft Exchange Outlook Mac app, sure the app is updated. Sometimes internal software bugs or outdated apps are unable to log in or sync your Microsoft account to the outlook app.
Solution 4: Restart your Mac
Some internal software glitches we can fix after the restart. Go to the apple logo > Restart.
Hint: How to Restart your Mac [Full Guide]
Solution 5: Try in Safe Mode
Safe mode on mac determines the software issue while turning on your Mac. and Stops the Opening affected app on the mac during startup time. Here's the way to put your mac in safe mode for intel or m1 mac.
M1 Mac in safe mode:- Shutdown your Mac; after 10 seconds, press and hold on to the power button until you see the startup volume and Options on the screen. Now, Select startup volume and Hold down the Shift key. next, click on "Continue in safe mode." after waiting for a few seconds, log in your Mac. and check the issue is fixed in safe mode.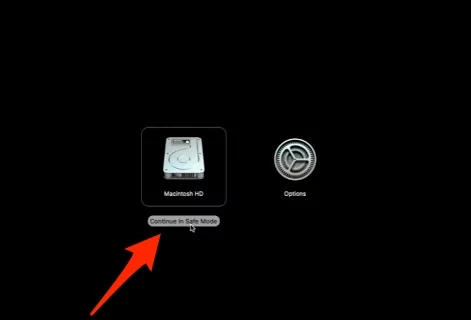 If it's fine, restart your Mac to exit from safe mode.
Intel Mac in Safe mode:- Shutdown your Mac. After 10 seconds, turn on your Mac. now, Quickly press and Hold on the Shift key until you see the safe mode label on the login screen. Login to your mac and check the issue is fixed.
Also, Turn off VPN: VPN connection creates a security issue in some cases, Microsoft server blocking the internet connection while syncing the outlook app.
Solution 6: Reinstall macOS
Reinstall macOS and fix the system corrupted files and folder on reinstallation. Without Erase data and settings, Reinstall macOS on mac. Reinstall macOS In Recovery mode, Download the latest compatible macOS to your Mac and install it on your Mac.
Note: Don't miss to take a backup of your Mac using Time Machine
Solution 7: Check Microsoft System Status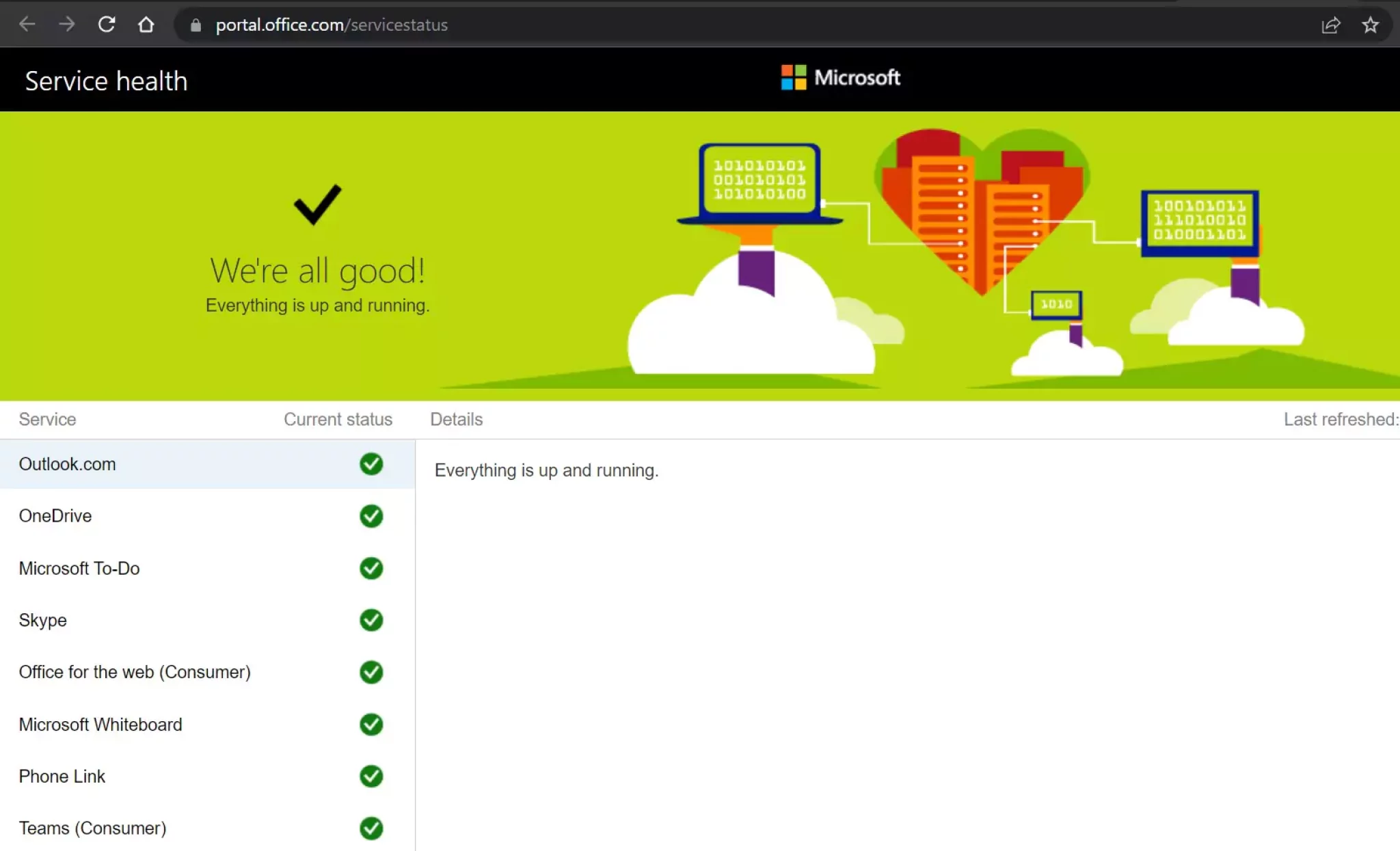 Is your Microsoft service down in your region? just check it through this Microsoft link and know the reason and duration for under maintenance. Open this link on your Browser and see the System status online.
Solution 8: Contact Support and Share your Problem
Microsoft premium service is available for your help. from your registered account, contact support and get help for new settings, Updates.
in end, Let me know in the comment about what clue worked to repair Apple Calendar Not Syncing With Exchange.