🗓️
September 5, 2023
By ✍️
Jaysukh patel
Generally, any brand Smartphone battery power-saving trick is a big question for all mobile software or even hardware makers companies. Therefore, there are almost famous Smartphone makers who are doing R&D on that to increase battery lifespan. Apple points on iDevice in the right place by changing the color of the battery and alerting the user about, what you should do? and later version iPhones called Low Power Mode. Hence, you should know everything about that feature. Here I am explaining to you the different stages of battery conditions (Yellow, Green, White, Black) and got suddenly your iPhone battery icon is yellow, Green, White, Black, then, of course, you get worried. Accidentally first time happened; hence, you may be feeling dejected.
Don't worry, be happy, Just read my following guide carefully and get your iPhone black color battery percentage icon back.
Keep remembering, whenever your iPhone showing its battery perchance icon yellow color means that your iPhone has been enabled Power Saving Mode. The Company officially called it Low Power Mode.
It's a great solution to save battery and extend for an hour.
The iPhone Power Saving Mode temporally stops/turns off many of the services including new mail fetch, Hey Siri, Background App refresh, automatic downloads, some visual effects are reduced or disabled.
Ohh, Why is My iPhone Battery icon Yellow?
You will have to disable Power saving mode on iPhone, to do that, go with the below steps.
Launch Settings App on your iPhone Home Screen.
Navigate Battery.
Turn Switch Low Power Mode Off.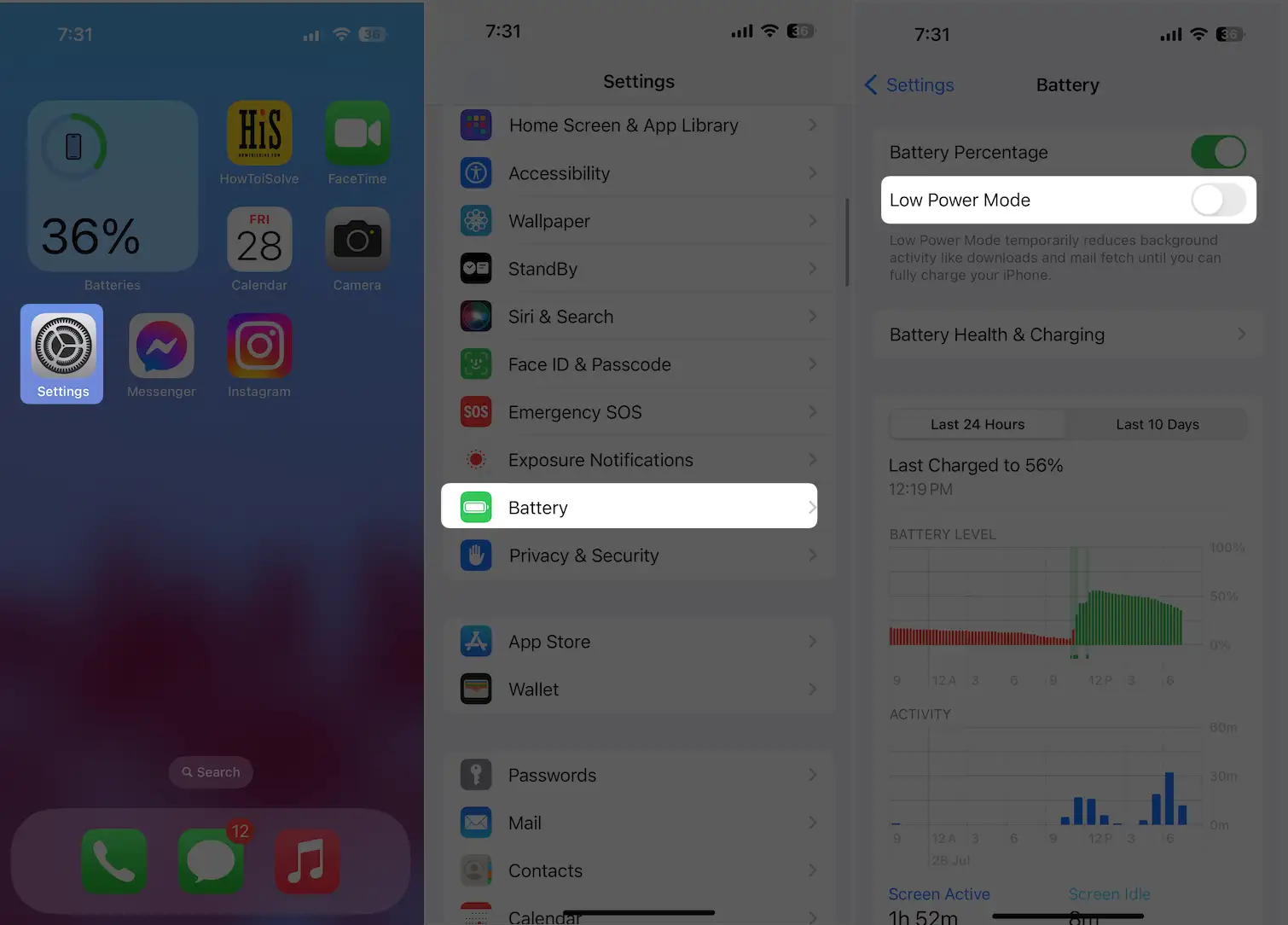 That's it.
Know Why My iPhone Battery Green, White, Black & Red?
White/Black Color: It doesn't define or mean anything, just the iPhone changes the battery indicator to White when your iPhone is using Dark Theme or Dark Mode.
Green Color: The iPhone Battery icon turns Green when the iPhone is connected to the charger. Alternatively, when the iPhone battery is more than 80% in that case, also you'll see the green battery icon on the iPhone.
Red Color: Red color alerts you to put the iPhone to charge, due to low battery.
I hope, that now you can appear on the iPhone top menu bar icon again black means as usual.
Using the Long Press Shortcut
Note: Keep remembering you must have enabled 3D touch on your iPhone.
Gently press and Hold on the Settings App on your iPhone home screen
Tap on Battery.
Turn toggle Low Power Mode Off.
You're done.
Using Control Center in iOS, Fix the Yellow Battey icon on iPhone
In the new customize control center, we can add low power mode in the control center manually. And Enable it easily. That's why the battery icon on the iPhone goes Yellow.
Save battery life on your iPhone and Don't miss any notifications whether you will go on a long drive journey.
Hey friends, I hope, you got here a complete guide and resolved your doubt regarding the iPhone Battery Percentage Yellow sign.