🗓️
May 30, 2023
By ✍️
Jaysukh patel
The best solution to fix Siri remote not working Apple TV. When you're trying to change program on your TV, or while you give a command to Siri to launch something on screen but doesn't reply. Perhaps your Siri remote not working Apple TV or Siri not working on Apple TV. To resolve Siri Remote problem, we have some potential workarounds that you will get here guide stepwise to get Siri remote working back in a minute.
According to our cognition, The Apple TV 4 Siri remote is not working with Apple TV 3rd and 2nd generation. I hope you are trying to use the Siri remote with brand new Apple TV 4/ 4K.
Now new iOS 11 or later version has a Virtual Apple TV remote that use on Apple TV 4th Generation or Apple TV 4K. Setup with apple TV and Use Playback, Push, Stop, Volume control, and more.
Clues to fix Siri Remote not working Apple TV
Verify your Apple TV 4 Siri remote is charged (Siri Remote Battery level) and connected properly. You're expert that good. Even though, if you have no idea to do that, follow listed steps.
Step 1. Go to Settings
Step 2. Tap on Remote and Devices
Step 3. In Bluetooth
Step 4. Now select your remote.
Now, here check out Siri Remote is completely connected and charged, and if even not working with ATV 4. Keep continuing the next clues.
Fix #2. Restart your Apple TV
There are many folks who said that after restarting Apple TV Siri remote working back. So what about you; you got fixed.
Fix #3. Is your Siri remote home, a menu button, or trackpad not working?
I have experienced after update tvOS, the Siri remote's home button, and the menu button both not responding. After that, I did Power off my Apple TV couple of minutes then re-start again.
I got a positive result and Siri remote control working and its touch surface trackpad also work well like brand new. If you are facing particular Siri remote buttons issue, then try this my given tactic. Then check out.
Fix #4. Unpair and re-pair Siri remote
Make Pair your Siri remote again, please put your Siri remote at least within three inches of your Apple TV and point it at in front of your Apple TV.
Now press and hold the menu and volume buttons for five seconds.
Please Note: Still, Siri supports below-given languages and countries:
Australia (English),
Canada (English, French),
Germany (German),
France (French),
Mexico (Spanish),
Netherlands (Dutch),
Norway (Norwegian Bokmål),
Japan (Japanese),
Spain (Spanish),
Sweden (Swedish),
UK (English),
US (English, Spanish)
Fix 5: You Can use your Apple Device Remote app on iDevice
On your iPhone running on iOS 11 or later and Apple TV 4 Th Generation or Apple TV 4K or later, You can access your Device without Physical Siri remote.
Apple TV remote app shortcut is now in the iOS control center. that we can access directly on the lock screen just like a physical remote.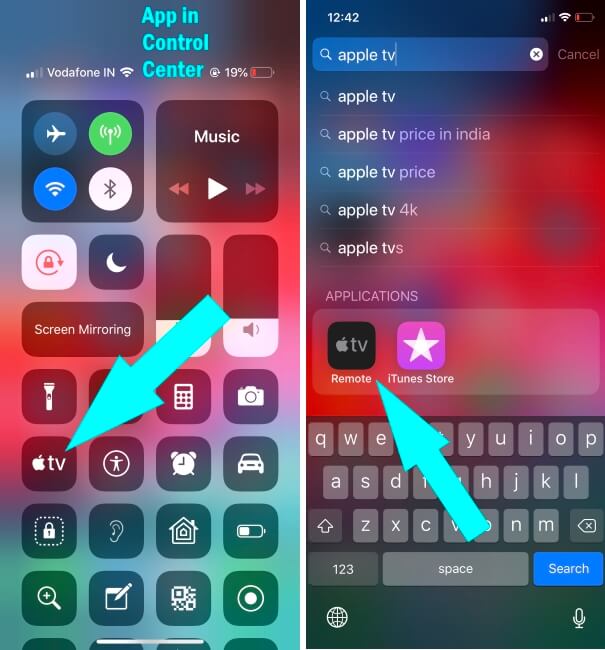 Steps are Very Easy on iOS device
Keep your iOS device and Apple TV updated with the latest version.
Download Apple TV remote app from the app store if it is not on your iOS device.
Use the same Wi-Fi network on both the device.
Open Apple TV app on your iPhone, Scan Apple TV that you won't connect with iPhone.
Select your Apple TV and your TV will show the four-digit number. That you must verify to connect both the devices.
Aluminum or silver apple tv remote not working
There are certain reasons for aluminum or white apple tv remote not working.
Reason 1: any object between the path of remote and Apple tv box
Reason 2: Something software glitch
Reason 3: battery drain or power cell expired
Now let's see the solutions to fix silver or Aluminum apple tv remote not working
Solution #1: Please Move anything object that blocks the path between your Apple tv Remote and the front of your Apple TV, Tv, receiver, and audio soundbar.
Solution #2: You should un-pair your Apple Remote to your Apple TV.
To do that, On your Apple Remote, Just hold down Menu and Left for six seconds. Then on your Apple TV, look for above an icon of a remote.
Now again, Pair silver or aluminum Apple Remote to your Apple TV.
To pair remote back, just hold down Menu and Right for six seconds. Then on your Apple TV, look for above an icon of a remote.
Solution #3: Unplug your Apple TV cord from the wall power outlet. Wait at least six seconds, then plug cable cord back in.
Solution #4: if possible you should replace the battery in your silver or white Apple Remote.
So these all are the workarounds to resolve problems like Apple tv remote not responding or apple tv remote touch surface not working.
If the Apple TV icon is not showing in the control center then add a new icon to use this customize control center on the iPhone.
Apple TV Remote Not Charging: here's Fix
Replace the Battery
Over time, the Apple TV Remote battery could degrade and won't charge correctly. In such cases, the only solution is replacing the batter of Apple TV Remote. The Siri Remote and Apple TV Remote has a rechargeable battery, and that can't be removed without the assistance of the Apple Technical Team.
Charge the Apple TV Remote Completely
Put the Apple TV Remote on charging and don't unplug or use it until it's fully charged. Sometimes, it needs to be recharged completely, without any interruptions and power fluctuations. To avoid this, you can try connecting to another power socket.
Use Alternate Charger
Another worth trying solution is to borrow Apple TV Charger from your friend and use it to charge the remote. If the charger is damaged then, the Apple Remote won't be charging anymore.
Reset Apple TV Remote
Unplug the Apple TV from the power source for at least 6 seconds and plug it back in. Doing this will reset the Apple TV Remote connection with ATV.
Another alternative is to press and hold the Menu and Volume Up button, you should see the Pairing Remote command on the Apple TV. Follow the Pairing Remote command and keep the remote closer to the Apple TV. Once the Pairing Remote prompt disappears, you can use it again.
Apple TV Remote Touchpad Stopped Working Properly
Apple TV and Apple TV Remote are quite delicate, while we pay higher and higher prices to get the ultimate cinematic experience right at the home, sometimes Apple TV becomes troublesome. There are few people who reported the Apple TV remote touchpad stopped working properly or keeps lagging while scrolling on the screen.
There are very few solutions to fix the touchpad as in most cases there is hardware damage and the only option left is to get it replace by Apple. However, at first update the Apple TV to the latest tvOS and see if it works, otherwise, go to the Apple Center and get it replaced.
Siri Remote not working Apple TV 4K/ Apple TV 4th Gen but above mentioned which way through you got success. Please share it in the comment box.