Last Updated on Sep 26, 2023
Start Using your iPhone as a Mac Webcam on any mac in macOS Ventura with iOS 16 installed iPhone. Continuity Camera Works for Different Video Effects like Desk View, Center Stage, and Studio Light.
Get all Requirements and a Setup guide to using iPhone as a wireless webcam for your Mac or Use USB Cable. However, if you are a part of the Apple ecosystem, you must be aware of the Low-resolution inbuilt mac webcam. Therefore, replacing the mac camera with a high-quality iPhone camera is the best alternative solution.
On your Mac, use the continuity camera as your iPhone camera for video calls on Mac via zoom, FaceTime, Microsoft Teams, Google Meet, or other video-compatible apps.
Apple has tried to simplify the utilization of continuity cameras. However, the user may encounter a problem like the "Continuity camera not working on macOS." Therefore, we have provided you with the best troubleshooting guide for your situation.
FIX 1: Check Device Compatibility
First and foremost, device compatibility is a prerequisite to using the "continuity camera" feature. Therefore, you must ensure that you have a continuity camera compatible device, macOS Ventura & later and iOS 16 & Later.
Compatible Mac
Here is the list of macOS Ventura 7 later compatible mac devices.
iMac (2017 and later)
MacBook Pro (2017 and later)
MacBook Air (2018 and later)
MacBook (2017 and later)
Mac Pro (2019 and later)
iMac Pro
Mac Mini (2018 and later)
If you don't have a compatible Mac device, as mentioned above, try upgrading your Mac device to use the continuity camera feature.
Compatible iPhones
iOS 16 & Later iOS Version installed iPhone models are listed below,
The Continuity Camera feature supports an iPhone 8 or iPhone XR or a more recent model.
iPhone XR or later (All iPhone models introduced in 2018 or later)
iPhone 11 or later for Center Stage
iPhone 11 or later (excluding iPhone SE) for Desk View
iPhone 12 or later for Studio Light
 To access the Desk View or Center Stage feature of Continuity Camera, you must have iPhone 11 or the latest model.
To access the Studio Light feature of Continuity Camera, you must have an iPhone 12 or the newest model.
Suppose you have a compatible Mac but not an iPhone. You should upgrade your iPhone.
FIX 2: Check Wi-Fi and Bluetooth
You must ensure that both devices have Wi-Fi and Bluetooth " turned on."
Here are quick steps to turn on Wi-Fi and Bluetooth on both devices.
On Mac:
Select the Control Center icon from the top right.
Now Click the Wi-Fi icon and enable the toggle.
Next, Select Bluetooth and enable the toggle.
On iPhone:
Pull down your finger from the top right of your iPhone screen to open the Control center.
Now Tap on the Wi-Fi Symbol to enable it.
Likewise, again Tap on the Bluetooth to turn it on.
Also, ensure that your iPhone is in the range of Wi-Fi and Bluetooth. In addition, suppose you have turned on Wi-Fi, but maybe the internet is down or not working. Therefore, in this situation, contact your Internet service provider.
FIX 3: Check APPLE ID for both devices
If you want to use the continuity camera feature, you must ensure that both iPhone and Mac use the Same Apple Id. Here are the steps to check your Apple Id on Mac and iPhone.
On Mac:
Goto Apple Logo.
Select System Settings.
Now Click on Apple ID Profile Name.
Note down & Verify the Signed in "Apple ID." that matches with iPhone's signed apple ID.
On iPhone:
On your iPhone, Goto Settings.
Tap on Apple ID Profile Name.
Now Verify that you are signed in with the same Apple Id as your mac device.
Suppose you are signed in with a different, then you won't be able to use the Camera Continuity feature.
FIX 4: Enable Continuity Camera Webcam on iPhone
To use the continuity camera feature, you must ensure that the Continuity camera webcam is enabled on your iPhone.
Go to Settings on your iPhone.
Tap on General.
Now select AirPlay & Handoff option.
Next, Turn on the toggle for Continuity Camera Webcam.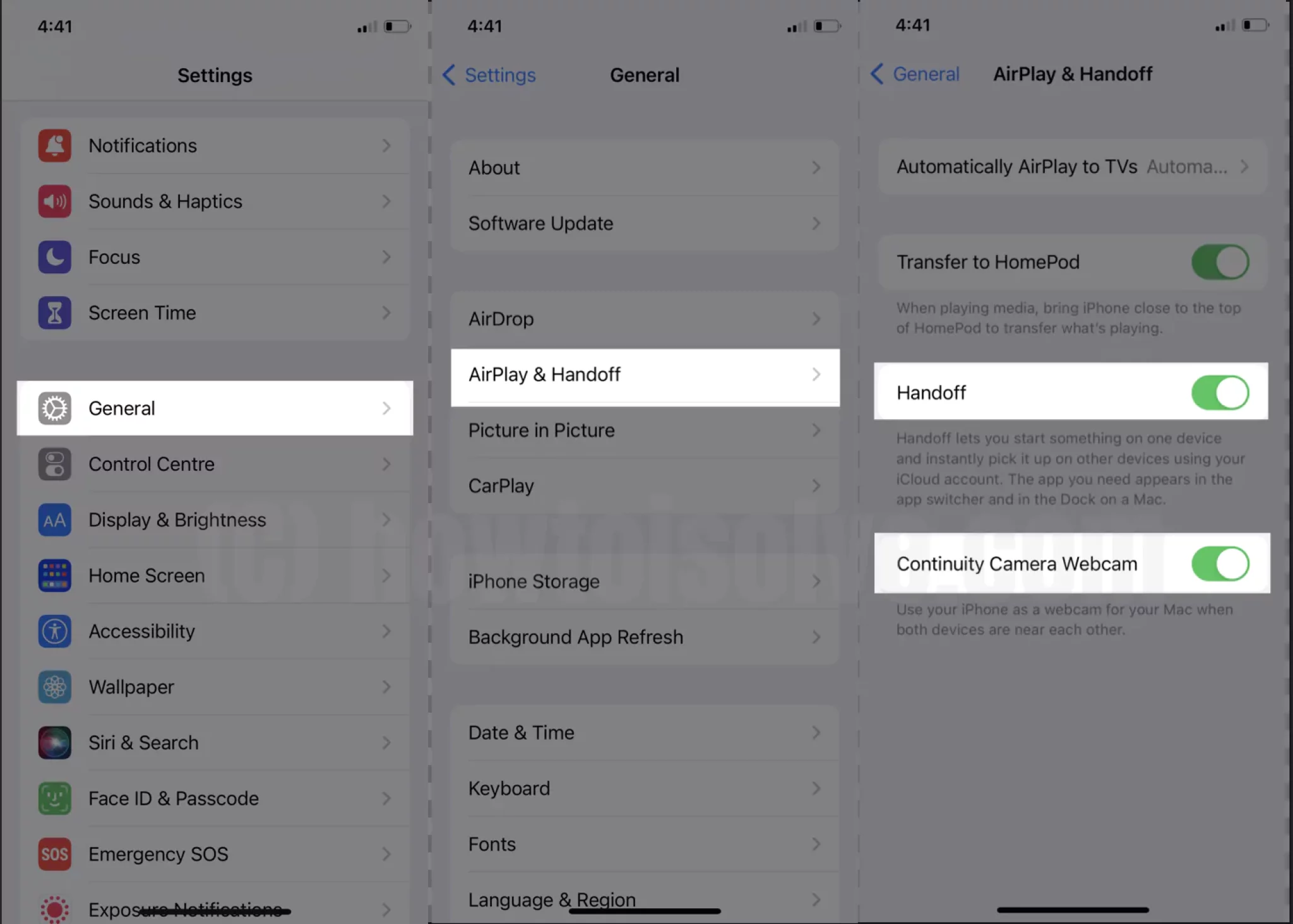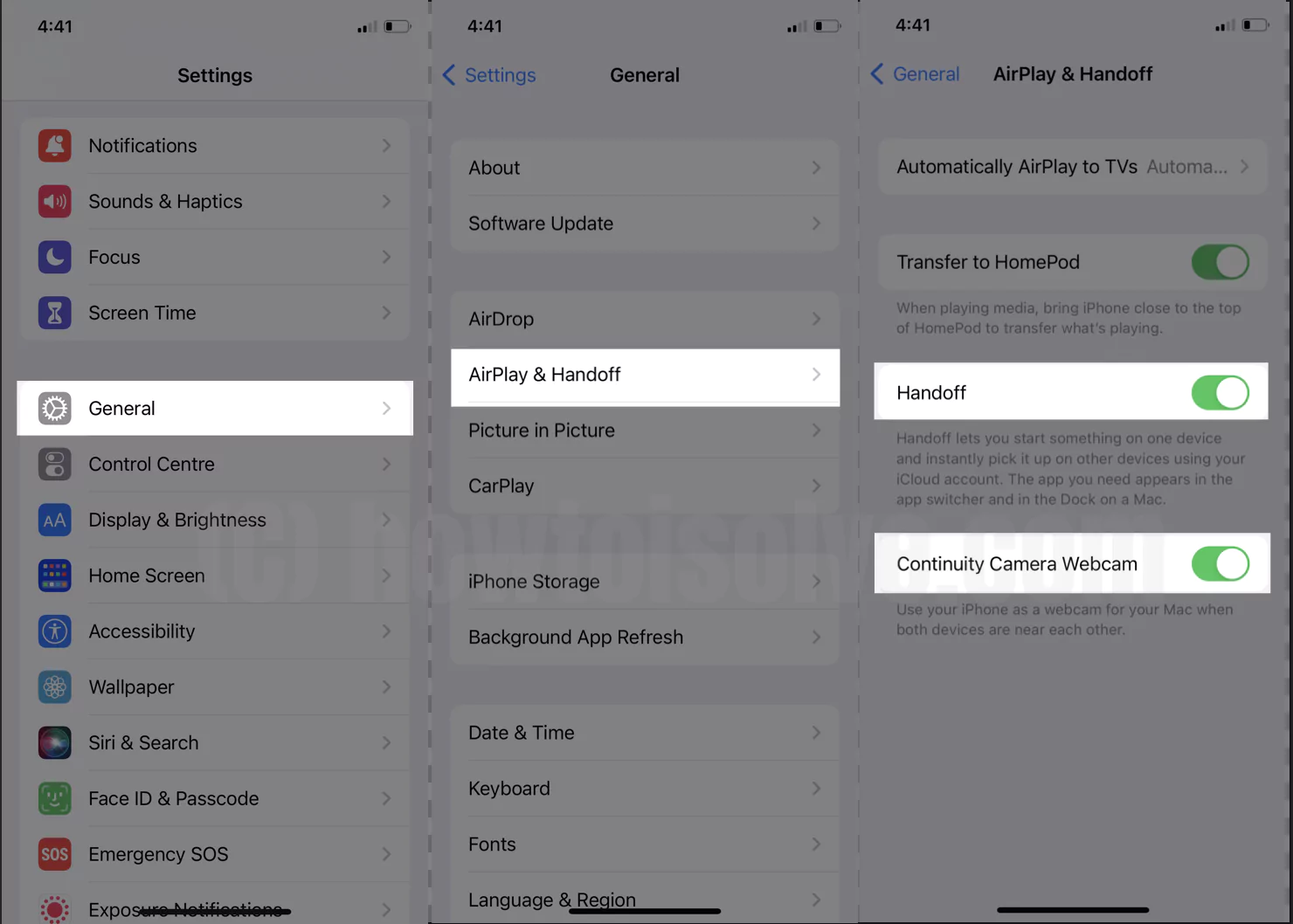 To fix your problem, try to turn off and again on the toggle for the Continuity Camera Webcam using the above steps.
Now, On your Mac connect your iPhone to your Mac's Facetime camera as Webcam. Open Facetime > Video > iPhone Camera.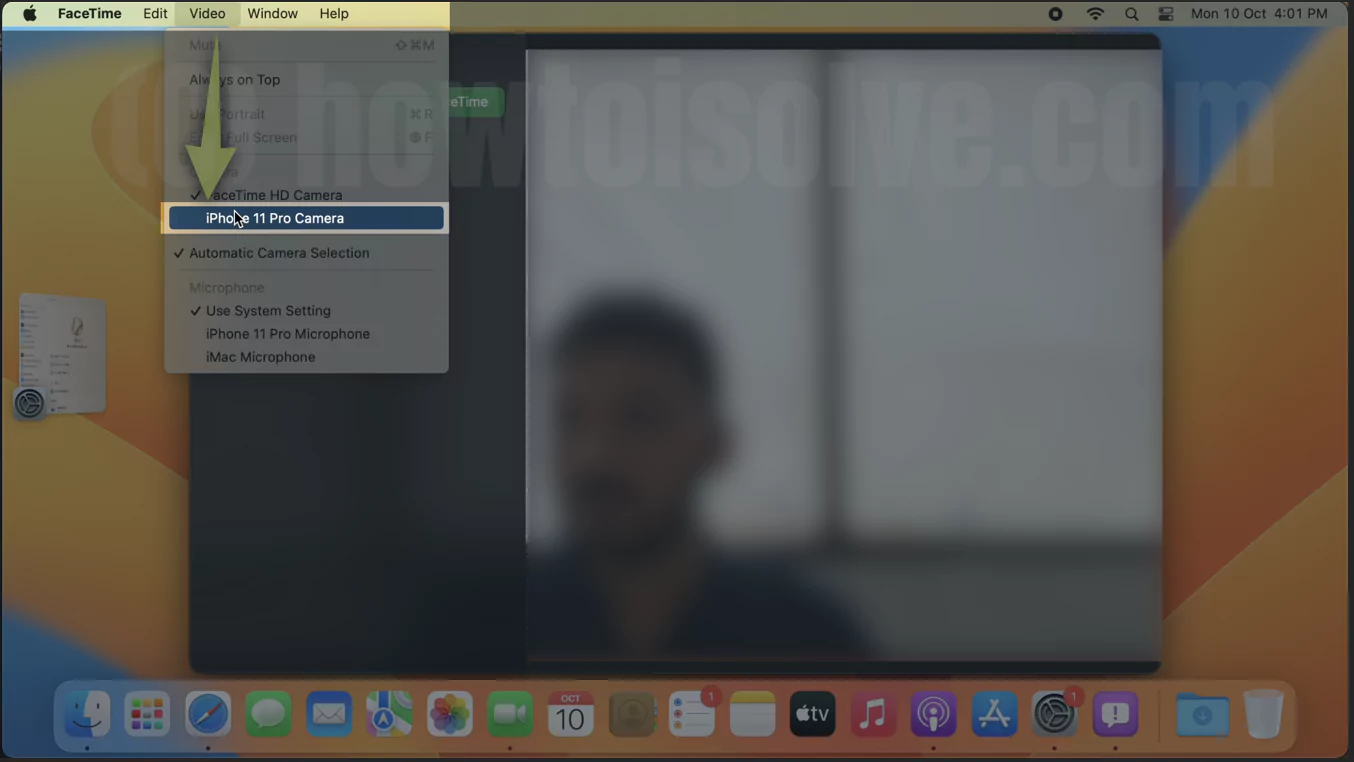 Or Connect your iPhone to your Mac using USB-C to Lightning cable. and Switch to the iPhone camera from the top menu. (If Wireless connectivity not working)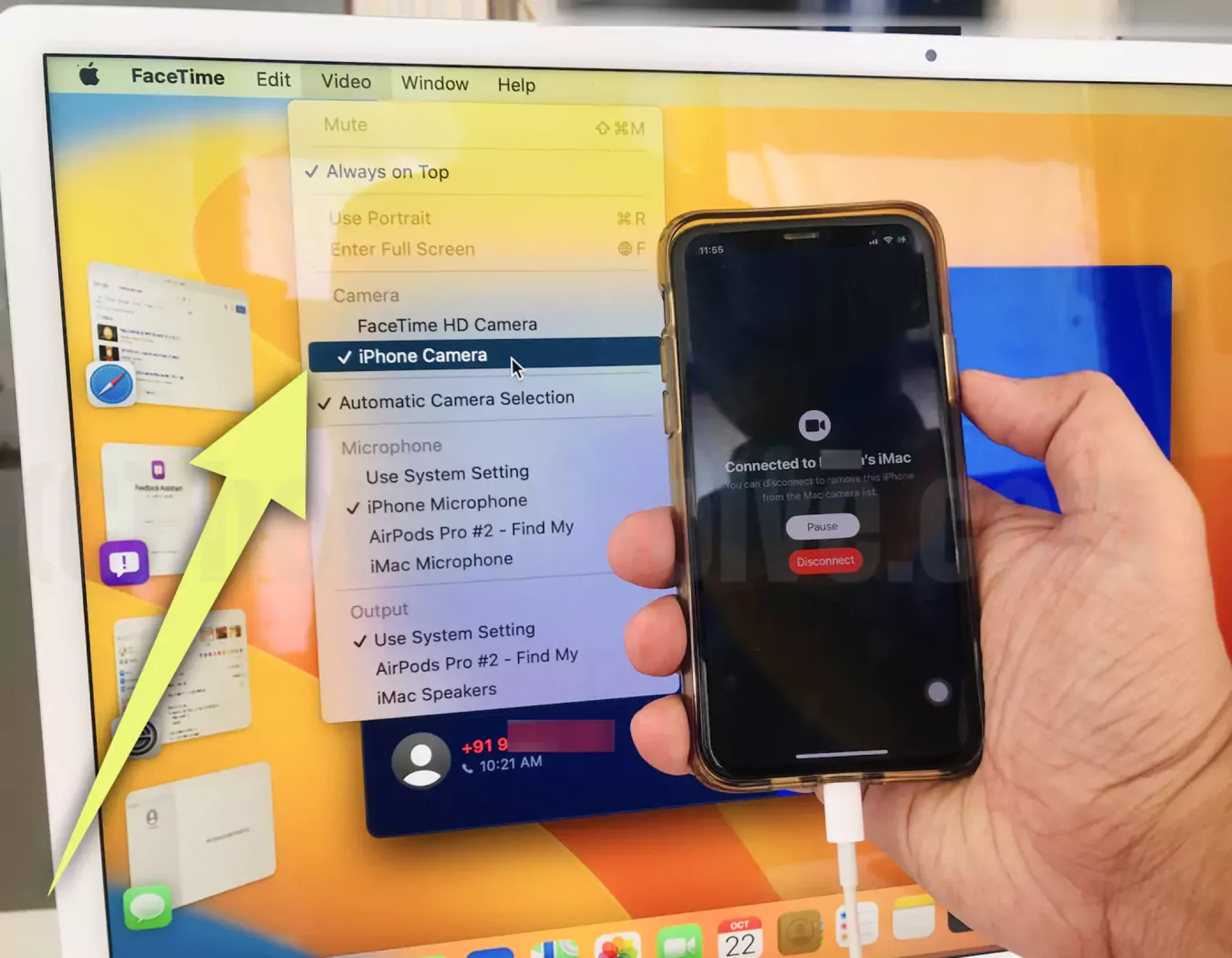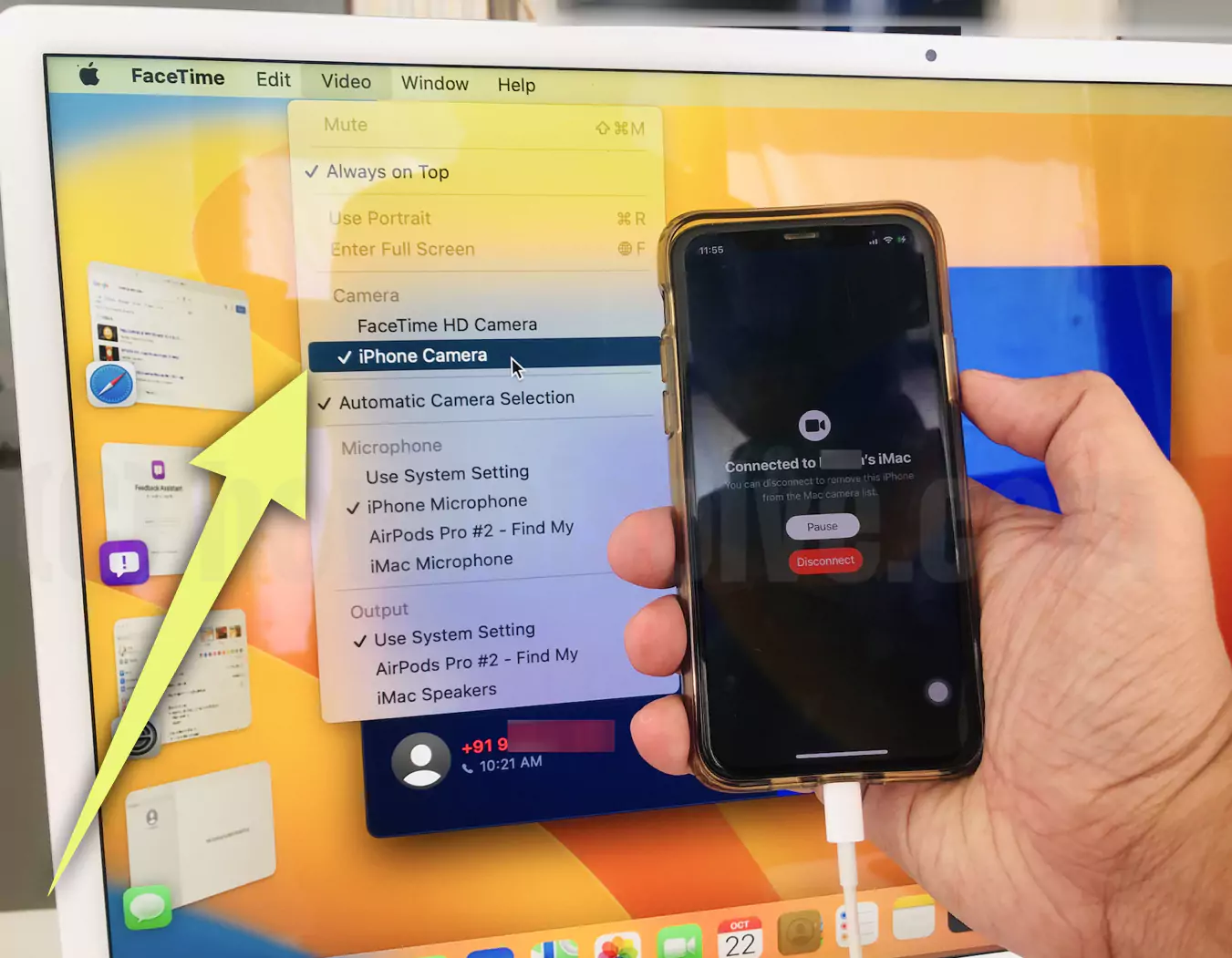 Now, under the Control center > Video Effects, Start Video effects like Center Stage, and Desk View.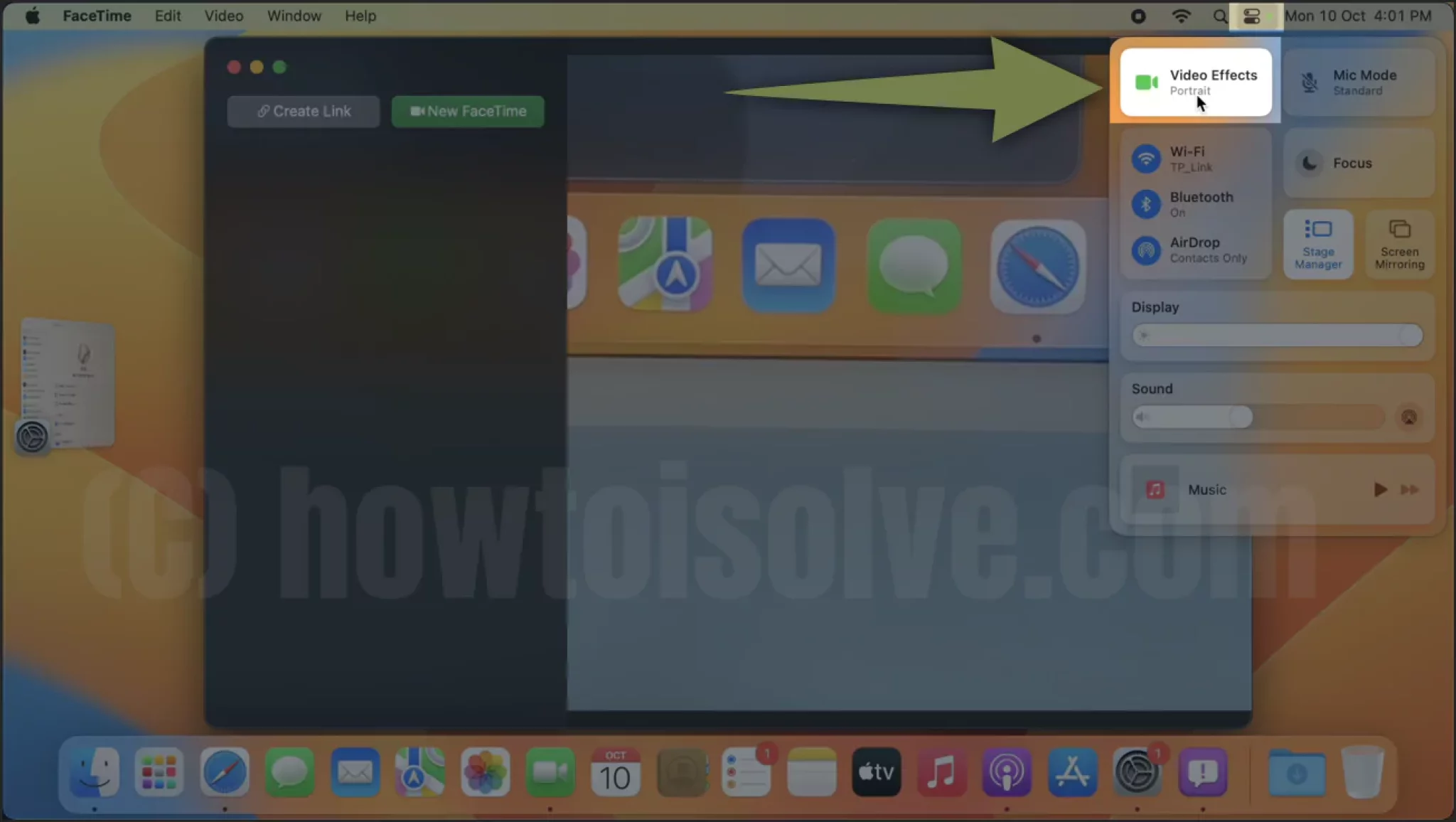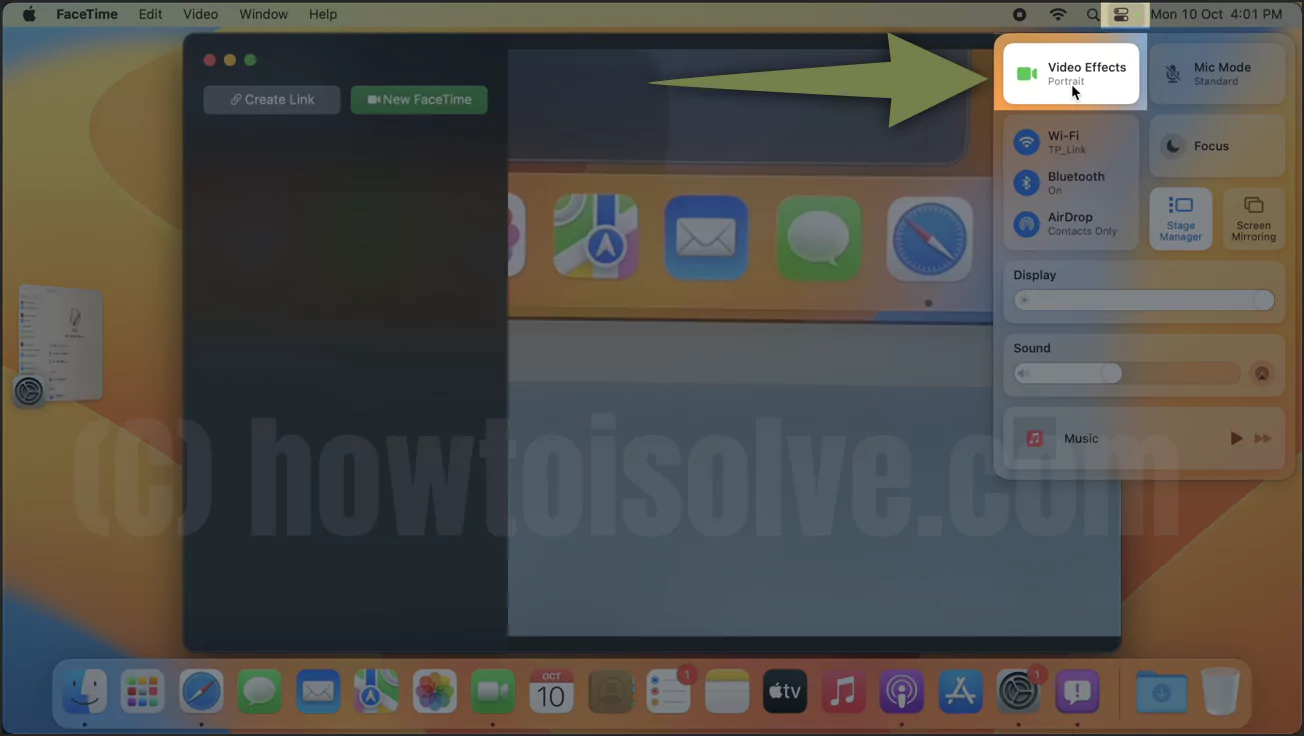 FIX 5: Force Quit Other Conflicting Apps
Ensure you are not using any other apps that conflict with the continuity camera feature. However, if you are using it, force quit that particular app.
Save all unsaved documents and Online browsers that prevent data loss. Becuase all apps running on Mac will close forcefully.
1→ Go to the Apple Logo from the top menu > Force Quit or Options (⌥) + Command (⌘) + Esc.
2→ Command + A to Select all apps, and click on Force Quit.
3→ Now, Check it again.
FIX 6: Update Software
Ensure that Mac and iPhone are updated to the latest version of macOS Ventura and iOS 16. Here are the steps to check your software version for both devices.
For Mac:
On your Mac, go to the Apple Logo and Click on System Settings.
Now, select Software Update.
The prompt appears; now ensure that your mac software version is the latest Ventura.
If not, then update it to the newest macOS, Ventura.
For iPhone:
Go to Settings on your iPhone.
Now tap on General.
Next, choose Software Update.
Here, check that iPhone is up to date with the latest iOS 16 versions.
If not, update it to the latest versions on your iPhone.
FIX 7: Update your Video supported Apps (Zoom, MS Team, Google Meet, etc.)
Suppose you are trying to use Google Meet or MS Teams with the Continuity camera feature, and if it doesn't work with these Apps, in such cases, you will have to check your App firmware because outdated Apps can't run with Apple's latest macOS feature. So please check the third-party video call app version and install the newest update.
Sometimes, the latest version is installed on the system; however, uninstall the app and reinstall it if a standalone feature doesn't work. At last, retry uses iPhone as a Mac Webcam.
For Example, In Zoom App
1→ Open the Zoom app on Mac and Start Zoom Meeting. On Zoom video toolbar, Click Upper arrow that appears on Stop Video Option. Now, Select a camera – iPhone camera. or Press command Shift-Command-N to Switch Between FaceTime HD Camera & iPhone camera automatically.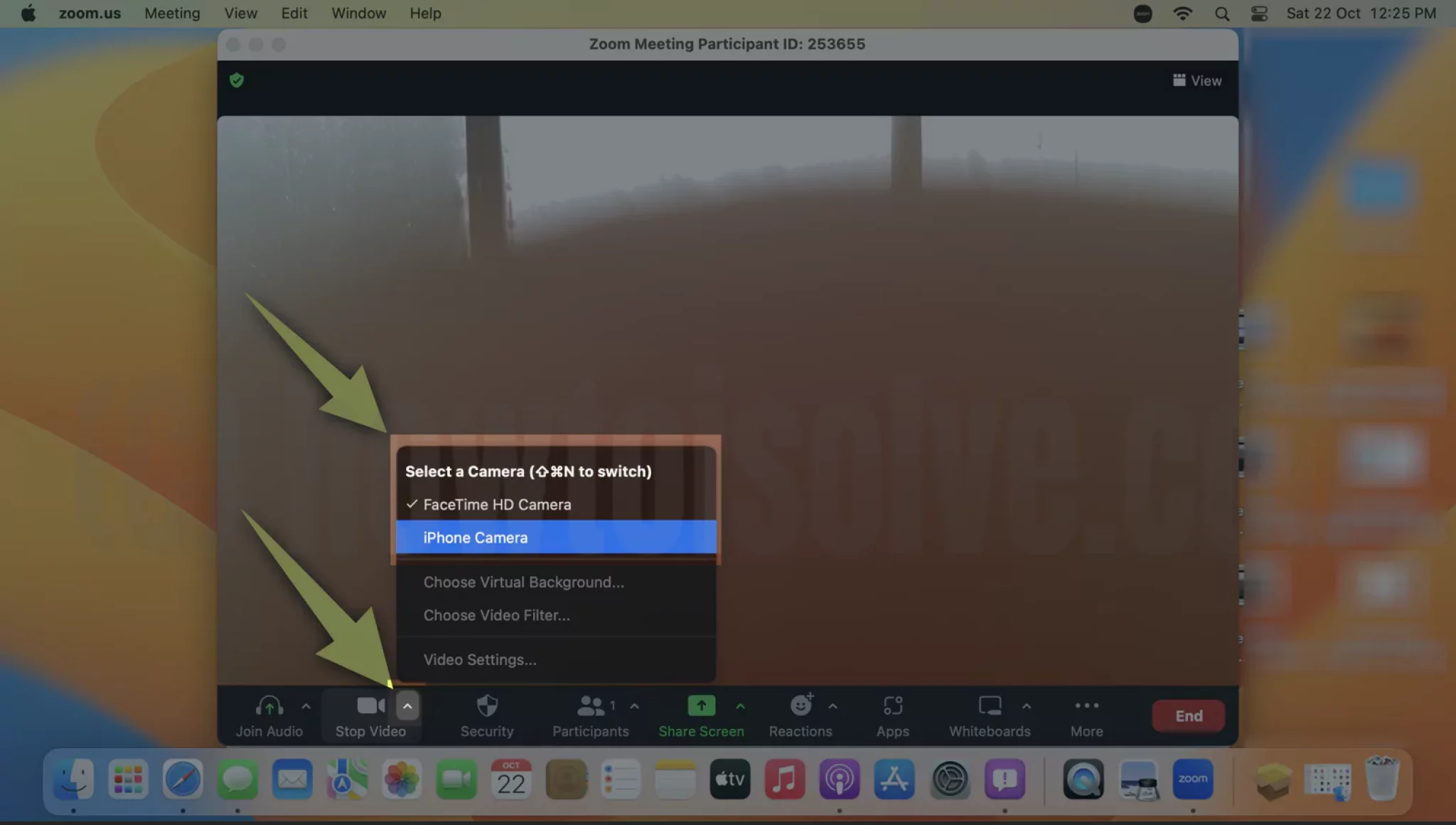 2→ Go to your Mac control center icon in the top menu bar > Video Effects.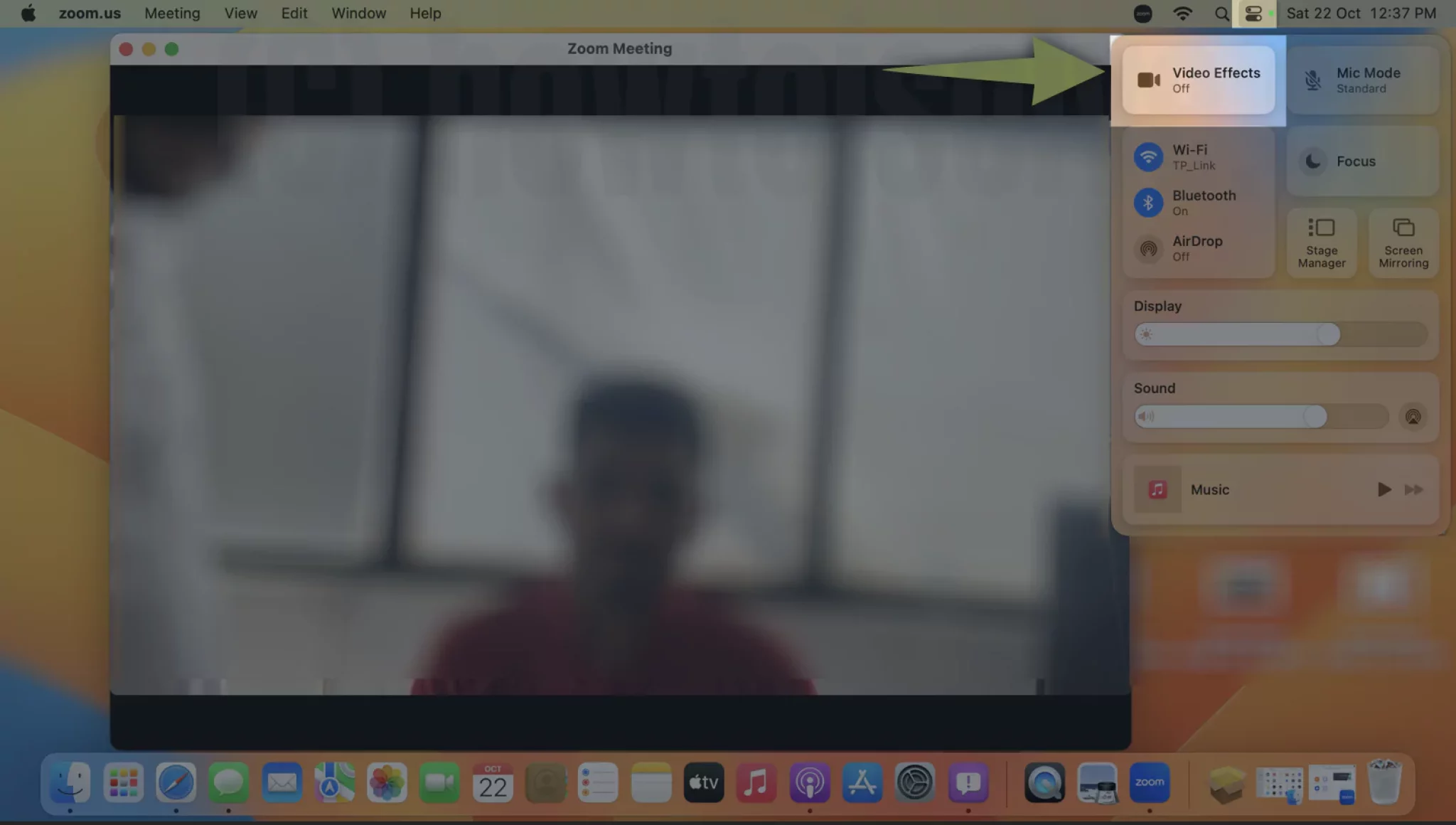 3→ Choose the right options, Center Stage, Portrait, and Desk View Options (Studio light – For iPhone 12 Pro & later).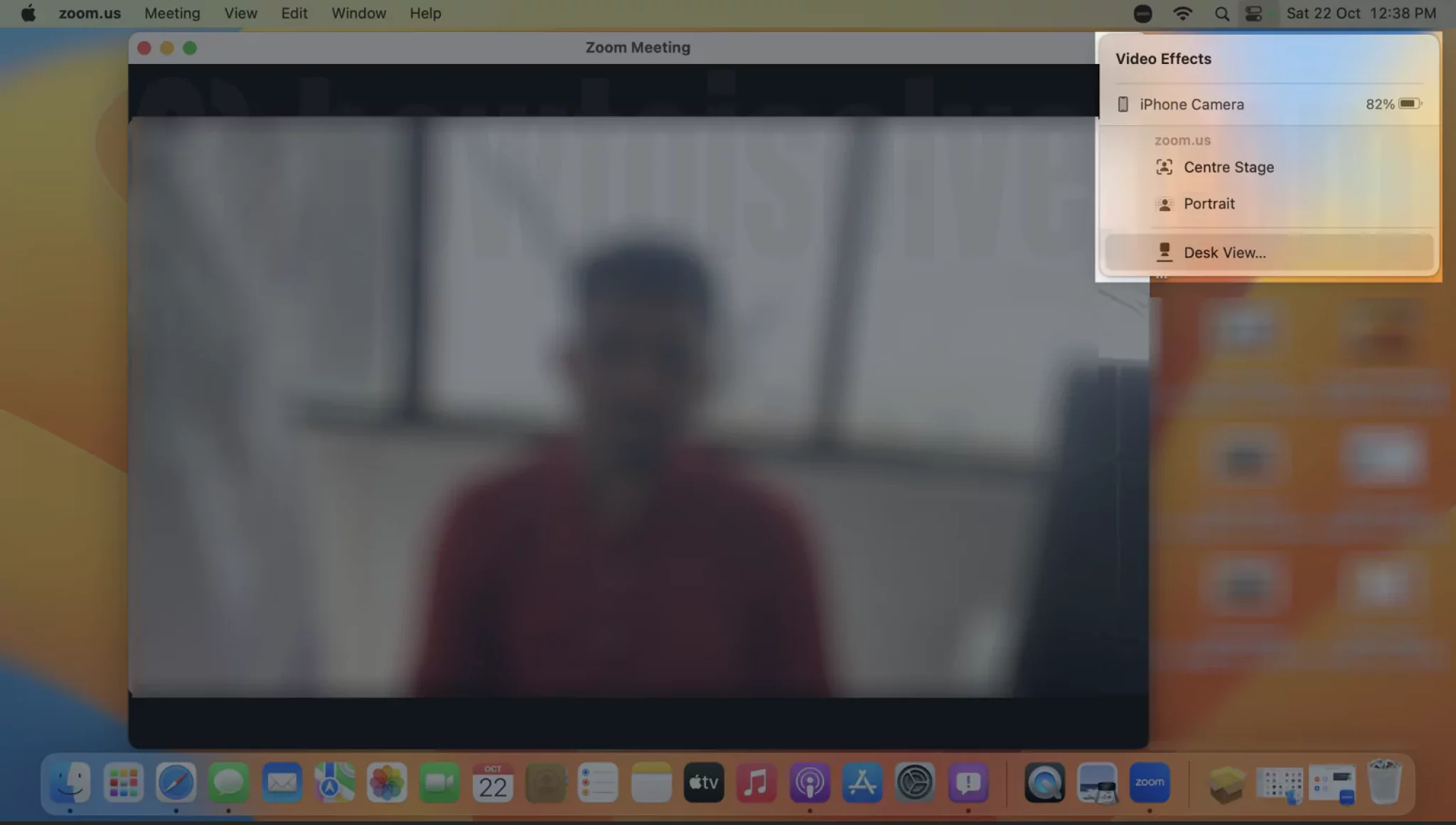 4→ That's it. Zoom app now open Desk view with Center stage or Portariat if you selected under the control center.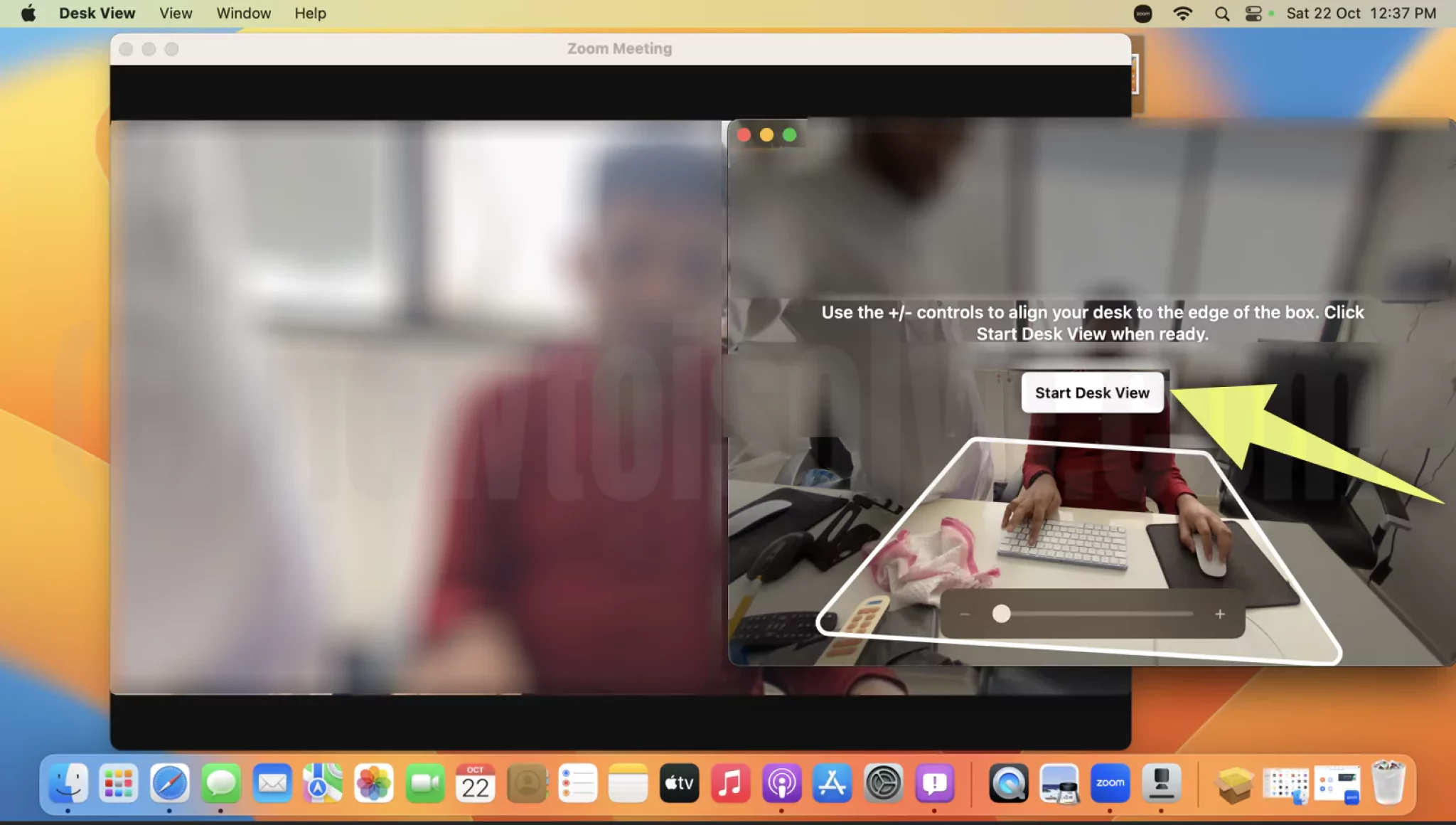 That's all about how to use a continuity camera on the Zoom app (iPhone as Webcam on zoom app on Mac).
For Microsoft Teams,
1→ Open the Microsoft Teams app on Mac, Start meeting (Meet now) or Create a meeting. or on the Existing Video Calling screen. Click on the More icon at the bottom left corner (choose Switch Camera) or More actions at the top options > Video Settings (Select iPhone Camera). Now, your Teams use your iPhone's Back camera as a Webcam.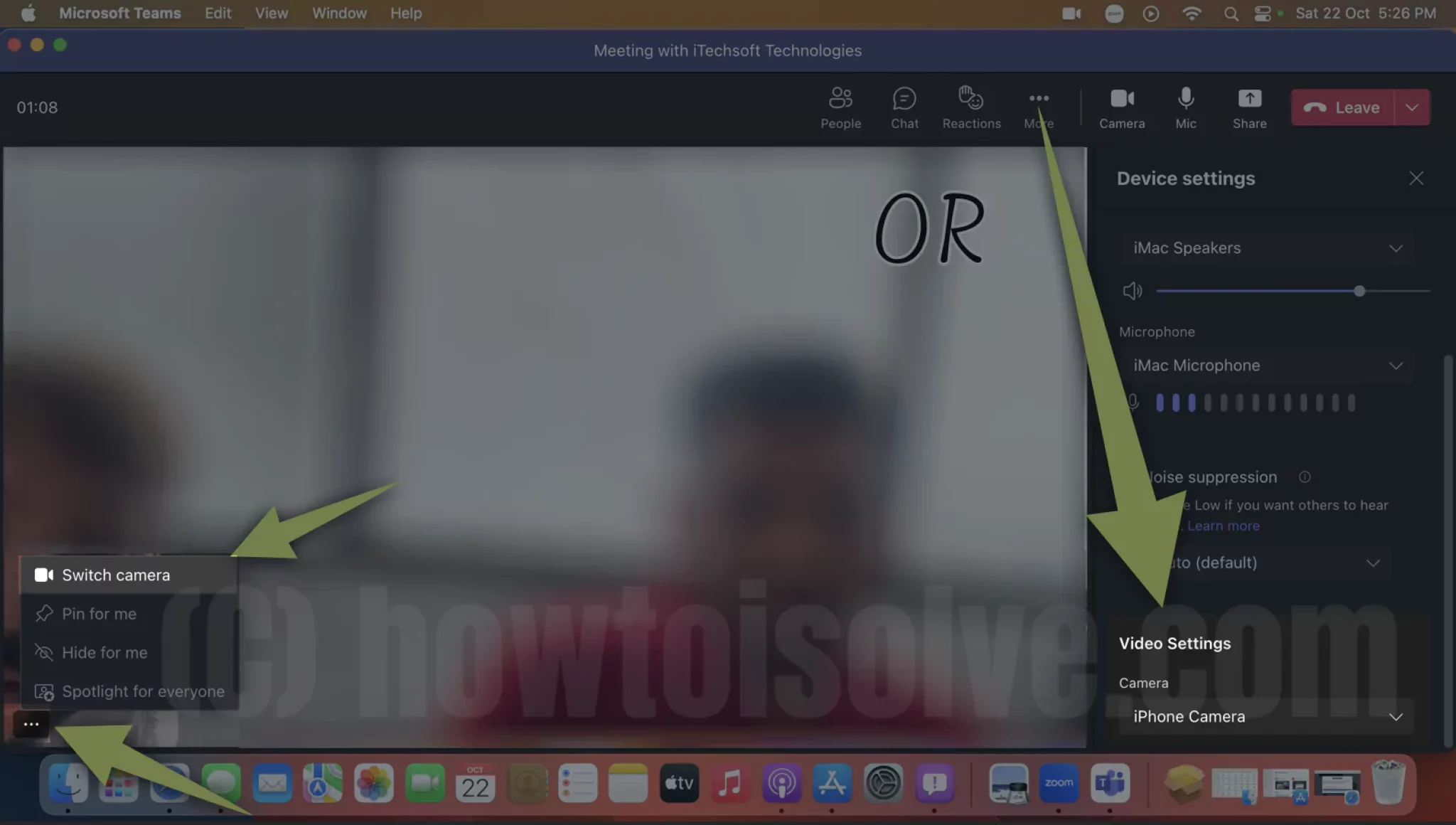 2→ Now, From the top menu, Choose Different video Effects under the Control center top mac menu.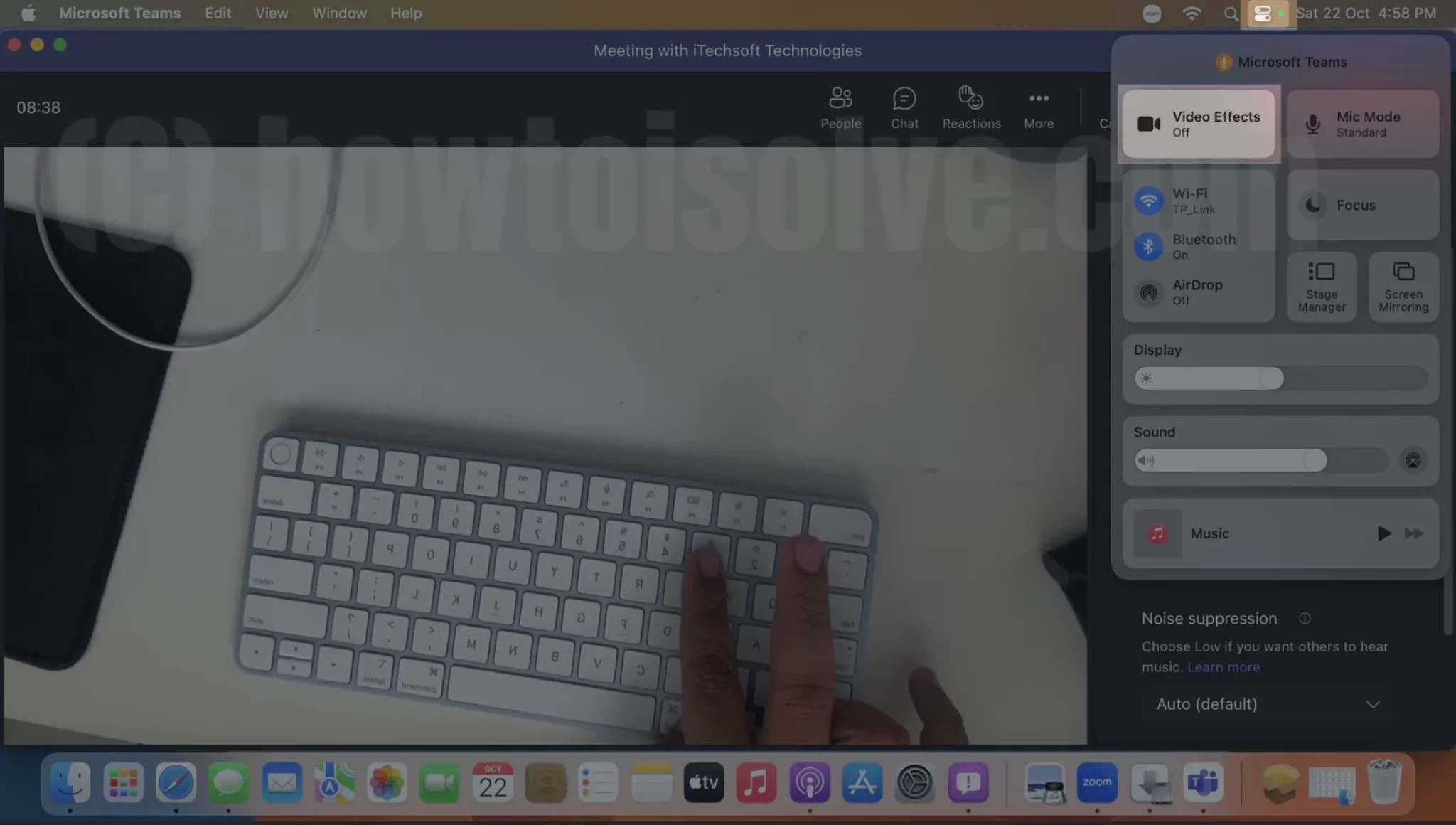 3→ We have options for Desk View, Center Stage, and Studio light (iPhone 12 pro & later model).
4→ That's it.
FIX 8: Restart Mac and iPhone Device
Try to restart your Mac and iPhone devices; This is the primary solution for your continuity camera not working issue.
For Mac:- Apple Logo > Restart.
For iPhone:- Open settings > General > Scroll to the last option Shut Down. or use the Physical side keys to Reboot your iPhone, Keys to Reboot your iPhone depends on iPhone model. here's the full guide to know How to Restart your iPhone.
Fix 9: Continuity camera feature broken on browser
The continuity camera amazingly works with the browser; for example, when I use zoom on the Apple safari browser to use iPhone as a Mac webcam, unfortunately, the camera shows a black screen on zoom. Therefore, I closed all other tabs on my browser and checked if any apps is installed on my Mac that bothered to macOS and iOS collaboration feature.
Luckily, I found a trip mode app enabled on my Mac. The app does work to stop data usage and save money to reduce heavy data usage. I have a disabled trip mode for my browser, forced close browser, and re-open it. As a result, my zooms online platform worked like a charm.
If this fix doesn't solve your problem, try another fix from the page we have explained.
FIX 10: Disable Firewall
The mac Firewall is designed to keep hackers or unauthorized users, or sources from accessing resources or files from your Mac. In other words, the Firewall is the barrier that only allows safe traffic while blocking dangerous unauthorized traffic on your Mac. However, sometimes it may cause issues. Therefore, temporarily disabling the Apple Firewall or third-party Firewall like Little Snitch, Intego NetBarrier, etc., can solve your problem.
Here are the quick steps on How to Turn ON & Turn Off Firewall on Mac (macOS Ventura)
Go to Apple Logo >System Settings >Select Network > Firewall>Turn on Toggle to Enable Firewall; else, Turn off Toggle to Disable Firewall.
Now check the iPhone as webcam feature after disabling Apple or third-party firewall services like Little Snitch, Intego NetBarrier, and many more you have installed on your Mac computer. However, if this doesn't fix your issue, kindly enable the Firewall, as permanently disabling the Firewall is not recommended.
FIX 11: Contact Apple Support
You can contact Apple support if your FaceTime, Photobooth App, or other Apple apps don't work. There are multiple ways to contact Apple support.
FIX 12: Contact App Developer
Suppose none of your Apple apps are working, then you can contact App Developer for further help.
After going through the above article, we hope you have found a solution for the Continuity camera not working in macOS Ventura. Although if none of the fix work for you, then as the alternative solution, you can use the Third-Party App like EpocCam from Elgato to use your iPhone as a webcam for your Mac.
The continuity camera is an excellent help; however, the only draw bag is that it may heat your iPhone.