🗓️
October 18, 2023
By ✍️
Jaysukh patel
After updating iOS, whenever you are trying to access Facetime to do video or audio calls to your favorite contacts via caller ID or Apple ID, then you will get a bottom left button to switch the camera. To the lower-right corner, you can see Facetime mute button. But after receiving a video call, the Switch camera button will go. That's it! It's not gone anywhere, but it just moves in PIP (Picture-in-picture). So from now, to switch Facetime rear camera and front camera, you need to tap on Pip.
But hum, what can I do with a new button in FaceTime (To flip the FaceTime camera horizontally)? Brilliant question. My friend, a new button is nothing, but it is one of the face time features. Now, whenever you are tapping on the left side button in running a video call, your iPhone or iPad will take live Photos quickly, and it saves into your camera roll.
If you are a big photo fan and you would like to edit Live Photos on your iPhone, then you can do it without downloading third-party applications because Apple's iOS 11 seed has an inbuilt tool to remove the sound from live photos, select a key photo, and turn live Photos Off, and much more quickly, hurry!
Note: Unfortunately, you cannot use instant Markup to live Photos like those we use to edit Screenshots.
FaceTime screen user interface changes for iOS 11 to Onward users on iPhone, iPad. New features in FaceTime replace with the latest control for the flip camera during the video call screen. In this tutorial, I will guide you on how to change or Flip a FaceTime camera.
Do you know the new way to connect FaceTime cameras? But it doesn't work for this time. End the call and Close the app from the multitasking/app switcher screen. Relaunch the FaceTime app and start a video call and try again. Still unable to use or flip the camera (Front and Rear), Go with the below steps.
Tips on How to Invert Camera on FaceTime iOS 17
Launch FaceTime camera and start a video call.
First Dialling screen, the way to use the FaceTime Switch Screen for the Camera as of earlier.
Steps to how to invert Facetime camera ios 15
or Later:
Touch on FaceTime video screen to see the Tools. and See the Flip icon on your Camera Preview. That Might be a Small or Large window as shown in the below picture.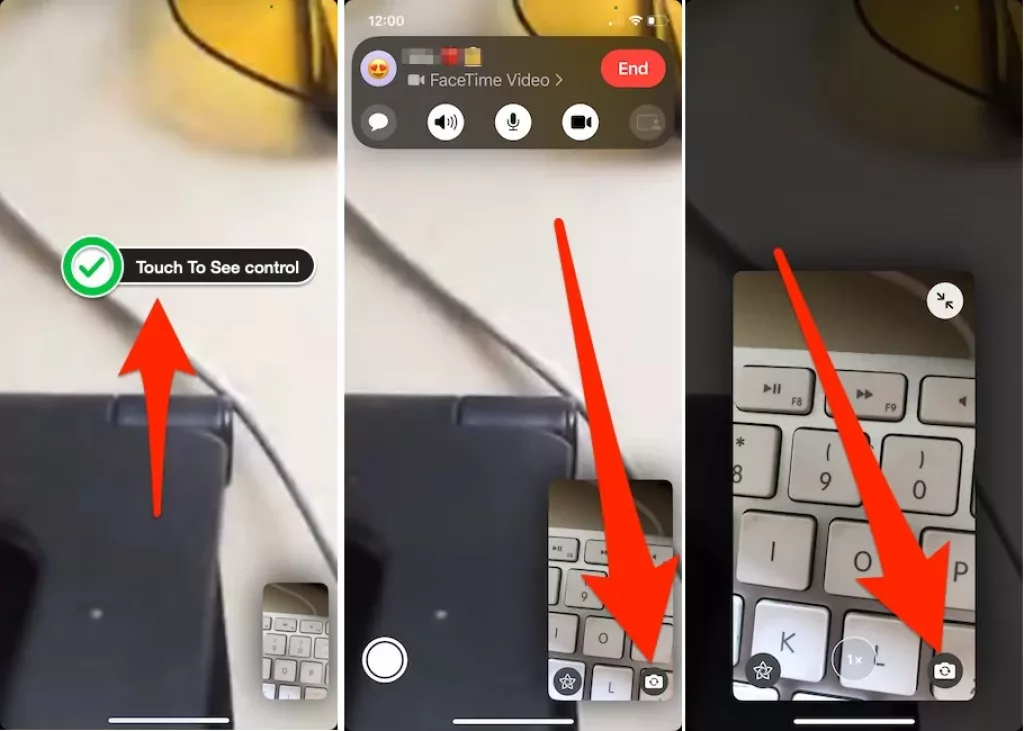 Steps to how to invert Facetime camera ios 14

and Earlier
See the Screen while we dealing with FaceTime video calls, And the option for a Flip camera,
After Receiving a video call at the other end, Follow the below step on how to switch the camera.
On the main screen, tap on your video picture window.
On every single tap, you will flip the current camera alternatively.
That's it
Useful: FaceTime Camera not working – Here's the fix
Before iOS 11, the Flip screen icon replaces with a live photo during FaceTime calls.
And now it's easier than ever with extraordinary features (Take a live photo On FaceTime iOS and Mac Devices)
How to restrict/ prevent your opponent to take Live Photos on FaceTime?
You have not right to hide or any magic to delete the Live Photos FaceTime left button. But Yep, Just read this post (turn off FaceTime Live Photos iOS and macOS) carefully and get control over deactivating FaceTime Live photos on your iPhone and iPad.
Also Read Voice isolation Mode on FaceTime.
Get more helpful tips and Guide on iPhone, iPad, and iPod Touch, connect with us on our social page and subscribe to our mailing list.