🗓️
October 27, 2023
By ✍️
Jaysukh patel
Sometimes miss configuration in handoff setup tends to give unable to use handoff between Apple devices. So we need to learn first how to Set of handoff on iPhone iPad iPod Touch Apple Watch and Mac devices. Also prerequisite conditions for handoff. Recently IOS and Mac OS users reported handoff features suddenly disabled or Handoff not working on iOS/iPadOS correctly after update.
Handoff is one of the most important time management continuity features that work Between iPhone, iPad, iPod Touch, Mac, and Apple Watch. New in iOS and macOS now we can use the Continuity feature, Use your iPhone Camera to add pictures or Documents in the document on Mac. This is a quick and easy way to insert or Edit your Document using the continuity camera. Steps are, Open Page, Keynote on your Mac > Go to "Edit from top Mac Menu" > "Insert From iPhone" > "Take a photo" or "Scan Documents". Check-in details, How to use Continuity Camera, or How to Scan Documents using Continuity Camera.
Fixes to consider Handoff Continuity not working on iPhone, iPad, Mac, Apple Watch
HandOff Compatible Devices
iOS 8 or later
iPhone 5 or newer

iPad Pro

iPad (4th generation)

iPad Air or newer

iPad mini or newer

iPod touch (5th generation) or newer
OS X Yosemite or later
MacBook (Early 2015 or newer)

MacBook Pro (2012 or newer)

MacBook Air (2012 or newer)

Mac mini (2012 or newer)

iMac (2012 or newer)

Mac Pro (Late 2013)
Quick Tips:
Make sure iPhone and MacBooks are connected to the same Wi-Fi network to use the Handoff feature.

Turn On Bluetooth and Wi-Fi on all devices.
All the devices must be using the same Apple ID.
Keep each device closer.
Handoff Supported Applications
Contacts
Pages
Maps
Mail
Airbnb
Reminder
Calendar
Keynote
Evernote
Numbers
Safari and more.
0.1 Continuity Camera for Taking Photo or Scan Document Not Working
Continuity camera use Handoff between your Apple devices using your iCloud Account. Follow this tutorial and repair connectivity issues on behalf of the Continuity feature in iOS 12 and macOS Mojave.
Mac Continuity Stopped Working, one of the primary reasons is Handoff is turned off in one of these devices.
Continuity requires the latest iOS version – iOS 12 & later and macOS Big Sur & later on your iPhone, and Mac.
Disable/Enable Handoff – iPhone, iPad, Mac, Apple Watch
Sometimes your all Mac or Other iOS, and iPadOS devices create too many connections between them, Handoff means continuity so Your Mac or iOS device might be feeze due to handoff.
and the second reason is some people don't like disturbance on Mac Dock or App Switcher on iOS and iPadOS.
Thanks to, Apple that given amazing Handoff features on New iOS and macOS devices as well. Also, we can turn off what we are not using.
Turn on iPhone handoff Settings
Go to the

Settings app > General.
Scroll to AirPlay & Handoff

and enable handoff toggle
Enable Handoff on Mac
Handoff customization will be handled through the System settings on Mac, Here's the way to change Handoff on Mac for Running macOS Version.
On MacOS Ventura: Enable Handoff
Step 1→ Go to the Apple Logo from the top menu > System Settings.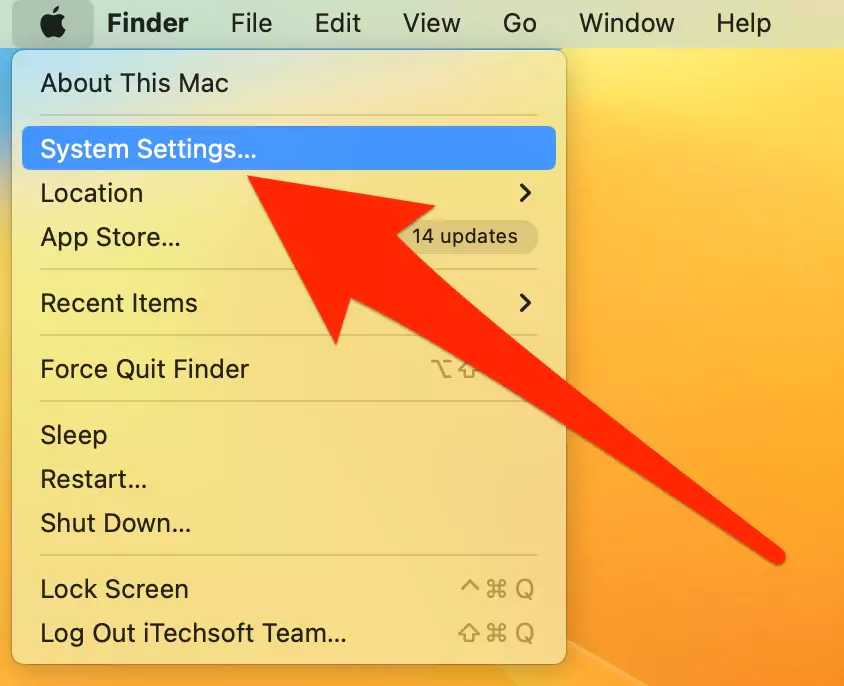 Step 2→ Now, Open General > AirDrop & Handoff.
Step 3→ Enable toggle for "Allow Handoff between this Mac and your iCloud devices" to turn on Handoff.
On MacOS Monterey & Earlier: Enable Handoff
Setup handoff On Mac go to the "Apple menu" > "system preference"
Enable the handoff option for "allow handoff between this Mac and your iCloud iDevice."
2. Restart MacBook, iPhone, Watch
Might be you need to restart or reboot devices. The steps reconfigure your call settings and refix all the connections between your devices and set up.
After the restart, the specific device checks it individually handoff is enabled on not using the above steps.
For iPhone 8 or later:
Press and quickly release the Volume Up button.
Press and quickly release the Volume Down button.
Press and hold the Side button and let go of it when the Apple logo displays.
For iPhone 7/7 Plus:
Press and hold the Volume Down button and Power button until the Apple logo appears.
For iPhone 6S or earlier:
Press and hold the Sleep/Wake button and Home button and release when the Apple icon comes on screen.
For MacBook, Mac,
Click on the Apple logo > Restart.
For Apple Watch,
Press and hold the Digital Crown and Side button at the same time for at least 10 seconds, when the Apple logo rises leave the buttons.
3. Sign in with the same Apple ID
Get Sign out Apple ID and sign in Apple ID on iPhone, iPad, and Mac
You know handoff work for the continuity that means we need perfect security and privacy for all types of work that you want to transfer another device like use logged in the account on a banking website, eCommerce website and personal information as well.
So Apple uses a common iCloud account between all devices within that we are using Handoff between them. If Apple ID is not signed incorrectly or successfully send Handoff should not work. Double-check you are the correct Apple ID or sign out and sign in manually on each device.
On iPhone: go to the Settings app Tap on Profile name > scroll down To the last tap on the sign-out.
On Mac -> MacOS Catalina Mac or Latest: Apple logo on Mac menu > System Preferences > Apple ID > Overview > Signout. Now Sign in Again. On macOS High Sierra & Earlier MacOS: Go to the System Preference > see the iCloud.
Click on the Sign Out button option.
On MacOS Ventura or later: Go to the Apple Logo > System Settings > Click on Profile name > Sign Out…
4. Bluetooth not working
Bluetooth should turn on while we use it and for all the devices. Unfortunately, Bluetooth won't turn on automatically Handoff from the settings app on the iPhone or iPad, like AirDrop.
You must check the BlueTooth icon is showing Enabled in the iPhone iPad status bar on the Mac top menu bar.
Enable Bluetooth from the settings app or control center on the iPhone.
[Also Useful: Bluetooth not working on iPhone]
5. Enable WiFi for HandOff
And All handoff devices required the same WiFi network as well. Enable WiFi from the Control Centre or the settings app.
[WiFi is the issue: WiFi Not Working in iOS]
Note: handoff will not support between the apple watch and Mac devices. So we can use and of only between the apple watch and iPhone, iPad.
6. Handoff Not Working Between iPhone and Apple Watch
After Updating Apple Watch with the new WatchOS 7 (WatchOS 7)- WatchOS 5, Make sure HandOff enables on the iPhone watch app.
For Apple Watch, See in iPhone: go to Apple watch apps on iPhone tap on general and Enable handoff for Apple watch
Must know: Handoff Only Work with your Apple Watch Only, Because apple Watch finally adds to your iCloud account once you pair it with your iPhone.
7. list of apps that work with Handoff on iPhone iPad and Mac
Messages, Reminders, Calendars, Contacts, Numbers, Pages, Keynotes, Maps, Mail, Safari and Third-Party applications as well
On Mac see the app icon on Dock, Launch It by click on it that you are using continue to work from your iOS device.
On the iOS device, the HandOff application is Accessible on a multitasking screen or a lock screen. If you are not on a lock screen, there is an alternate option we can try to use handoff on iOS devices.
8. Handoff use for text message forwarding
To use these features we need to enable text message forwarding from iPhone settings.
Go to the Settings app on your iPhone iPad > messages.
Enable send and receive toggle

Enable text message forwarding toggle
Text message forwarding won't send to the Mac, disable/enable iMessage from iPhone settings.
Device sign in with the same Apple ID
Verify Apple ID In your Mac, launch a messaging app on Mac. From the top menu Messages > references.
Click on the accounts, select your message account and verify your Apple ID data using your iOS device as well.
If your iMessage is turn on for your phone number, you should check the phone number on your Mac settings in place of Apple ID.
9. Reset All Settings
This option is not lost your essential Data, Media files and App documents, and Data. This will erase or reset all the settings and return to New setup screen after restart the iPhone or iPad.
Go to the Settings > General.
Reset > Reset All Settings.
Forgot all the Saved Wi-Fi Passwords, Personal Hotspot, Apple ID sign-in, and more.
10. Check for updates on iOS, macOS, and WatchOS
Auto fixes all the problems by downloading and installing new updates on iOS and macOS.
Check-in iOS: Go to the Settings > General > Software Update.
Check-in MacOS: Open App store app > Updates in Tab > Download Update and install.
For macOS Mojave or later: Click on Apple logo > System Preferences > Software Update.
For MacOS Ventura: Apple Logo > System Settings > General > Software Update
WatchOS Update in Apple Watch: WatchOS (Keep apple watch on Charging) Next Go to Watch App in iPhone > My Watch Tab > General > Software Update. It will take several minutes. (Unable to Download and install WatchOS 4 on Apple Watch)
Install Fresh iOS using Clean install, Before factory reset backup iPhone and Get default settings like a new iPhone or iPad.
11. Unpair/Erase Apple Watch
Erase All Contents & Settings from the Apple Watch, to do so,
Go to the Settings app on your Apple Watch.
Tap General > Reset.
Lastly, choose Erase All Contents and Settings.
If you want to keep the Cellular Plan then go with Keep your plan, and only if you're interested in connecting the Watch with the same iPhone.
Confirm Erase All.
12. Go to Apple Support:
Get nearby Apple Support Center to check the Apple help desk, or Go to the nearest Apple Support center for Genius support.
Quick Links: iPhone Repair Service Near Me!
Also, Keep Both Devices near to each Other Otherwise, it will not responding or take the time to show up on the Dock.
Above all are the essential tips to fix Handoff not working in iOS after the update or use/ setup with a new Apple device.