Here's how to call in a group on iPhone and make a conference call on iPhone. We can talk with more than two people at once by adding the most contact in a call from the dial pad. Here I will show how to open contact app and add in call after a search with the name on contact app search box.
Note: conference call service mostly turns on by default on all carrier line and mobile connection. Are you unable to connect other calls, Contact your carrier? And stop all calls and re-dial or call again from given below steps.
Steps for Make conference call on iPhone: iOS 11/10/9
Step 1: First call to the first person from your iPhone and open Calling screen on iPhone.
Step 2: Next, Tap on "Add Call" then search your contact with the name that you want to share or make a conference call.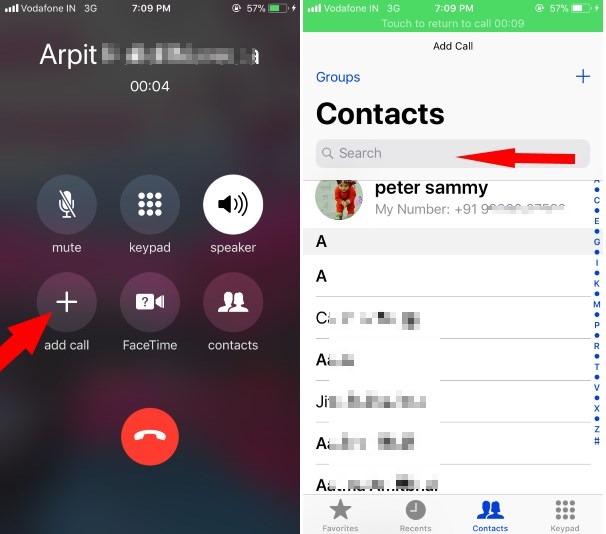 Step 3: Next Screen you will see like in below image until the second person receive call first call will go on hold.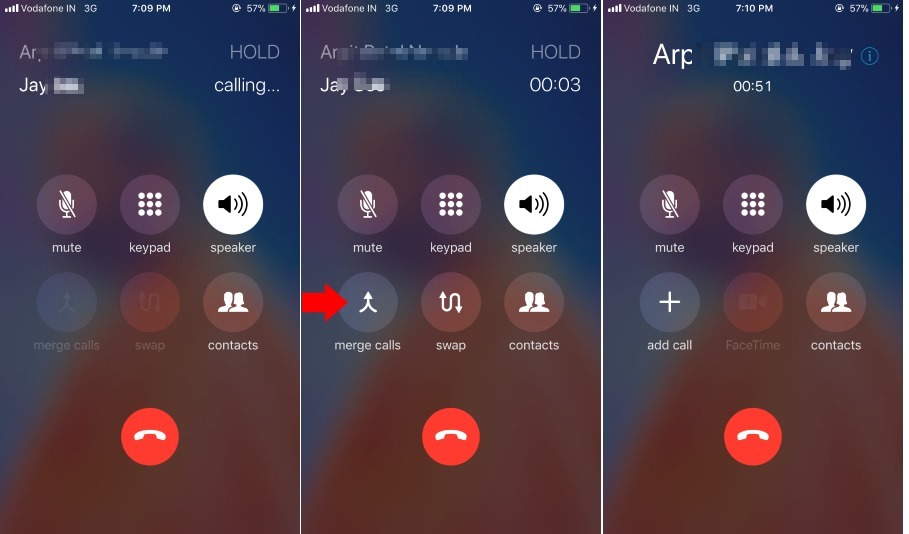 When the second person receives call, both call automatically merge, and you can talk in a conference without any extra charges.
How many calls can you merge on iPhone? : Depends on your carrier we can make call conference between 3 people, 4 People and up to 5 people and more.
These tricks work for all iPhone, iPad models: iPhone X, iPhone 8, iPhone 8 Plus, iPhone 7/7 Plus, iPhone 6S/6S Plus, iPhone 5S.
Tidbits: Merge call not working
Sometimes, users are experiencing iPhone call failed, Can't merge calls on iPhone, and won't add more contacts in the conference. Follow the below troubleshooting that mostly work and help you guys.
Force restart:
iPhone 6/6 Plus: Press and Hold Sleep/Wake + Home button.
iPhone 7/7 Plus: Press and Hold Sleep/Wake + Volume down button
Force Restart iPhone X and iPhone 8, 8 Plus
Poor network connection or unable to reach network on too long distance
Above is the quick way to merge or Make Conference call on iPhone X, iPhone 8,8 Plus, iPhone 7/7 Plus, iPhone 6/5S.
Jaysukh Patel is the founder of howtoisolve. Also self Professional Developer, Techno lover mainly for iPhone, iPad, iPod Touch and iOS, Jaysukh is one of responsible person in his family.
Contact On: [email protected] [OR] [email protected]