Organize or Manage all apps installed on your iOS device (iPad and iPad) by Crear Group of apps or Create Folder. Yes, We can also Nest folders (Folder inside Folder) using some easy methods. New in iOS 11 supporting Gesture and multitouch finder on app home screen. That's here I show you how to Make Nest Folders on iPhone, iPad. The nested folder is also the ideal way to hide some secret app in secure place means folder inside folder apps.
Also, This tutorial cover guide for iOS 11/ iOS 10 installed on iPhone models are iPhone X, iPhone 8/ iPhone 8 Plus, iPhone 7/7 Plus, iPhone 6S/ 6S Plus, iPhone 6/6 Plus and iPhone 5S/5.
To decrease complexity on create folder using gesture or two fingers, Watch my video tutorial.
What is nest folders on home screen
Prepare home screen more smart ways, which will easy to use or open apps and webpage shortcuts from the desired place every time. Officially apple doesn't give this very good option, but iOS users want it and they are doing only this way.
Steps for nest folders on iOS 10 running on iPhone, iPad
How to Nest Folders on iPhone, iPad in iOS 11
Go to the App Home screen, First Create a simple folder by tap and hold finger on the app that you want mode to another folder. After the jingle start, Drage and overlay to another app.
Lift up your finger to put into the folder.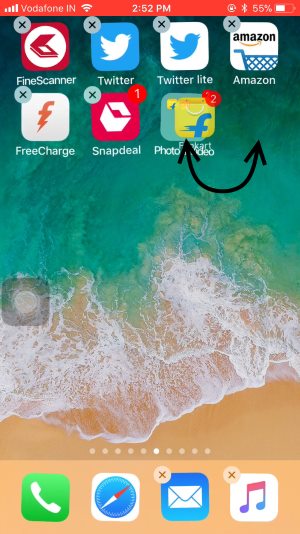 Next, Select multiple apps using multitouch gesture in iOS 11, Select app and hold it, Slide move to another place after that using another finger select all other apps one by one and create the group of app.
Now, Move all grouped apps into recently created folder that it.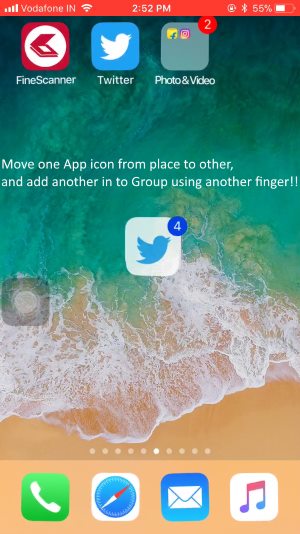 In the same way, we can remove folder or unnest folder on iPhone, iPad Home screen.
Remove all Nested folder on iPhone, iPad home screen, Reset Home screen. And Get Default home screen layout.
Prepare Home screen layout
Make only one folder (That's we can do officially, By drag app icon on to another then repeat with the existing folder). Keep one app space at the bottom corner.
Create a New folder using two apps on the same screen
Choose any of the two apps and Create combine folder of its. Move one app into another app using drag and drop, after that press home button immediately.
Remove one app from Created folder
Came out one app from newly created folder. (Press on icon and drag out on home screen back).
Now do folder glitch on iOS device
Now, only single app inside folder right! Move this app near to the bottom edge of the folder. At the time leave app and press home button quickly.
Now, newly created folder disappeared.
Final Steps
Ready to perform two finger quick operations to create nest folders on iOS 10.
Try to place one app and folder at the same time over app. See the video tutorial to understand each points,
You are done!
Don't miss to share my help on nest folders on iOS 10 Step by Step with your Friends. It's very useful to others like you!