Here is an official way to update or cancel YouTube Red membership on iPhone, iPad, and Mac. The YouTube Red is an outstanding ad-free service offer by YouTube. Albeit, it's a paid subscription service ($10-a-monthly plan). Therefore, it may not be convenient for all families. So here I publish this article, for those subscribers who wish to update or cancel their YouTube Red subscription before the 30-days free trial completed.
we are happy to help you, submit this Form, if your solution is not covered in this article.
There are many benefits of YouTube Red like,
Ad-free videos
Background play
Google play music & YouTube Red Original
However, you seem that the service is out of your budget, then please stop subscriptions through following (unsubscribe from youtube red) guide.
We recommended you that, you don't have to wait until completing the free YouTube Red Membership. But if you don't agree to continue with YouTube Red in future, then you must follow given steps to turn off the Auto-renewal YouTube Red membership on iPhone, iPad (iOS 12, iOS 11, iOS 10) or Mac (Mojave, High Sierra, OS X EI Capitan, OS X Yosemite).
Ultimate guide about to update or Cancel YouTube Red membership on iPhone, iPad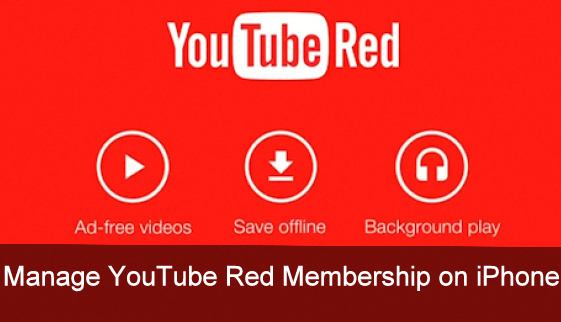 Go to Settings app on the iPhone Home Screen.
2. Tap on iTunes & App Store (you can see under the iCloud label)
3. Tap on Apple ID
4. Choose View Apple ID
5. You will be asking Enter Apple ID Passcode.
After sign-in scroll down the screen, until you see Subscriptions label.
6. Tap on Manage
Now, here you can see numbers of Subscriptions services such as (Apple Music memberships, Newspaper Subscriptions, Magazine subscriptions, Online Memberships or Subscriptions to services such as Netflix, Pandora, Hulu, HBO Now, etc.).
Next, out of all services choose a YouTube Red service and use the onscreen listed options to manage YouTube Red Services and make disable Automatic Renewal under the renewal options. Then tap on Done.
So your YouTube Red subscription will stop at the end of the current billing cycle.
Please Note: if you don't turn off Auto-renewal more than 8 hours before your membership renewal date then Your membership might renew.
If you don't see a subscription in iTunes and are still being charged, make sure that you're signed in with the correct Apple ID. If so, you might have subscribed directly with the provider and not through iTunes.
In this case, please contact the content publisher or app developer directly to cancel your subscription.
That's it.
How to Disable/ Turn off Auto-Renewal YouTube Red on Mac OS X – Mojave, Sierra, OS EI Captain and earlier
1.  Open latest version iTunes on your Mac.
2. Click Sign in and enter your Apple ID.
3. Click your name and select Account info from the drop-down menu.
Get further steps from here.
How to unsubscribe from youtube Red or Cancel YouTube Red Free trial on Apple TV 4
In case you've owned Apple TV 4 running on tvOS. Let follow below given Five steps to edit, manage or cancel  YouTube red free trial without computer/ Macbook, iPhone or iPad.
Note: To apply these steps correct Apple ID and Passcode required to log-in.
1. Open up the Settings App on your TV screen. (Settings App looks like a Gear icon).
2. Now Select Account.
3. Under Subscriptions tab, Click on Manage Subscriptions.
4. Here on your TV screen, you can see available all Apps subscriptions, from all of them, choose YouTube Red because still that you want to manage or cancel.
5. To get rid of the big bill, select cancel YouTube red trail. After canceling your YouTube red subscription will stop at the end of the current billing cycle.
That's it.
Hope, you would like this straightforward way. You can use same steps for other third-party tvOS Video channel apps which are required subscriptions such as 120sports, NBA (USA), A&E, ABC News, NBC, ACC, NBC Sports, AOL, Netflix, Arte, NFL Now, NHL, Bloomberg, NOW TV, Campus Insiders, PBS, CPS Sports, Qello, Red bull TV, CNBC, CNN, Showtime, Crackle, Crave, Showtime Anytime, Sky news, Tennis Channel, Fox Now, HBO GO, KORTV, and many more.
Are you looking for a way to request to refund for YouTube Red subscriptions? Get here Youtube Red Refund.
Please don't miss to share your thought about on how to Get rid of YouTube Red free trial on iPhone, iPad, Apple TV and on a computer.
Do you have any trouble to unsubscribe from youtube red/ cancel YouTube Red Membership on iPhone or other device let us know in below comment box?
Jaysukh Patel is the founder of howtoisolve. Also self Professional Developer, Techno lover mainly for iPhone, iPad, iPod Touch and iOS, Jaysukh is one of responsible person in his family.
Contact On: [email protected] [OR] [email protected]