These days, you might prefer to connect an Apple Mouse to MacBook Air, and MacBook Pro, iMac, Mac Pro, Mac Studio, and Mac Mini to experience the comfort and want to increase work productivity, but suddenly encounter a mouse not connecting to a Mac.
Usually, every mac follows the wrong way for how to connect a Mac mouse on macOS Ventura as they have recently updated to the latest macOS. Are you willing to do the same; connect a mouse to a Mac desktop? Whether you carry RF or Bluetooth Mice, connecting it with a Mac is swift and handy. This article will take you through the easy way of hooking up any Mouse with a Mac.
How To Add Mouse In Mac
Tangling cord over the table always makes it messy but having the Best Wireless Mouse For Mac completely rules out such situations. Here is how you can connect Bluetooth mouse to Mac.
Method#1. How To Set up Apple Mouse
If you recently bought the Magic Mouse or received a wireless input in the box of the new apple mac, I want to teach you how to quickly connect magic mouse to Mac having macOS Ventura for the first time. And the process of connecting the Apple mouse is similar in every kind of Mac device; it works the same in iMac, MacBook Air, MacBook Pro, and MacBook Mini.
Initially, enable the switch present on the backside of the Magic Mouse to highlight Greenlight. Now the help of the second Mouse follows the steps given below.
Step 1 → Select Apple Logo > System Settings…(For macOS Monterey & Earlier users, Apple Logo > System Preferences…)
Step 2 → Choose Bluetooth > Turn Bluetooth On.
Step 3 → On the Bluetooth Screen, choose the Connect (Pair) present next to the Magic Mouse Name.
Alternatively,
If you want to connect Mouse to Mac without Mouse, you could plug the Magic Mouse using the Apple original lighting cable to a Mac computer. It will automatically connect Apple Mouse to Mac.
Also, make sure, your magic mouse charged enough and Power on (Switch it given on the back side of the Mouse)
Many users might be experiencing a "Connection Rejected" issue while connecting; try fixing the Magic Mouse Not Connecting Issue.
Method 2: How To Connect Mouse To Mac Using Keyboard
Having no alternative mouse to enable the Bluetooth of Mac to connect or just want to connect Logitech Bluetooth Mouse or Magic Mouse with Mac with a keyboard, here is how you can do that.
Step 1 → Press Command + Space to open the Spotlight.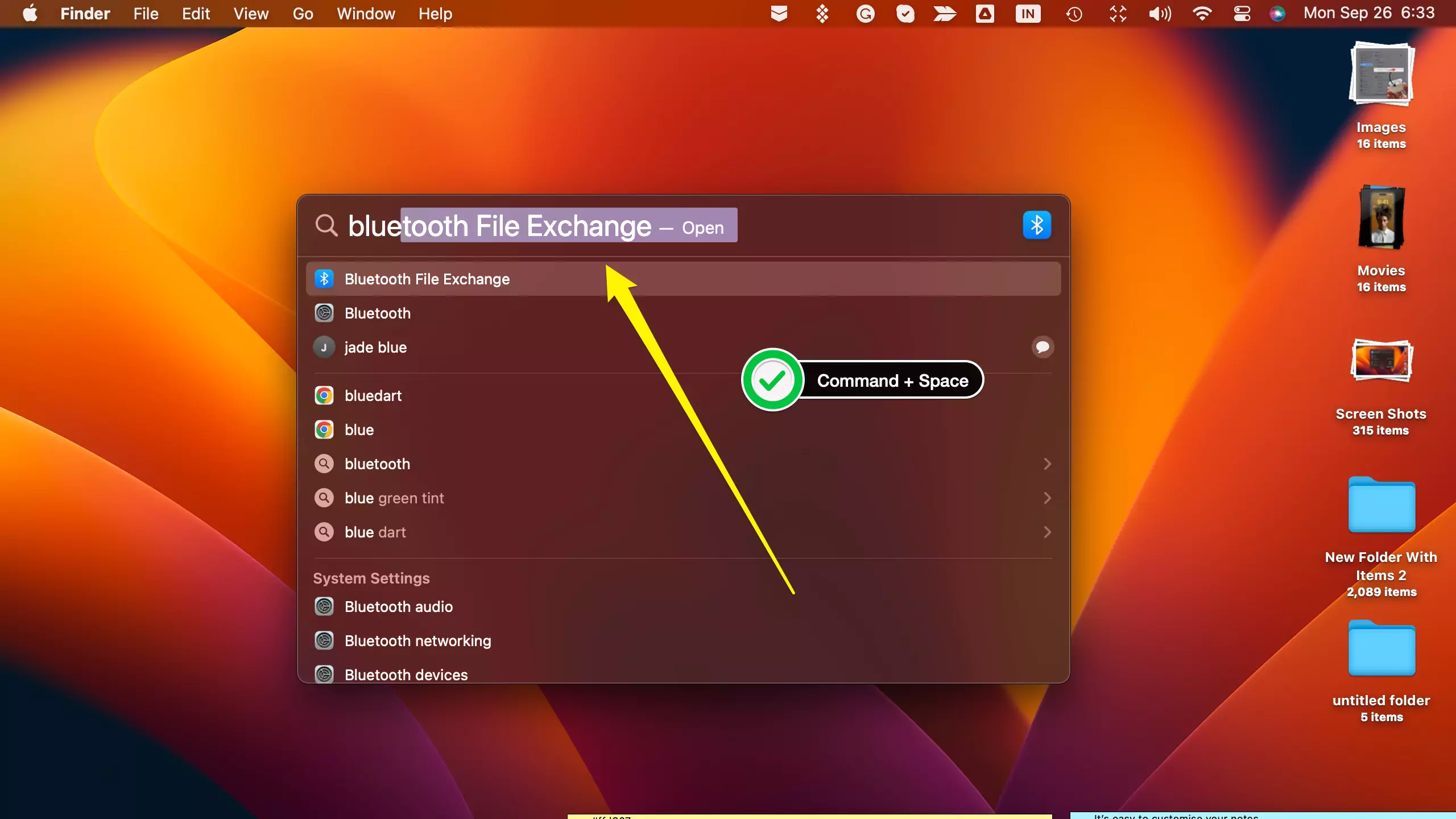 Step 2 → Now, search for Bluetooth File Exchange in the spotlight, Select and Press return to Open Bluetooth File Exchange.
Step 3→ Next, Press the Return key to skip the Browse Document window. and move to the Bluetooth window list.
Step 4→ Afterward, you will encounter Bluetooth Window having the list of devices, use the arrow button to highlight preferrable mouse, and at last,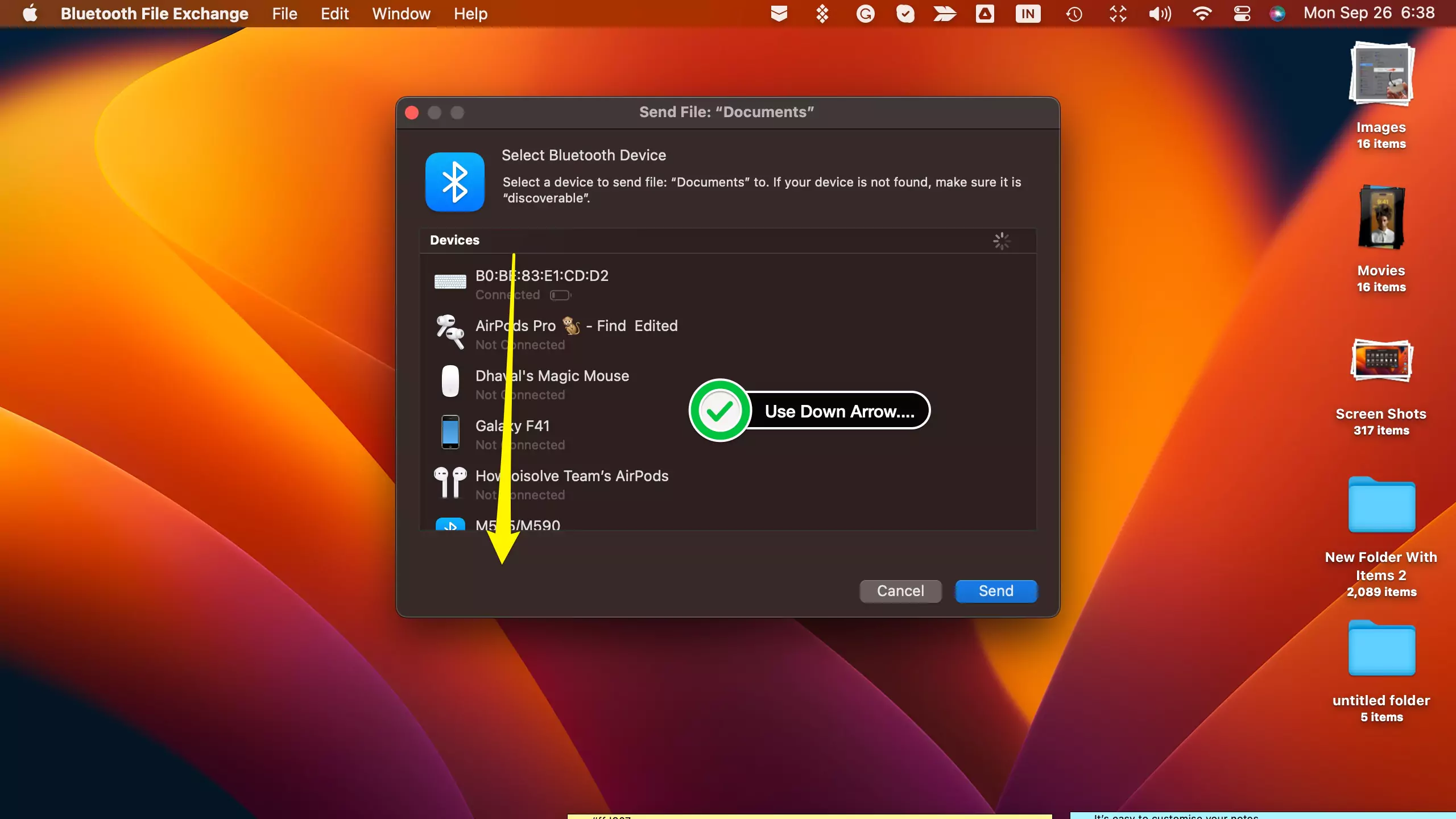 Step 5→ Press the Return Button on the keyboard, that's how you can easily connect the mouse using a keyboard.
Your Mouse is now connected after waiting 4 to 5 seconds. (Connecting to the device…)
Method 3: Connect A Mac Mouse Without Keyboard & Other Connected Mouse
If, Keyboard Shortcut is not working on the Mac system Preferences/System Settings to Enable the settings. So we recommend connecting Mouse to Mac via lightning cable and Connecting automatically. Or Try a Wired USB Mouse or Third-Party Bluetooth Mouse that was previously used on the same mac.
Method 4: Connect Magic Mouse to Mac using Keyboard Tab Key
We can move into System settings on Mac using Keyboard Navigation. Press Tab to jump to the next option, and Enable the Option using Space or Move Option using the Up/Downside arrow. Let's do it. Using the Below steps,
Step 1→ Go to the Apple Logo > System Settings.
Step 2→ Select Accessibility Option > Keyboard.
Step 3→ Enable "Full Keyboard Access" to move between the Option using the Tab key.
Now, Open System Preferences/System Settings (Command + Space > Type System Settings), and Press the Tab button to move next option. and Use the Down arrow to Switch Between selection [Blue border for Selected Window on Mac].
using your Keyboard, (Command + Space to Open System Settings. use Tab to Move to Next Option. and Press Space to Select the Option or Turn on the Toggle.)Go to Bluetooth Settings > Turn on Bluetooth > And Connect your Mouse.
How To Connect Logitech Mouse To A Mac
A wireless Logitech mouse is a Must-Have Accessory For Any Mac as it neglects the messy cords. At the same point, it's a more appealing option that works better than any other Third-Party Mouse For Mac. Despite that, it's tough for you to know how to connect a Logitech mouse to a Mac; here is what you need to do.
Steps To Connect Logitech Mouse With USB
1 → Enable the switch backside of the Logitech Mouse. If your Mouse requires an AA or AAA battery, open the battery shell and then insert the battery accordingly.
2 → Now insert the wireless receiver known as USB into the USB port of the Mac. That's it; your Mouse will get automatically connected.
Steps To Connect Logitech Mouse Without USB
1 → First and foremost, ensure your Mouse is charged. Well, many Logitech Mouse still uses the AA or AAA Batteries. In that case, open the Battery Shell and smartly insert the batteries. Alternatively, if your mouse charges with the exact mechanism as we charge up the phone, connect the micro USB to Mouse and the other end to the Computer to let it charge up.
2 → After the Mouse gets wholly charged up, enable the switch on the backside of the Mouse to put it into pairing mode.
3 → Then select Apple Logo > System Settings…(For macOS Monterey & Earlier, Apple Logo > System Preferences…)
4 → Choose Bluetooth > Turn Bluetooth On.
Select the Connect (Pair) present next to the Logitech Mouse Name on the Bluetooth Window. That's it.
For more convenient usage to make your Logitech mouse truly yours, now you can install the Logi Options+ app as it craved with various features to customize the keys, just like, allowing you to configure switching between Macs and Windows. But sometimes it seems to Logitech options not working on Mac.
How To Connect Microsoft Bluetooth Mouse To Mac
Mac users don't receive many options when we talk about mice. But if you carry the Microsoft Bluetooth mouse, you can now handily connect a Microsoft mouse to a Mac.
1 → First and foremost, enable the Bluetooth of the Microsoft Mouse.
2 → Next, navigate to the System Settings…(for macOS Monterey & Earlier, go to System Preferences…)
3 → Now select Bluetooth > Turn Bluetooth ON. Doing so will ask the Mac to find out the nearest Bluetooth device. Once Microsoft Bluetooth appears on the Bluetooth Preferences… select Connect(Pair) present next to its name.
That's how your Microsoft mouse is successfully connected with your Mac Computer.
CONNECT A MOUSE TO MAC!
A Bluetooth or wireless mouse with your Mac can be significant. You don't have to deal with messy cords over the desk as you can sync magic mouse or any other mouse with Mac by following the guide mentioned above.
Q1. How Do I Fix Unresponsive Mouse On My Mac?
One of the primary solutions for Mac not responding to the Mouse is to disconnect and reconnect the Bluetooth Mouse and see if it works for you. But also keep in mind to keep the Mouse Battery fully charged and clear out the magic mouse from the alternate or old mac to stop pairing automatically.  
Q2. How Do I Reset My Mac Mouse?
Apple mouse not working, and are you willing to reset the Magic mouse without Mac? To do so, disable the power slider backside of Magic Mouse; it will disconnect the Mouse and wait for a few seconds. Now enable the Power Slider of Magic Mouse, which will force reboot the Mouse and force the Mouse to reconnect with a Mac computer. 
Q3. How Do I Make My Mouse Discoverable?
To make your Mouse discoverable on macOS Ventura, navigate to the Apple Logo > System Settings… (for macOS Monterey & Earlier, Apple Logo > System Preferences… ) > Bluetooth > Right Click on the Mouse name and select Forget… After doing so, enable the Mouse once again, and then from the same settings, click connect present next to the mouse name that's it!
Q4. Does Apple Mouse Light Up When Charging?
Suppose you want to know if your Apple Mouse is Charging or not. Head to the Apple Logo > System Settings… (For macOS Monterey & Earlier, head to the Apple Logo > System Preferences…) > Bluetooth > next to the connected Apple Mouse, you will receive Charging Icon.
Q5. How Do I Turn Bluetooth My Wireless Mouse?
To enable Bluetooth, drag the Power Slider on the backside of every Bluetooth Mouse. At the same point, verify if your Bluetooth Battery is high.  
Q6. How Do I Restart My Mac Without A Mouse?
If the connected Mouse on the Mac computer is unresponsive, and you want to restart the Mac to see if a minor bug Mac itself is not causing the problem, press the Control + Command + Power Button.  
Q7. Can I Use Any Bluetooth Mouse With Mac?
Pretty easy to say; any Bluetooth, USB, or Wireless mouse will connect to Mac. If you don't know how to pair Magic mouse, go through the guide mentioned above.