Bluetooth is one of the most useful features for connecting external hardware, Accessories for making our task over the air, by Simple and easy configuration very fast and automatically. So, people sometimes feel the poor Bluetooth performance and blame Apple or third-party device. We covered alternate ways to fix it for different types of most common issues like Bluetooth disconnecting sometimes, Bluetooth not working on Mac, Can't able to find other Bluetooth devices or Bluetooth not turning on iMac, MacBook Pro, MacBook Air, Mac mini or iPhone/ iPad/ iPod Touch.
For Mac user, the time you go we should retest Bluetooth functionality on Mac Because it's mostly used for the different purpose,
we are happy to help you, submit this Form, if your solution is not covered in this article.
Use an apple watch for Unlock Mac & Sync Data
Wireless headphone or speaker, Listen Audio remotely
Share the internet using Instant Hotspot: To use iPhone/ iPad cellular data on Mac
Pair Wireless Bluetooth Keyboard, Apple Magic Mouse
Bluetooth is essential to work on MacOS, Sometimes WiFi also required for the secure connections (Solved WiFi not Working on macOS).
Most common Problems on Bluetooth not working on Mac
#1- Debug Bluetooth: Reset Bluetooth module
This short method fixes and recovers discounting problem, From your keyboard press (Shift + Option keys and click on the Bluetooth icon at top Mac's menu bar). Shortcut keys are the same for MacOS Sierra, EI Capitan, Mavericks or Yosemite or Earlier.
See the instant effect; the Different pop-down menu will appear on screen, Go to Debug > Reset the Bluetooth module.
Wait for few seconds, Turn off & Turn on Bluetooth then Reconnect Bluetooth Device.
Then try it should be work correctly. Get here the complete guide to Reset Bluetooth hardware module on Mac
Note: Are you pairing with Headphone or Speaker, Also check volume level of your mac. Or check with another active speaker.
#2. How to reset BlueTooth on mac: Clear Cache preference
2.1 Reset Bluetooth mac using Terminal
Using a terminal command line clear or reset Bluetooth settings. Open terminal Application > Utilities or Search from spotlight search.
Copy below like one by one and Reset bluetooth using the terminal,
sudo kextunload -b com.apple.iokit.BroadcomBluetoothHostControllerUSBTransport
sudo kextload -b com.apple.iokit.BroadcomBluetoothHostControllerUSBTransport
2.2 Clear or reset Bluetooth from Mac system folder
Open Finder, Press Alt + Click on Go menu, Find Library > Preferences > com.apple.bluetooth.plist
Move this file into the trash. (More Bluetooth not working on Mac)
Some user experienced, com apple BlueTooth plist missing and not found. In that case, the technique works alternatively.
#3. Verify Device
Around many apple Devices and Bluetooth devices with the same name, how to identify the exact mechanism from Bluetooth MAC Address.
Once you connected with the invention but don't confident about paired with the correct device or not, See all saved or contact device's Bluetooth Address on Mac
Go to the Apple Menu > About This Mac > System Report > Hardware > Bluetooth
See above Screen: Bluetooth mac address lookup, Bluetooth mac address format on Mac
First Section shows All Bluetooth related details. Next, you will find connected or saved device's features.
#4. Check updated with latest MacOS version
Go to App store and see any updates available for your current MacOS version installed on Mac, Macbook, iMac, Mac Mini.
#5. MacBook pro BlueTooth not finding devices or add BlueTooth to Mac
Restart your Mac & Bluetooth Device that persist problem on BlueTooth connectivity.
Keep your another BlueTooth device, 30 meters or less.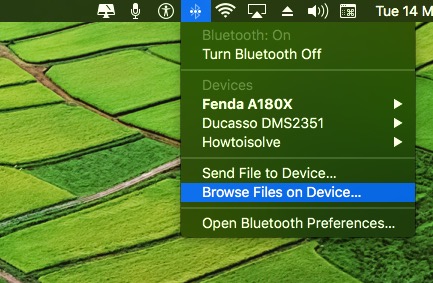 Manually browse device, Click on Bluetooth icon from top menu > Browse File on Device.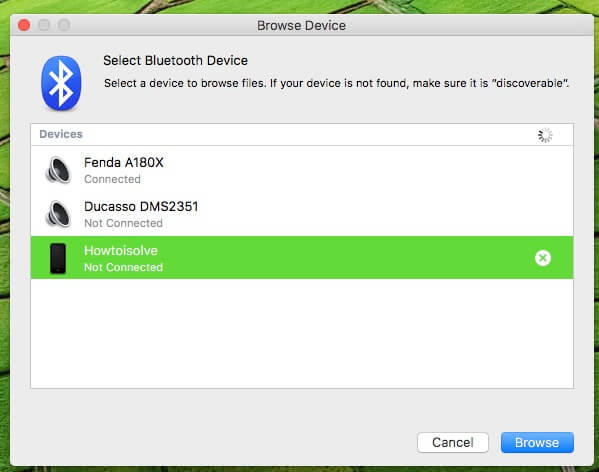 Not only just Bluetooth issue with may be the problem in iPhone, iPad, Apple Keyboard, Mouse or other BlueTooth accessories speaker, headphone, printer, many other.
#6. Go to Apple Help Desk
Contact Apple Support via live chat or phone, Request for repair or fix the issue.
This tow Tips may be useful for you- Fix Error Bluetooth not available on Mac and the second is Fix Wi-Fi Not working on macOS Mojave.
Jaysukh Patel is the founder of howtoisolve. Also self Professional Developer, Techno lover mainly for iPhone, iPad, iPod Touch and iOS, Jaysukh is one of responsible person in his family.
Contact On: [email protected] [OR] [email protected]