🗓️
June 22, 2021
By ✍️
Jaysukh patel
Nowadays, Start Reading with Reading mode on Safari iPhone, Mac. Also, Know the fixes for Reader Reader View Not Available. reading an article without distractions is impossible; either the ads or prompts asking you to submit an Email for Newsletter could annoy you. To overcome this, Apple has introduced Reader Mode for Safari in Mac and iPhone. Reader Mode disables all the unnecessary posters, navigations, Javascript, ads, and other elements but will show only the text and added images or videos in the full-screen mode. It is available on both Mac and iPhone, so you can read without getting diverted by the things that you don't want to distract with.
Furthermore, your iPhone has a one-click setting to enable Reader Mode for all the websites in one go, without following the same procedure for each website. Let's take a look at how to turn on reader mode in Safari App in Mac and iPhone iOS 15 and macOS Monterey.
Disadvantages of Reader mode on Safari:
Beautiful webpage design page convert into simple text format
Your Page will no more functional because it's removed Javascript loaded in Webpage.
You will not get New Promotional Offer on this page, So you don't get aware of money-saving tips and deals.
Might be Image won't load on Safari.
Advantages of Reader Mode on Safari
Reader mode help to read the content easily.
Web URL load faster in reading mode compare to normal – Not a big change in speed now a day. Tips to fix Safari Slow on Mac
Reading mode is really useful for Education and learning use, for your Children.
How to Use Reader Mode on Safari Mac and iPhone
Ever it happens with you, that while preparing for exams on Safari, the ads prompting up of Games, Laptop Deals or anything that is of your interests and you go visit the ads and start exploring the web, while the preparation goes in vain. Well, the reader mode is here; here's how to use Reader Mode in iOS 15.
Enable or Disable Reader Mode in Safari App iPhone
Open the Safari app on your iPhone.
Visit any website, blog, an article that you wish to read.
In the address bar, tap on the three dots next to the address bar.
Tap on the Reader mode.
By this, the current website that you've opened is the Safari Reader Mode.
Turn On Reader Mode for All Websites on Safari iPhone
If you wish to use Reader Mode for all the websites in Safari iPhone, then here's a one-step setting that you should be changing.
Go to the Settings app on your iPhone.
Scroll down and tap on Safari App.
Under SETTINGS FOR WEBSITES, tap on Reader.
Turn On All Websites.
Enable or Disable Reader Mode on Safari Mac
Refer to the below-listed steps to turn on and off reader mode in Safari Mac.
Go to the Safari App in your Mac.
Visit any website that you want to read in Reader Mode.
Click on the View in the top menu bar.
Choose Show Reader.
Alternatively, use the Keyboard Shortcut, Shift+Command+R, to enable or disable the Reader Mode.
That's it.
Mac Safari Reader mode settings
Manage all Web URLs that you used as a Reading mode from Mac Safari Browser settings. We can turn off Reading mode for all websites and Enable Permenentely for Selected websites from Safari Preferences settings. Follow the below steps for Manage Safari Reader mode on Mac.
Open Safari on Mac > Click on Safari from the top menu.
Next, Preferences > Websites.
Select Reader from sidebar > and Turn off/On Reader mode for the Web address.
also, Remove from the list by select and click on the Remove button from the bottom left corner.
That's it.
Why is Reader View Not Available
Tips:- Google AMP Webpage is not supporting to Apple's Safari Reading mode. So, try to Convert Non-AMP Webpage in to Reader mode.
Some Website doesn't allow to use or convert webpage into Reading mode because of Designing structure. Some apple website pages are converting into Reading mode. So, you have to go without put it to reader mode. As well, you will get the suggestion when you open the Web URL on Safari Browser [Reader mode is available]. Follow the above steps to open the webpage in reading mode on iPhone or Mac safari.
If Reader option is Greyed out or unable to use then Wait for long until the full webpage render in your Mobile or Mac Safari Browser.
Or
Reset Reader mode settings on iPhone: Open Settings app on iPhone/iPad > Safari > Reader > Tap on Edit button from top Right corner and Select "Clear all settings".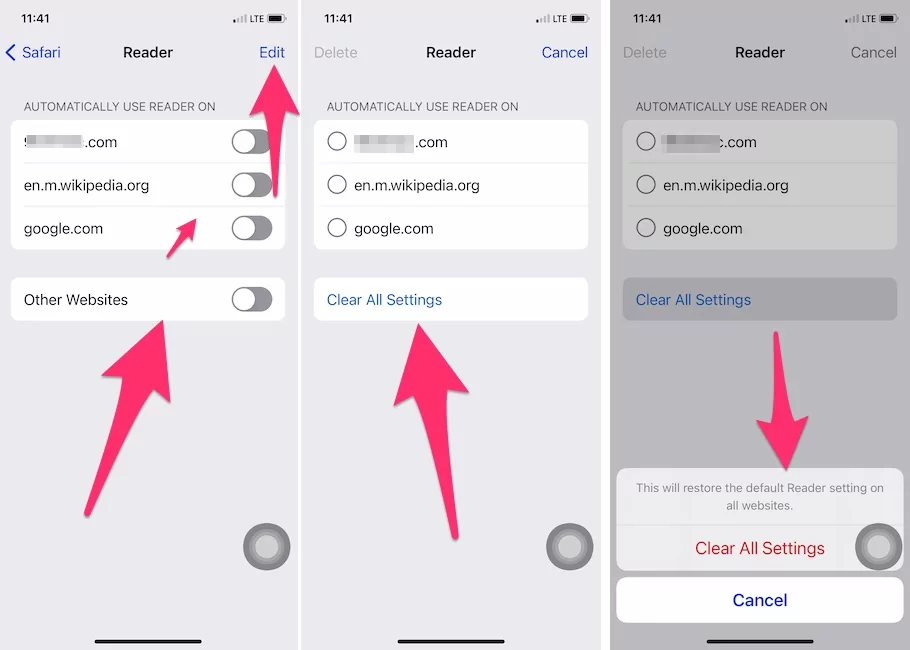 Force close Safari Browser and Try again.
Also Helpful: Private Browsing not showing or Greyed out
Conclusion:-
We can use Reading View on Safari for Temporary use. Because, In Reading mode user might not get the important, Dynamic Data that Load on Safari Scroll like Images, Videos [iframe] called lazy load contents. so i recommend to Remove Reader mode once you use for temporary.