🗓️
September 30, 2022
By ✍️
Jaysukh patel
If you are getting the error message in the mail app, "Your network preferences prevent content from loading privately Monterey on Mac and iPhone Due to settings,": Here's How to Fix this Issue. For privacy reasons, Embedded images and the content will stay hidden in mail body messages in iOS 16 or later iPhone, iPad, and macOS Ventura install macs.
Apple knows the importance of security in their phones and therefore focuses on ensuring that their devices are safe for their users. Apple has various solid security features embedded into their devices to ensure that their users' data is safe and does not fall into the wrong hands with Mail privacy and iCloud Private relay.
However, technology is also very complex, which sometimes repercussions the security features of Apple's Mac & iPhone. These features are intended to keep users' data safe but sometimes create hindrances for the users.
One such issue has recently developed among iPhone users with the new iOS 15 (Apple's mobile operating system) and Mac OS. Users have complained about not being able to load remote content in an email.
This has become a very common issue among iOS 16 users where users see " Unable to load remote content privately" at the top of an email. You might be facing this issue as well. This message usually comes as a warning message when you open an unread email in the Mail app, Gmail, Yahoo, and any other email app service.
When the warning message pops up, you will not be able to view any of the images within the email, causing obvious dissatisfaction. This issue is not happening due to a bug or error, but it is due to a security update that Apple has brought to its mobile devices with iOS 16.
Apple has introduced a new 'Mail Privacy Protection Feature' that is designed to prevent email senders from determining your location or linking it to your browsing activity.
How to turn off Mail Prevent Content From Loading Privately
How to Fix Images Not Showing in Email Messages on Mac
Here are the settings that are blocking the images on Mail messages by default for the user's privacy. Showing button "Load Content Directly", with the Warning message "Unable to load remote content privately."
Follow the below steps to turn off the message "Unable to load remote content privately" on the mac mail app. That's available on macOS Monterey or later macOS version.
Open Mail app on your Mac. at top mac menu, choose Mail > Preferences or Settings in (macOS Ventura).
Go with the last option, "Privacy" > Uncheck "Protect Mail Activity" and also Uncheck "Block All Remote Content."
That's it.
Now, the next part is for iPhone users, also change the settings to see all embedded images in mail messages while open on your iPhone. These settings are available in iOS 15 or later.
Second Fix: Turn off iCloud private Relay on Mac
iCloud Private uses apple's proxy server to deliver safe and original content to all Apple services like Mail. We can turn off the iCloud Private relay if the iCloud+ Subscription is enabled for your account on your Mac.
Follow the below steps to Turn off iCloud Private relay for the Selected wifi network that's connected to your Mac.
Go to the Apple Logo from the top mac menu > System Preferences > Network > Select WiFi network from the left side of the window > Uncheck the "iCloud Private Relay".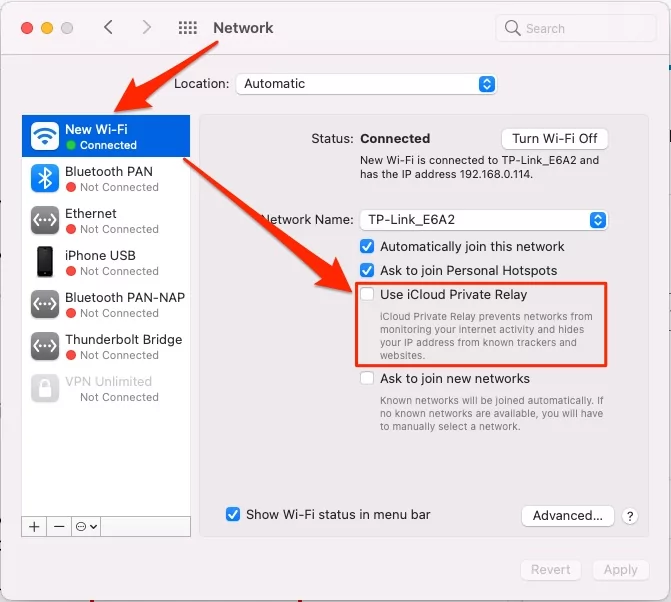 Force quit mail app and re-launch.
That's it.
Turn off Mail Privacy Protection for Mail app on iPhone
Turn Off Privacy Protection- This is the simplest way to remove this issue from your device. You can disable the Mail Privacy Protection feature on your device that will ultimately remove such warning messages when you view your emails.
You should, however, remember that this is a security tool to keep your device secure. Turning this off will reduce your privacy protection in your iPhone.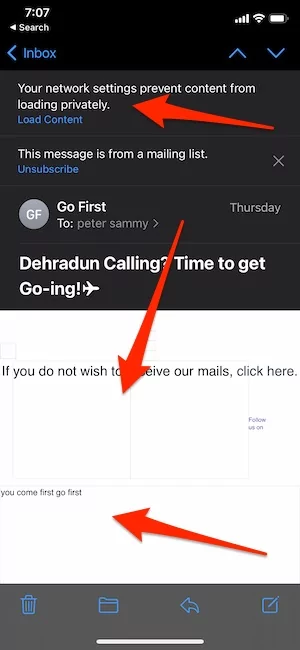 Open the Settings app on your iPhone. Scroll to Mail option.
Again scroll & Find Privacy Protection.
Turn off Protect Mail activity toggle, Turn off toggle for Block All Remote Content and Relaunch mail app to check the images showing in the Mail message by default.
That's it.
Another essential security feature in the latest iOS and macOS It. Private relay. 
Private Relay Activation– This error of not being able to view the content can occur when Private Relay is only enabled in your iCloud account but is not active on the current internet connection that you are using. Your mobile internet, home/work Wi-Fi network might not have an active Private Relay.
To activate Private Relay on such networks, follow the steps below-
Open your settings and search for Wi-Fi in it.
Next, tap the blue "i" icon next to the name of the Wi-Fi network your device is currently connected to.
On tapping that, you will be taken to a screen where you will find the " iCloud Private Relay" option. Enable that option.
Hereafter open your App Switcher and force close the Mail app.
You should now be able to view the content in your email when you relaunch the application.
Force quit Mail app and Relaunch. See it is fixed or not.
Another fix is also helpful for Embedded images Don't Display in Mac OS or iPhone Mail Messages app by default,
Note: If you are still getting the " Unable to load remote content privately" message, then this is due to the outage of the iCloud Private Relay. You just need to wait for Apple to release an update to fix this issue.
VPN issue – In some cases, the Mail app will not be able to download remote content in an email privately. This may happen if you are using a VPN ( Virtual Private Network) to access the email. In this case, Mail will not load the content of the Mail without your prior permission.
To fix this issue and view the content, you have to bypass the warning displayed on top by tapping the "Load Content" option on the warning itself. Doing this will load your email through your VPN rather than Mail Privacy Protection. You will still have some kind of protection from your VPN after this as well.
Now, these two ways should normally be able to solve this issue in your Apple device. Apart from these, here are certain other troubleshooting methods to solve this issue-
Disabling Apps that Run Firewalls & DNS Guards- The issue of getting an "Unable to load remote content privately" message when opening an unread email can also be caused by third-party applications that run firewalls.
Applications that provide a similar kind of DNS protection are also another cause of this issue. If your iPhone has any such applications, always remember to whitelist the Mail or such an app to prevent such an issue from occurring.
FAQs:
1. Is it a piece of bad news that I am getting an " Unable to load remote content privately" message on my phone when I am opening an email?
A: No, you have absolutely nothing to worry about if you receive such a warning. Instead, this means that your devices' security features are working correctly. This message is caused primarily due to Apple's new Mail Privacy Protection feature that helps maintain your privacy.
2. How do I solve this issue?
A: There are many ways by which you can solve this issue. We have discussed them in simple words for you to understand and apply on your iPhone.
3. Is it good to turn off Mail Privacy Protection?
A: The answer to this question depends on you. Mail Privacy Protection is a security feature that helps to maintain your privacy. Turning it off will thus reduce your security, but you will not face such an issue any further.
4. What is Mail Privacy Protection?
A: Mail Privacy Protection is a new security feature introduced by Apple with its new iOS 15. It is designed to help hide your IP address from email senders so that they cannot determine your location or link it to your browsing activity.