Increase your Productivity on Mac with Split View Screen on Big screen Mac or Even Small screen MacBook. Furthermore, Universal control manages all the files and folders between macs and iPad. Using UC(Universal Control), we can directly put another device window in to Split view screen. But some Mac users are experiencing Split Screen problems on Mac. Let's fix it.
Also, get Solution if some apps are showing "Not Available in this Split View". Becuase of Application's User interface limits and restriction.
macOS Monterey allows mac users to Use Side By side apple device's screen just with a single keyboard, Trackpad/Mouse with iPad screen running on iPadOS 15 or later. Know more supported device, in this article: Universal control on Mac.
To enable Split view there are two ways:
Method 1: One is "Hover your cursor on the Green button for a long time" or "click and Hold or on the green button" full-screen button on the upper-left side of a Screen or Press (Control-Command-F). So remain half of the screen will become shaded in blue.
Method 2: While the second way is non-minimized apps on Mac windows that are better compatible with the Split view will show up on the other half of the screen as thumbnails; so do click on one of the app thumbnails to open another app on the other half of Split view.
the screen will looks like,
But some the folks having issues are concerned with the Split view. Users say the above-given methods are followed by them but nothing shows up means no Split view Screen on Safari browse, mail app on Mac, etc. At all Split View not working on MacBook Pro or MacBook Air. So we try here to give you a workaround follow it then see.
The clues to fix Split View not working on MacBook Air or MacBook Pro
On MacOS Ventura & Earlier:-
Step 1→ Go to the Apple Logo from the top menu > System Settings.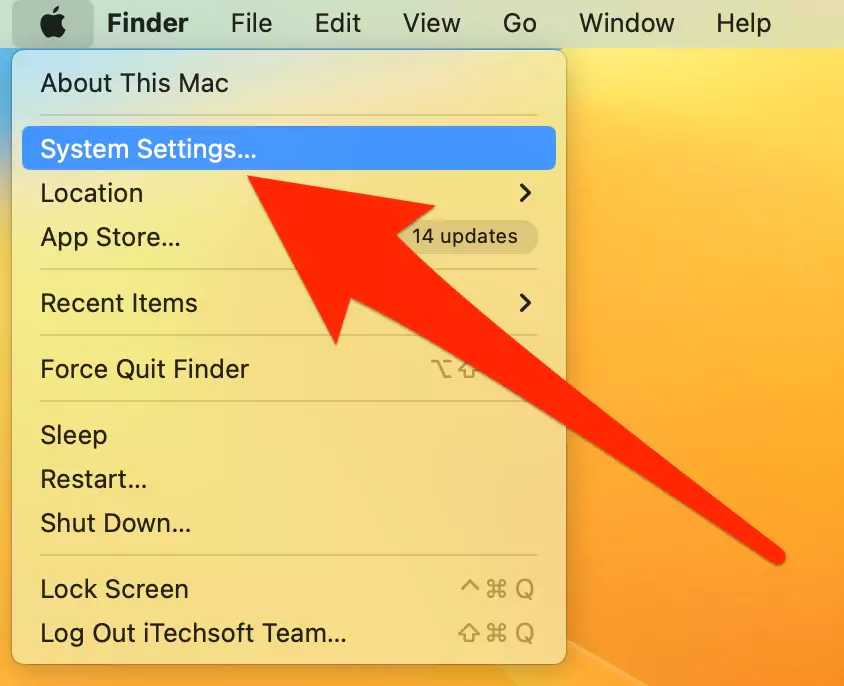 Step 2→ Next, Click on Desktop & Dock > Scroll to the screen and Enable the toggle "Displays have separate Spaces".
Step 3→ Might be Required log out to make the changes.
That's it.
On MacOS Monterey & Earlier:-
Step 1. Click on Apple logo from on top side menu bar
Step 2. Now Choose System Preference…
Step 5. Now once log out your Mac
And then login back again.
You're done.
Not Available in This Split View
Use Split Screen On Mac Functionality correctly given in this article.
Solution 2: Contact App Developer
if you are showing an error or message when you put the app in split-screen for apple's native or Third-Party app. that's a normal issue. in this issue, you have to check for the app is officially not designed for split-screen view. Contact App Developer and Request for your Mac app support for split screen view.
Suddenly App doesn't support the split-screen view, then Force close all the apps [Apple logo > Force Quit > Select All apps > Force Quit], Restart your Mac and try again.
I hope this would be helpful for you. Now use the Split view as above explained ways.
Solution 3: Update your App
Check and Keep your Apps Up-to-Date with the latest version of Installed software.
Solution 4: Try and check in safe mode
The safe mode determines the software issue installed on your Mac. Here's Disable and fix the Buggy apps in safe mode automatically. and Run Safe mode on Mac to Fix the issues.
Solution 5: Use Rectangle App
If you are finding the solution Put the App windows into the split view screen using Keyboard Shortcut. then I recommend the Very good perfection Rectangle app in Split screen for Mac. this app is compatible with all macOS Versions.
Please share with us your feedback in the comment box. Tell us how this article helps you, to fix Split View not working on MacBook Air or MacBook Pro.