🗓️
July 13, 2023
By ✍️
Jaysukh patel
Hope you have enjoyed all the latest features in the macOS Sonoma beta version on your Mac. But now, you don't have to face bugs and errors that occur in the beta version. From now you don't have to deal with an unstable version, as the stable version is now available. It is irritating to fix the same errors again and again. So it is advisable to opt for the stable version and enjoy your Mac thoroughly.
It is very straightforward to get out of the beta version and install the official release of macOS Ventura & Prepare for macOS Sonoma's final Public version expected in Nov 2023. Once you will get done with this, you won't receive any notifications of beta updates.
How to update from macOS Sonoma Beta to its Official version
We can not Get the macOS Public version just after set Beta Updates to 'Off' or removing the Beta profile. We have to wait for the Public version to be available in the Same Beta Version Number. By Removing the Profile, we can Stop Getting new Beta macOS updates, Using the Below steps.
1→ Go to the Appe
1: Click on Apple logo from top mac menu. Go to "System Settings".
2: There, find and click on "General" > "Software Update".
3: Next to the Beta Updates Set to Off. To change this option Click on (i) Button next to the Beta Updates Option. follow the below screen,
If You don't have to wait for the Public final version of macOS, Then you have to downgrade macOS. (Erase Mac complately and install Final Public macOS)
Follow the below Step for the Earlier macOS Version,
3: Click on Learn More… next to "This Mac is enrolled in the Apple Beta Software Program Learn More.".
4: Up next you will receive the message "This Mac is enrolled in the Apple Developer Program. Do you want to restore default update settings?".
5: Click "Restore Defaults".
6: Finally give confirmation by entering a passcode or Touch ID.
Once this process is completed, you will not receive any beta updates, and from now only stable updates will be available for you.
Kindly note that the process of updating macOS Ventura is a bit different than previous versions like macOS Monterey, macOS Sierra or earlier version. You can upgrade the macOS Ventura from the System Preferences instead of the Mac App Store.
Final macOS Public Version…
How to update macOS Ventura
The process is as simple as you have followed in earlier versions except for one change. That you will find out in the below steps.
macOS Ventura:-
Go to the Apple logo > System Settings > General > Software Update > Download and install.
On MacOS Montery:-
Go to the "System Preferences" menu. Select the "Software Update". Next, click on "Update Now".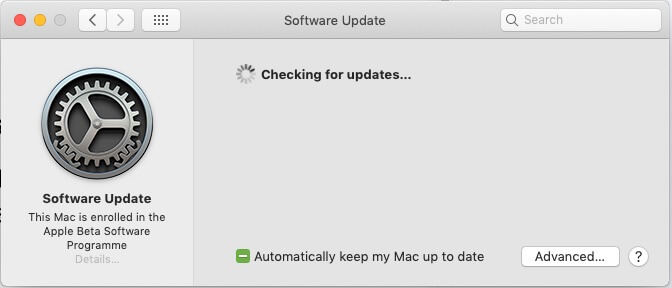 Now sit back and relax the Mac will be updated soon.
MacOS Monterey Public Update Not Showing Up
After Upgrade your MacOS version with Developer or Beta Version. you can not show the Final macOS Version because you can install the Earlier version of the MacOS Monterey update on your Mac. you have to wait until your Final macOS Monterey version match with the Installed MacOS Developer or Beta version. [It will take one or two months to make both the versions equal]. If you have no time to wait then you can also do, see below information given in the box.
if you are in so hurry in getting a Public version or Earlier Publick macOS then you have to manually install macOS using Bootable USB Drive, Called Downgrade or Clean install macOS in Recovery mode without Bootable USB Drive.
Also, Find the MacOS installation guide,
Above are the Quick tips to switch or Track off MacOS Monterey Beta Version to Public or Final Version of MacOS Monterey/macOS Big Sur on all Mac.