In your iOS device's Safari browser you can save or Bookmark WebPages URL into the browser for faster access. So, here is the solution related to Bookmark panel in safari mainly for landscape mode (Hide Bookmark pane in safari landscape). Mostly safari in landscape mode is more comfortable to read webpage's text efficiently. So once you open a webpage from saved Bookmark favorite menu. Bookmark pane is staying on half of the device screen. So most of the folks are frustrating because after close/ Kill safari process or App, Bookmark panel showing in landscape mode. But you can hide or minimize into browser through the below steps given in details for iPhone (here is an example) running on latest iOS.
The second part of this tutorial covered: How to Delete Bookmarked Page or Folder on your Safari iPhone and iPad.
we are happy to help you, submit this Form, if your solution is not covered in this article.
Useful Tips: Add/remove Bookmark page in Safari – iOS device (iOS 7, iOS 8, iOS 9, iOS 10, iOS 11, iOS 12)
Helpful: How to open Safari Browser in a Private mode in iPhone, iPad – Safe Surfing, Online payment and more.
Note: For this solution, you don't have to reset safari setting, iOS update or Remove older data from your iOS device. Through the smart way, you can hide bookmark panel in your browser.
Steps for hiding Bookmark pane in safari landscape on iPhone, iPad and iPod Touch
Part 1: How to Access or Hide Bookmark Panel on iPhone/Pad: Landscape mode
Step 1: Go to Safari browser in your iOS device (iPhone/ iPad/ iPod touch)
Step 2: Now in landscape mode you can see website view in full-screen mode, Looks like in below screen. Apple.com showing in half of the screen and other one Bookmark panel is showing.
See my iPhone X screen, Slide finger down to see Browser Tab,
Or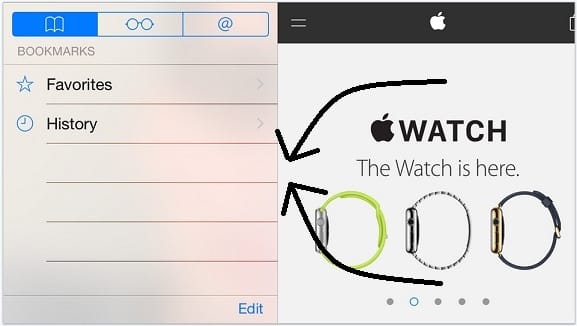 Step 3: Pinch your fingers on the screen so that you can see the browser menu in landscape mode also.
Now, there is a Bookmark icon also available. Just single tap on it, you can minimize bookmark in safari landscape view.
To delete Bookmarked folder and page URL, Swiple Finger right to left on the list, Tap on Delete to remove from the list.
Re-open Bookmark panel, tap on it again.
---
Part 2: How to Remove or Delete Bookmarked Page on iPhone/iPad
Step 1: Go to the Open Safari app on your iOS.
Step 2: Tap on Bookmark icon.
Step 3: Next, Under the Bookmark tab, Find all the folders and Saved URLs into Bookmarked.
That's it. There is no other alternative option for hiding Bookmark pane in safari landscape. So you must be remembering.
Jaysukh Patel is the founder of howtoisolve. Also self Professional Developer, Techno lover mainly for iPhone, iPad, iPod Touch and iOS, Jaysukh is one of responsible person in his family.
Contact On: [email protected] [OR] [email protected]