Wow! A grouped notification in iOS 12 is the amazing way to get on your iOS device that comes serially and in stacks. We can enjoy and use some custom settings like disable Grouped Notifications in iOS 12 or ungroup notifications on the lock screen for the selected app or all Apps.
Let's see some important settings and quick ways that help in manage Grouped notifications in iOS 12 running on your iPhone X, iPhone 8, iPhone 8 Plus, iPhone 7/7 Plus, iPhone 6, iPhone 5S.
we are happy to help you, submit this Form, if your solution is not covered in this article.
Jump To Content
iPhone /iPad: iOS 12 Grouped Notification Tips and Fixes, Guide
1. Disable or Enable Grouped Notifications in iOS 12: Notification Grouping
Step 1. Go to the Settings app on iPhone and iPad
Step 2. Next, Tap on Notifications. Find the list of Apps, Change the notification Style and Type.
Step 3. Tap on "App Name" > Scroll down to the last and Tap on "Notification Grouping".
Select from Three options,
Automatic: Default Option is this.
By App: Get single notification instead of more than one. Sort new notification for the changed option by App Name
Off: This option completely disabled or turn off Group notification. This option will show app notification as come to your iPhone.
2. Clear All Grouped Notifications in iOS 12 Notification Center
Step 1: Unlock your iPhone and iPad.
Step 2: Swipe down finger from top right notch and see the notification. Or Wake up iPhone by lift up iPhone (iPhone X/8/8 Plus, iPhone 7/7 Plus/6S/6S Plus).
3. To see on Locked Screen
Step 1: "Swipe up finger" to show new notification on the lock screen
Step 2: Tap on "(X)" button at the top and just below the digital clock.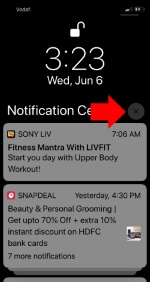 4: Expand Group Notification on Notification Center
Step 1: Single Tap on the Grouped notification list.
Step 2: Swipe finger left on Grouped notification to view or reply and manage option.
5: Remove Single Group notification on iPhone in iOS 12
Way 1: Swipe Left on Notification > Clear All.
Way 2: Press and Hold on Screen, at the top of notification "(X)".

6: Manage Notifications Options in Notification center in iOS 12
3D touch Device popup Notification view on front center of the screen. See more icon to get settings for Group Notifications.
Deliver Quietly: Quietly Notifications will appear in notification center and badges the app icon, but will not appear on the lock screen, Present banners, or Pay a sound.
Deliver Prominently: Prominently notification will appear on the lock screen, in notification center, Present banners, Badge the app icon and play a sound.
Settings: Directly jump to the app settings on iPhone. Scroll down and See "Notification Grouping".
Premium Support is Free Now
We are happy to help you! Follow the next Step if Your Solution is not in this article, Submit this form without Sign Up, We will revert back to you via Personal Mail. In Form, Please Use the Description field to Mention our reference Webpage URL which you visited and Describe your problem in detail if possible. We covered your iPhone 11 Pro, iPhone 11 Pro Max, iPhone 11, iPhone 8(Plus), iPhone 7(Plus), iPhone 6S(Plus), iPhone 6(Plus), iPhone SE, SE 2(2020), iPhone 5S, iPhone 5, iPad All Generation, iPad Pro All Models, MacOS Catalina or Earlier MacOS for iMac, Mac Mini, MacBook Pro, WatchOS 6 & Earlier on Apple Watch 5/4/3/2/1, Apple TV. You can also mention iOS/iPadOS/MacOS. To be Continued...
Like it and share it for more guidance and help to other for manage Grouped notifications in iOS 12 installed on iPhone, iPad and iPod Touch.
Jaysukh Patel is the founder of howtoisolve. Also self Professional Developer, Techno lover mainly for iPhone, iPad, iPod Touch and iOS, Jaysukh is one of responsible person in his family.
Contact On: [email protected] [OR] [email protected]