Last Updated on Jul 10, 2023
Here's a useful way for those users who stays mostly to keep in touch with the iOS Mail app such as Business users, Marketing peoples, and mail to mail communication office workers. Find Out Where is Bin/Trash Folder on the iPhone Mail App? and How to Retrieve from Bin/Delete Folder on iPhone Mail App? Apple's Mail app has diverse features like Setup VIP contact Notification, flag /unflag mail as per the importance of mail and the premium one is to move mail from trash to inbox on iPhone easily. Unexpectedly, sometimes an important email has been deleted by the user. in reality, a deleted Mail is to be important for his/her. So inherently, looking for a way to recover that mail message again in the Mail app inbox.
Though, if your essential mail was accidentally deleted from the inbox and now you want to bring back then must follow the underneath steps carefully. We promise given instructions would help you easily. In iOS/iPad, the iCloud Mail app is a great alternative to the Google Gmail app. Although most of the Mail App Services allow to Recover Deleted Emails from Trash folder to Inbox.
The Ultimate to How to Retrieve Deleted Emails On iPhone Mail App
Guide to Move mail from Trash to Mail inbox
Step 1. Open Mail app on your iPhone > Goes to your Mail Accounts So, Tap on Mail Boxes.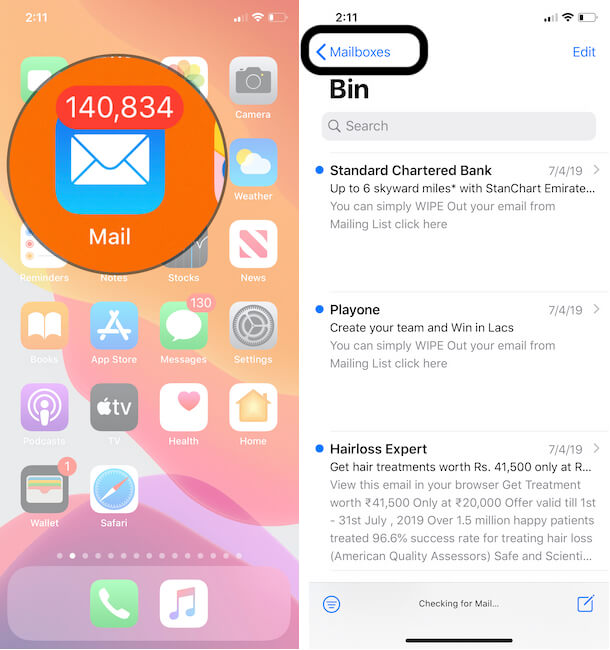 Step 2. See All Mailboxes and Find Where is Trash/Bin Folder? and Expand your Mail account to View all folders on the iPhone Mail app. Tap on Bin/Trash to find Deleted Mails on your iPhone mail app.
Step 3. Swipe your Finger to Left to Find mail options for Recover, Tap on Three-Dots icon (More). Now, See the Popup Menu to Find the option for Move into Another Folder, Tap on Move Messages…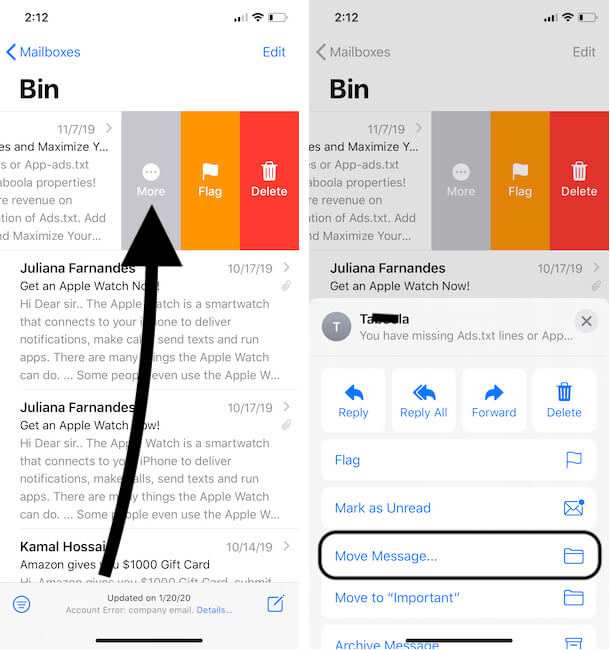 Step 4. Now, Select Inbox to Recover from Deleted/Bin/Trash Folder. That's it.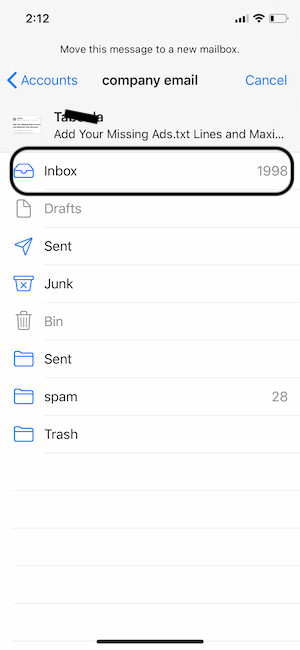 You're done.
If your device is stuck and can't move email from trash to inbox then force quit mail app and then try again. I hope, this would be helpful. If an issue persists then please restart your iPhone or iPad, and check out again.
Please share your sound in the below comment box and tell me how useful the way of iPhone mail app.