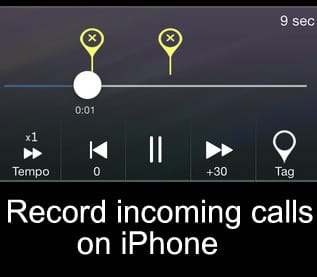 Last Updated on Feb 17, 2020
Guide about on to record incoming calls on iPhone XR, 11 Pro Max, XS Max, X,8,7,6S, SE and later models. There are many iPhone users would like to record their incoming or outgoing call conversions. Most journalists prefer to recording a call to make calling interviews with the Person. And then that call they also save on iPhone hassle-free.
we are happy to help you, submit this Form, if your solution is not covered in this article.
Typically, there isn't a kind of built-in function to record incoming calls on iPhone running on the latest iOS device. In more, the call recording third-party procedure is a little bit lengthy. Cause with it required plenty of things to make your Apple iPhone as a Call recorder device. Fortunately, it can do using best call recording apps for the iPhone. We can say that this is the big supports of iOS developers to build up the great apps record calls on the phone in real-time without beep noise.
So let scroll down and pick an app for your iPhone. And do start to record the next incoming calls on your iPhone.
Great iOS Apps to Record Incoming Calls on iPhone
Let get here two best apps to record incoming calls on iPhone and Celluar iPads (iPad Pro, iPad Mini, iPad Air). These both apps got good ratings by the legitimate iOS users.
Call Recorder Free: This is an only good app to record your iPhone's incoming and outgoing call. You can easily save record calls on your iPhone and can be shared via Email, Facebook, Twitter, iMessage, and Dropbox.
Know how to record an incoming (existing) call stepwise
Download TapACall Pro is a trusted and #1 Call recorder for Phone calls. This tool is the best solution for business users. Next up, follow the on-screen instruction to set up.
Straightforward to upload recorded calls on cloud storage like Dropbox, Evernote, Google Drive. Let's see the full most useful features which are come up such as no limit on how long you can record a call for, no per-minute fees, handy transfer call recording on your brand new device, easy to Download/ transfer call recording on your Mac/PC. In more, you can do email in an MP3 format your self, able to play call recording in the background and incredible function is possible using TapACall Pro, and it is a call recording sharing on Facebook and Twitter, too.
Related Article: How to Receive an incoming call on iPhone automatically iOS 11
If you want an alternative call recording app, then try a given below app. But it is less likely app by the professional users.
Call Recorder for iPhone
Call Recorder for iPhone app allows you to record your outgoing calls only. An app offers you save your conversation on your iPhone while other apps not provide. So what you think to download the Call recorder app and start to record national, international calls from your iPhone, and Celluar iPads (iPad Pro, iPad Mini, iPad Air).
This App provides a call recording facility even you don't have a SIM installed, but you must have a good internet Speed connection required (Wi-Fi, 3G, 4G).
Having storage space issue on your iPhone to save call recording clip? Don't worry. Get here the top best external Phone call recorder device compatible with your iPhone.
Premium Support is Free Now
We are happy to help you! Follow the next Step if Your Solution is not in this article, Submit this form without Sign Up, We will revert back to you via Personal Mail. In Form, Please Use the Description field to Mention our reference Webpage URL which you visited and Describe your problem in detail if possible. We covered your iPhone 12, iPhone 12 Pro, iPhone 12 Mini, iPhone 12 Pro Max, iPhone 11 Pro, iPhone 11 Pro Max, iPhone 11, iPhone 8(Plus), iPhone 7(Plus), iPhone 6S(Plus), iPhone 6(Plus), iPhone SE, SE 2(2020), iPhone 5S, iPhone 5, iPad All Generation, iPad Pro All Models, MacOS Catalina or Earlier MacOS for iMac, Mac Mini, MacBook Pro, WatchOS 6 & Earlier on Apple Watch 6/5/4/3/2/1, Apple TV. You can also mention iOS/iPadOS/MacOS. To be Continued...
So now join us and share your way on which app you would like to install? To record incoming calls on the iPhone.