🗓️
September 19, 2022
By ✍️
Jaysukh patel
Minecraft is one of the incredible platforms to show your creativity, and develop your portfolio, get achievements, share with friends, at the same time. If you're MacBook, a Mac user, and want to know how to view Minecraft Screenshots on macOS Big Sur, MacOS Catalina or any macOS read the article to the end. I've listed different ways to access the Minecraft Screenshot on MacBook Pro, Air, iMac, and also if they're hidden, you'll get answers here.
In Minecraft, it's literally hard to build the game and find something that could amaze the Minecraft enthusiast. While there may be sometimes your friend won't believe you, therefore, it's better to show them with proof, in this case, a Screenshot is the easiest way to shut the mouth of others.
Just for Information: – Apple's Latest stable macOS in 2021 is macOS 11 Big Sur and running Beta macOS is called macOS 12 Monterey. Next-generation macOS 12 will be available next Fall 2021.
How to Find & View Minecraft Screenshot on Mac
Get more: 4 tricks to take a screenshot on your Apple Smartphone
Method 1: From Minecraft Game Account
Microsoft for Mac allows gamers to take a screenshot on Mac with all the security compliance. Here are the two easy methods for Find Recently or All Minecraft Screenshot on Mac, MacBook running on all Minecraft compatible macOS Version.
Launch the Minecraft Launcher on your Mac, MacBook.
Open the Minecraft home screen.
Enter the username and password.
Once you're on Minecraft home screen, click on the Options
And choose Resource Packs…
Next, click on Open resource pack
If you don't have any resource pack, it'll show blank.
Now you should see the Screenshots folder in the Finder. Click on any View to view the screenshot folder as List, in Columns, or with Cover Flow.
Open the Screenshot folder.
Drag to the desktop or view the screenshot of whatever you want to do.
That's the easy method to locate all Minecraft screenshots on Mac. The alternate method is to look after Minecraft ss direct from FInder's root folder. Follow the next method,
Get more: Full Guide how to take a screenshot on Apple Mac Computer
Method 2: Directly From Finder
If you're confused about the above steps then open this path in Finder: "Macintosh HD"/"Users"/"Your user name"/"Library"/"Application Support"/"minecraft"/"screenshots"
In some cases, the users can't see the .minecraft folder, because it is hidden. Here's how to unhide the .minecraft folder.
Launch Terminal app, use Spotlight search to access the Terminal app.
Enter the following command,
defaults write com.apple.finder AppleShowAllFiles TRUE
The Finder will automatically close, re-open Finder and navigate through the above path to access the Minecraft Screenshot.
There's one more shortcut path to access the Minecraft Screenshot on MacBook, press Command+Shift+G and type.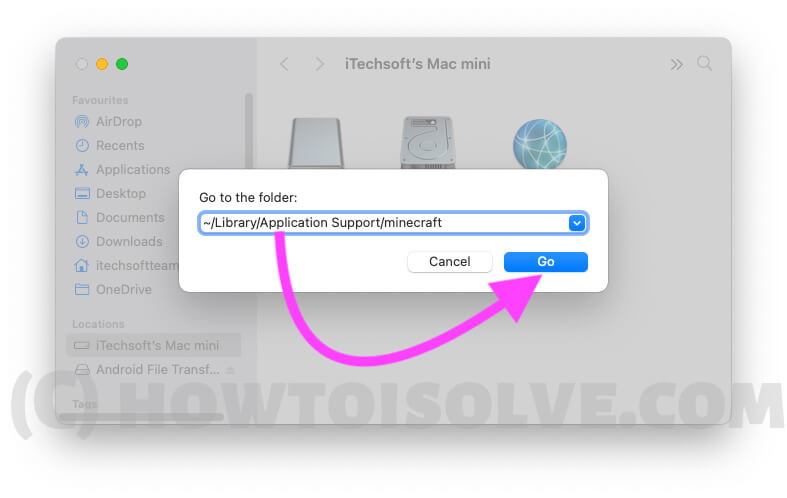 "~/Library/Application Support/minecraft". And access the "Screenshot" folder.
Move or Copy your Screenshot and use it.
Read more: how to take a screenshot of Touchbar on MacBook
These are the two main methods to View Minecraft Screenshots on a MacBook, Mac.