Finally, Apple Removed iTunes from Mac and Start New way to organize your iPhone/iPad on Mac. Access Your iPhone under Finder's Locations Sidebar and Start Backup/Update/Restore right away more easily than earlier. the great collection of updates for Apple Devices is available to download. However, you cannot download iOS 13 directly on your iPhone, this time you will have to update Mac to macOS Catalina. And then only with the help of macOS Catalina, you will be able to update iPhone to iOS 13. Certain Questions and Get fixed in this tutorial, Where is my iPhone/iPad in Finder on MacOS Catalina.
we are happy to help you, submit this Form, if your solution is not covered in this article.
But since macOS Catalina not Showing iPhone/iPad for Restore, Backup, what should we do to fix this error? Unless macOS Catalina shows iPhone, you can update the iPhone. Try these tricks to fix the problem and get the newest features of iOS 13 on your iPhone.
Note: If you don't have Mac, then wait for a while until Apple shows us a way out to update iPhone without Mac. We will definitely update this article as soon as Apple tells us the solution.
Solutions for iPhone Won't Detect After Update macOS Catalina on iMac, MacBook Pro, MacBook Air, Mac Mini
You should wait more compare to previous time, Becuase MaxOS Catalina is Freezing in Finder, So your iPhone not showing on your Mac Screen, Becuase Apple testing few settings or Features until public release.
Hard Reboot your iPhone and Try Again.
Video Tutorial on Finder Doesn't Recognize iPhone, iPad, iPod on macOS Catalina
Solution 1: Restart Mac and iPhone
First of all, try to restart Mac and iPhone if macOS Catalina is not showing the iPhone. It might be possible that Mac and iPhone are not syncing correctly or facing a problem because of macOS Catalina update. So do it and check if the iPhone is detected or not. Sometime this solution is also helpful for iPhone Keeps disconnecting and blinking continuously in side bar.
Mac: Go to Apple Logo on Mac Screen > Restart or Press and Hold the power button until the screen goes off and Press again once,
iPhone: Know how to Hard Reboot your iPhone models (iPhone XR/iPhone XS/iPhone XS Max/iPhone X/iPhone 8/8 Plus/iPhone 7/7 Plus/iPhone 5S/iPhone 6/6 Plus)
Solution 2: Enable iOS Devices Finder Sidebar Under the Locations
This is macOS Catalina specific solution, which you will never get on macOS Mojave or earlier versions. Follow the steps and see if iPhone appears on the sidebar of Finder. If it does, then update to iOS 13. Unexpectedly or Deliberately you have disabled this options under the Finder System preference settings. Let's Reenabled and Show iOS device under the Locations.
Step #1: Open "Finder" on macOS Catalina.
Step #2: Go to Finder and go to "Preferences" in Top Apple Mac Menu.
Step #3: Click on the "Sidebar", Find the custom options for What you show or hide in Finder Sidebar, Uncheck External Drive and Check the settings. [Keep Selected Cds, DVDs and iOS Devices]
Step #4: Re-launch Finder on Mac. Also, Re-connect your iOS device. Look for the iPhone in the sidebar of Finder's Locations section.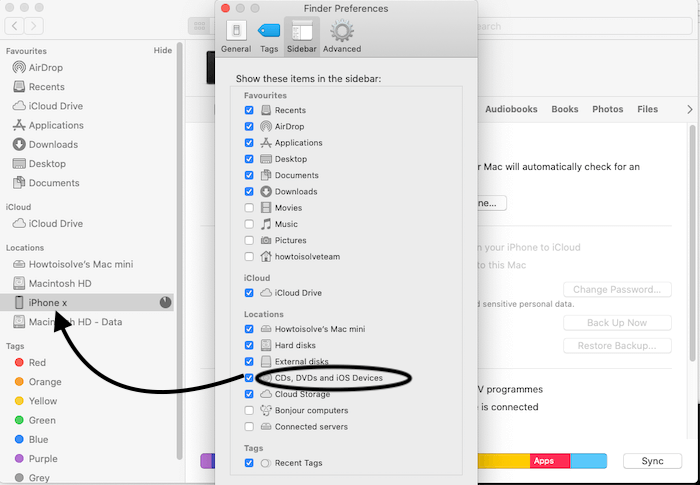 Click on iDevice Name and Start Options for Backup iPhone/Back iPad, Restore iPhone/ Restore iPad.
Solution 3: Check the USB cable or Try Another
Loose connection at on Mac or MacBook's USB port, So Remove USB cable from this end and plug again, make sure USB port inserted completely. also Remove Case from iPhone, because some bumper case prevent inserting 8 Pin lightning connector in iPhone charging port.
Many users just use their old lightning cable with the new devices or sometimes after long usage, the cord gets cut. Make sure the lightning cable that you are using to connect iPhone to Mac is not damaged. Alternatively, borrow the lightning cable from a neighbor or your friend and try to update the iPhone using Mac.
Solution 4: Allow iPhone to Trust This PC
First of all, unlock your iPhone/iPad using Face ID or Touch ID and Enter Passcode if your iOS device asks.
When you connect iPhone to Mac or any PC, the iPhone pop-up asks whether to Trust This PC or not. There, you have to tap "Trust," otherwise PC will not detect iPhone as iPhone doesn't permit to access the data. Reconnect and when Trust This PC appears on iPhone, tap Trust.
Solution 5: Unplug Accessories from Mac
Except for Keyboard and Mouse, remove all the unnecessary accessories like Speakers, External Storage, etc. from the Mac. After removing them, connect the iPhone to macOS and see if macOS Catalina is showing an iPhone or not.
Solution 6: Try Alternate Mac
Still, iPhone not showing on macOS Catalina? It looks like your Mac is not working correctly. Hope your friend or colleague got Mac running perfectly because I am recommending you to go there place and connect your iPhone on your friends Mac and update iPhone to iOS 13.
we are happy to help you if you have any query share with us in the comment box. Also, Discuss more Thourbleshting suggestions and tips for Mac users especially using MacOS Catalina or Earlier.
Jaysukh Patel is the founder of howtoisolve. Also self Professional Developer, Techno lover mainly for iPhone, iPad, iPod Touch and iOS, Jaysukh is one of responsible person in his family.
Contact On: [email protected] [OR] [email protected]