🗓️
June 6, 2023
By ✍️
Jaysukh patel
Here's the macOS compatibility List Ready. Is macOS 14 Sonoma, Ventura & macOS Monterey compatible with these devices? Also, Wants to know, Required RAM and Free Space? Introduced on June 5, 2023, at Apple's Worldwide Developers Conference (WWDC), macOS 14 is at the forefront of the newest innovation apropos operation system upgrades. It is no surprise that the new Software comes with a cutting-edge facility. macOS has the advantage of having a user interface that is simpler and more forward when compared to other Software. Those familiar with Apple's iOS mobile operating system for iPhones and iPads will find macOS remarkably similar. Another benefit of macOS is that it has fewer if any, lag.
According to Apple executives at WWDC, New MacOS is the most significant design overhaul since OS X was first released over 20 years ago. It will also be the first desktop operating system on Apple's ARM-based computers, debuting later this year.
Note: Some features are not working with Intel Mac but are designed for M1, M1 (M1 Pro and M1 Max Chip) machine users; if you don't know what Mac machine you have, Let's judge from here tips to know my Mac is Intel-based or Apple M1/M2 Silicone.
macOS 14 Sonoma Compatible Devices
iMac, 2019 and later
iMac Pro, 2017
MacBook Air, 2018 and later
MacBook Pro, 2018 and later
Mac Pro, 2019 and later
Mac Studio, 2022 and later
Mac Mini, 2018 and later
What are the macOS Ventura compatibility system requirements?
macOS Ventura removes compatibility for several Macs manufactured in 2017 and later. So if you want to configure macOS Ventura right now, you'll need a Mac that can run the new OS. macOS 13 is compatible with the following Macs: I hope this will become your answer: What are the minimum requirements for macOS Ventura/Monterey? Also, get macOS 13 & macOS 12 Monterey hardware requirements.
List of Which Macs Can run macOS Ventura?
iMac 2017 and later
iMac Pro 2017
MacBook Air 2018 and later
MacBook Pro 2017 and later
Mac Pro 2019 and later
Mac Studio 2022
Mac mini 2018 and later
MacBook 2017 and later
See the Full List of macOS Ventura-supported mac models, and Identify your Mac.
MacBook Pro
MacBook Pro (13-inch, M2, 2022)
MacBook Pro (16-inch, 2021)
MacBook Pro (14-inch, 2021)
MacBook Pro (13-inch, M1, 2020)
MacBook Pro (13-inch, 2020, Two
Thunderbolt 3 ports)
MacBook Pro (13-inch, 2020, Four
Thunderbolt 3 ports)
MacBook Pro (16-inch, 2019)
MacBook Pro (13-inch, 2019, Two
Thunderbolt 3 ports)
MacBook Pro (15-inch, 2019)
MacBook Pro (13-inch, 2019, Four
Thunderbolt 3 ports)
MacBook Pro (15-inch, 2018)
MacBook Pro (13-inch, 2018, Four
Thunderbolt 3 ports)
MacBook Pro (15-inch, 2017)
MacBook Pro (13-inch, 2017, Four
Thunderbolt 3 ports)
MacBook Pro (13-inch, 2017, Two
Thunderbolt 3 ports)
MacBook Air
MacBook Air (M2, 2022)
MacBook Air (M1, 2020)
MacBook Air (Retina, 13-inch, 2020)
MacBook Air (Retina, 13-inch, 2019)
MacBook Air (Retina, 13-inch, 2018)
MacBook
MacBook (Retina, 12-inch, 2017)
iMac Pro
iMac Pro (2017)
iMac
iMac (24-inch, M1, 2021)
iMac (Retina 5K, 27-inch, 2020)
iMac (Retina 5K, 27-inch, 2019)
iMac (Retina 4K, 21.5-inch, 2019)
iMac (Retina 5K, 27-inch, 2017)
iMac (Retina 4K, 21.5-inch, 2017)
iMac (21.5-inch, 2017)
Mac mini
Mac mini (M1, 2020)
Mac mini (2018)
Mac Studio
Mac Studio (2022)
Mac Pro
Mac Pro (2019)
List of Which Macs can run macOS 12 Monterey? What is the latest OS I can run on my Mac?
MacBook Pro (2014 or later)
MacBook (2015 or later)
MacBook Air (2014 or later)
Mac mini (2014 or later)
iMac (2014 or later)
iMac Pro (2017 or later)
Mac Pro (2014 or later)
---
MacBook Pro & MacBook
MacBook: Early 2015 and newer [Not Compatible with Ventura]
Luckily, early 2015 and newer Mac also included in the macOS Monterey compatibility List. Also known as the Retina Macbook, 12-inch Macbook or 3rd generation Macbook was initially released in March 2015 and manufactured by Apple inc. It was advertised as the 'New Macbook.' Boasting a formidable Retina display, fanless design, a narrower "Butterfly" keyboard, and a single USB-C connector for power and data, it aces better than its predecessors. Moreover, it runs on macOS 2021 effortlessly.
MacBook Pro: Late 2014 and newer [Not Compatible with Ventura]
Standing erect in the long line of high-end models of the Macbook Family, Macbook Pro sold between April 2006 and June 2012 and between January 2006 and January 2020. macOS 12 runs only on the 2013 model and beyond, and the efficacy of the first, second, and third-generation Macbook Pros before should be lauded as well.
---
MacBook Air: Mid 2017 and newer
macOS 13 only runs on the computer range following 2017. Apple announced the first MacBook Air with Apple silicon based on the Apple M1 processor in November 2020. The Apple M1 is the company's first SoC for Macs, and it's currently available in the new MacBook Air, 13-inch MacBook Pro, and Mac mini. However, the history of the Macbook Air series predates recent times. In January 2008, the Intel-based MacBook Air with a 13.3-inch screen was released. Following this, in October 2010, Apple announced the second-generation MacBook Air. This series became popular due to its thin light structure compared to the previous laptops.
---
Mac Mini: Late 2018 and newer
Because it's the cheapest, adaptable, and general-purpose model in the range, the new Mac mini is the first Apple desktop to get a new M-series processor. It is one of four desktop computers in the current Macintosh lineup and positions below the iMac Pro and Mac Pro performance range. The first-generation Mac Mini was released in January 2005, followed by the second-generation Mac Mini in February 2006. In November 2020, a fifth-generation model based on Apple silicon processors was released, returning to the silver finish of previous generations. The fourth-generation model, which was released in June 2010, is still available.
---
iMac & iMac Pro & Mac Pro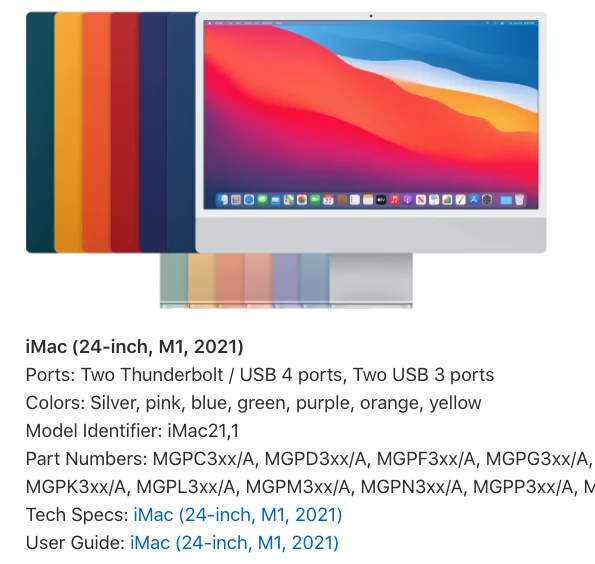 iMac: Mid 2017 and later
The iMac contains practically everything most people require in one package: computing power, a camera, speakers, microphones, a keyboard, mouse, trackpad, and display. And they're all excellent. It is a computer that you can place on your desk and relax. Since 2006, Apple Inc. has designed, manufactured, and sold an Intel-based iMac series of Macintosh desktop computers. Together with the Intel-based MacBook Pro, the new iMac marked the beginning of Apple's switch to Intel processors. The MacOs 13 is compatible with the recent iMac series, including those from the mid-2014 line.
iMac Pro (2017 or later)
The iMac Pro is a sophisticated all-in-one computer with a lot of raw processing power. As a result, the iMac Pro is not just one of the best Macs ever made, but it's also one of the best all-in-one PCs ever made. The iMac Pro was unveiled at WWDC on June 5, 2017, and sold in December of the same year. Even though it is discontinued as of March 5, 2021, Apple has stated that it will continue to sell until stock lasts.
Mac Pro (2017 or later)
The Mac Pro is Apple's top-of-the-line computer, their most powerful machine, promoted as being built without compromise for the professional user – or, more precisely, for the experienced user's business. The Mac Pro isn't a traditional desktop computer. It's a workstation, after all. It's a machine built for high-end tasks like 3D graphics, machine learning, or high-end editing of multiple 8K video streams at full resolution. The most recent models were released in December 2019.
Developer Transition Kit (only up to Big Sur 11.3 beta 2)
The Developer Transition Kit refers to two prototype Mac computers that Apple Inc. made available to software developers. Apple Developer Transition Kits (DTK) are custom-built systems available to authorized Apple Developers to aid Macintosh platform processor changes. In 2005 and 2006, one of the well-publicized transitions was from PowerPC to Intel processors; the next shift will be from Intel to Apple CPUs in 2020 and 2022.
Although The mid and late-year 2012 MacBook Pro, mid-2012 MacBook Air, mid-2012 and late-2013 iMac, and late-2012 Mac Mini devices were only on Catalina's list, they won't be exempt from security-only upgrades. It will be available to these devices until the summer of 2022.
Can my Mac run macOS 13 Ventura?
If your Mac is not covered on the above-given list, it means your Mac is not eligible to get macOS 13 update. Your Mac is now too old for macOS 2022. So it would help if you bought a new macOS 13 supported hardware system. Alternatively, you can read our guide to get macOS Monterey on an unsupported Mac. and Get back soon to install macOS Ventura on an Unsupported mac.
Why won't my Mac download the new update?
Sometimes some user-facing issue install the latest macOS Ventura on their device, even them Mac supported macOS, behind it, several settings are responsible, whatever, follow my this troubleshooting guide to fix macOS Won't install on my Mac.
How much RAM does macOS 13 Ventura need? Technical requirements:
Apple is launching Optimised macOS in each new update so that mac users can get the facility on older MacBook, Mac Mini, iMac. This time macOS 13 doesn't require more RAM; 4 GBs of RAM is enough to run most of the mac Software.
Still, you need more RAM and want to Upgrade than you can do it. Watch and learn with the online Video tutorials for Upgrade RAM on Mac or SSD Storage. Make any Old Mac model worth for upcoming macOS updates and new Software.
How much storage does 2022 macOS Ventura take?
Free Up Space on your system plays a crucial role as a serious owner. To run all the programs very fast and optimize the storage space as well. The app gives the option for optimizing the storage without any third-party software. Furthermore, tips to free up space on Mac. Here's how to do it?
Need 35.5GB available storage on macOS Sierra or later [macOS 13 Ventura]. Let's do it first, to install macOS without the installation error Successfully.
How much RAM does macOS Ventura take up? [How do you free up space on your Mac?]
That depends on how many background programs are running on your Mac at startup. Backgroud processes like iCloud auto Backup, Time Machine Auto Backup, Syncing Data with the Third-Party Cloud services like – Dropbox, Google Drive, and more.[Time Machine alternatives]
Sometimes Emails, Notes, and Reminders also consume RAM. We can check all the Current Processes under the Activity Monitor. See the Below screen for my mac startup.
You can also check the RAM Space used by programmed running on Mac. Open Activity Monitor using Spotlight search [command + Space] > Type Activity Monitor > Click on MEMORY > See the physical Memory and Used Memory.

Stop the Program that consumes more RAM, Select Program > Click on Close button to Stop and Quickly Free Up RAM on macOS 13.
That's all about compatible Mac models with the Optimisation guide on macOS 13.
Write a comment for more help and Discussion on the new macOS Ventura.
Thank you!