🗓️
May 30, 2023
By ✍️
Jaysukh patel
Old iPhone, iPad model getting stuck app during download/ Update or install the app store. On my personal experience and my reader's experience on the stuck app on iPhone/ iPad, I recommended the possible solved solution for your iPhone and iPad. So, you can download your Priority app first, Without waiting & stuck on Downloading and Installing beneath of App icon on the home screen.
What do you need to do? For "Waiting" status on Downloading or installing new or update the app from the app store.
Possible Fix and Solved Solution for Stuck App on iPhone, iPad or iPod Touch
Note – Low internet speed one of the most hesitating reasons behind stop app download from the app store. So measure Mobile data/ WiFi internet speed on the Speed test checker app. Available for all Apple devices and Platforms. (I am not talking about WiFi signal strength, Sometimes full signal strength loses data packet).
1). Enable Prioritise Download: Multiple Apps are Downloading and Updating
Accideitialy or Urgently, you are downloading or updating multiple apps on your iPhone from App Store. Then you have to wait lots more Because all the Apps are downloading from the internet and installing at once. So Apple gives the option for enabling or Set the Priority for the app, which you like to download and install on your iPhone at first. In Any Status of Waiting, Downloading, and Installing, we can prioritize an app.
Touch and Hold on the App icon until you see the popup option appear on the iPhone screen on the app icon.
Next, Tap on the option "Prioritise Download".
So far, your targeted app will download and install first, in case of multiple apps are downloading and installing on your iPhone or iPad.
That's it.
2). Slow Internet and Stop Downloading The App From App Store
Based on Experience, I recommend trying with multiple networks. Some private networks in the office or public place internet don't allow downloading a file from the apple server, because of the slow speed internet. Or in Some cases, Your WiFi is disconnecting or Stopped during downloading. So you have to wait for it. The big application requires more time on slow-speed internet. Also, we can use our mobile data for big applications, Disable Low Data mode for over 200 MB app.
Reset Network Settings
Disable VPN is also part of this network issues, Let's check-in next step.
3). Not Enough Free Space on iPhone
It depends on the use of your iPhone, iPad. Some users getting surprised while checking the free space on His/Her iPhone, iPad. Here are the steps to check free space and download a new app on your iPhone, if you are stuck due to the Not enough space on your iOS/iPadOS.
Settings app on iPhone/iPad > General > About > Available [See free space in GBs or Mbs].
4). Sign-In again: Verification Required
It might be an apple server connection fail, and you need to be a re-login for creating a new login session. So, Sign out from your device completely, Settings > iTunes & App Stores > Tap on Apple ID > Sign Out
Next, Sign in again with Existing Apple ID and Password from the above setting path.
5). Hard Reboot
Once Reboot your device by Restart or Force Restart iPhone, iPad, and iPod Touch. (Press and Hold Sleep/ Wake button for restart or Press and hold Sleep/ Wake button + Home button at once)
6). Delete App and Reinstall From App Store
Different Apple ID use earlier for downloading the app, and You have changed Apple ID, so, Unable to verify. Also, in some cases, Your app is stuck and unable to start the download. So I recommend Delete the app and reinstall it from App Store on iPhone/iPad.
Unlock your iPhone/iPad, Move to the Home screen, Touch and Hold on the app icon.
Next, On the App popup icon, Tap on the Edit Home screen. Your iPhone/iPad home screen app icon will jiggle with the cross button to delete the app.
Tap on the "X" button to delete the app.
That's it.
7). Reset Network Settings
Reset Network settings will fix all the network-related problems; resetting network settings erase all Network settings like password, WiFi History, and more. For example, re-Enable WiFi and set up with the password.
In iOS 16 & Later: Go to the Settings app > General > Transfer or Reset iPhone > Reset > Reset > Reset Network Settings.
In iOS 14 & Earlier: Go to the Settings app on iPhone > Reset > Reset Network Settings > Enter Passcode and Wait for Reboot.
That's it.
8). Remove or Uninstall VPN
VPN lost the device security, So your iPhone's functionality lost. That's the reason you can't download the app from the app store.
Go to the Settings app on iPhone > Scroll to General > VPN > Disable the VPN toggle and Delete The VPN profile also.
Also, Delete the VPN app from the iPhone home screen.
9). Update your iPhone to Latest Version
Go to the Settings app on iPhone > General > Software Update > Download and Install Software on your iPhone.
10). Erase the Device to Factory Settings and Restore
Fix the software bug by erasing the device on your iPhone, iPad. Before that, you have to back up your iPhone on Finder/iTunes on Mac/PC.
Note: MacOS Catalina or later macOS users can use Finder instead for iTunes. macOS High Sierra or Earlier macOS and Windows user can use iTunes for Restore.
Erase the Device: Settings app on iPhone/iPad > General > Reset > Erase All Content and Settings option > Enter passcode to Erase the device.
Connect your iPhone to Finder/iTunes on Mac/PC.
Now,

Open iPhone/iPad device summary page

from the finder sidebar or At the top left corner on iTunes.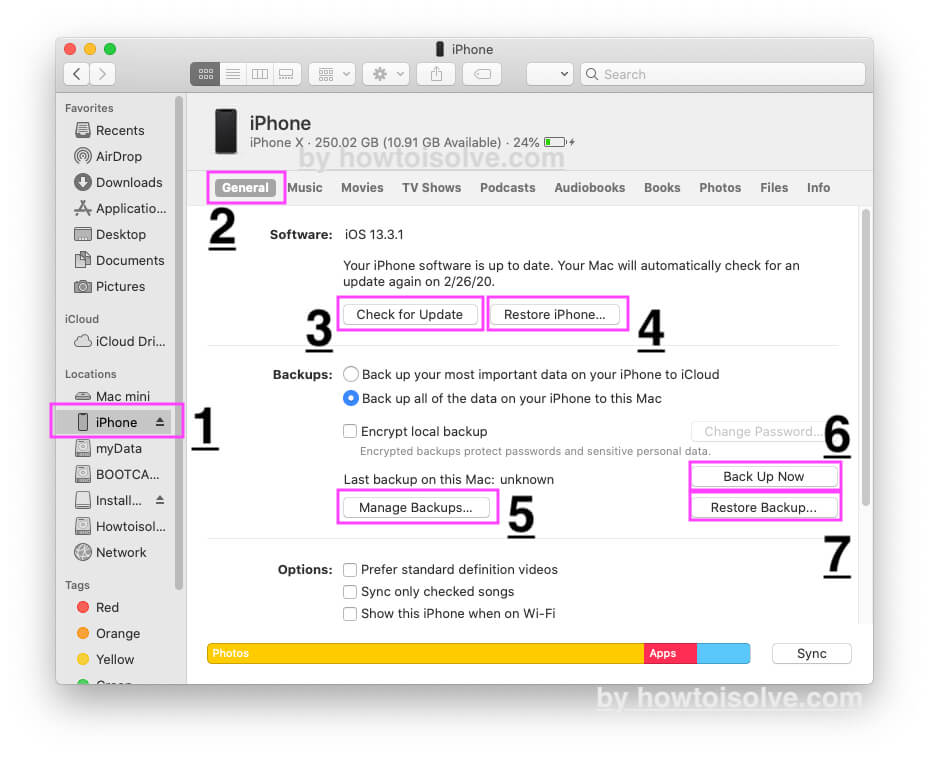 Next, Click on Restore Back up (Option 7 in the above image) and Select latest Backup for copy all data back to your iPhone.
That's it.
---
Not enough storage space, Means free space should be greater than your app size. Navigate to check current free space Settings > General > Storage & iCloud Usage > Under Storage section (Available storage is a free space for install app or save files)
Learn how to Free Up Space using a Storage device on iPhone, iPad, and iPod Touch. Remove Documents and Data on iPhone, Other data manually for optimizing large space.
The above solutions are the most helpful on the Stuck app on iPhone, iPad, or iPod Touch running on or Other.